President Donald Trump declared in an interview aired Monday that he and former President Barack Obama have a good relationship, despite all the "vicious" things they said about each other during the presidential campaign.
When Fox News host Bill O'Reilly asked the president if the two men "get along," Trump replied, "It's a very strange phenomenon. We get along. I don't know if he'll admit this, but he likes me. I like him."
O'Reilly followed up, "How do you know that?"
To which Trump responded, "Because I can feel it."
"You know that's what I do in life. It's called, like, I understand," the president added.
Trump and Obama met for the first time in person at the White House, just two days after the Nov. 8 presidential election. Obama said he directed his administration to ensure a smooth transition of power, just as former President George W. Bush did for him.
Two months later, Trump and Obama met for a second time at the White House on the morning of Trump's inauguration. Trump and Obama were seen along with their wives, First Lady Melania Trump and former First Lady Michelle Obama, standing within inches of one another, waving and smiling. The Obamas received the Trumps at the White House just before traveling to the U.S. Capitol for Trump's swearing in.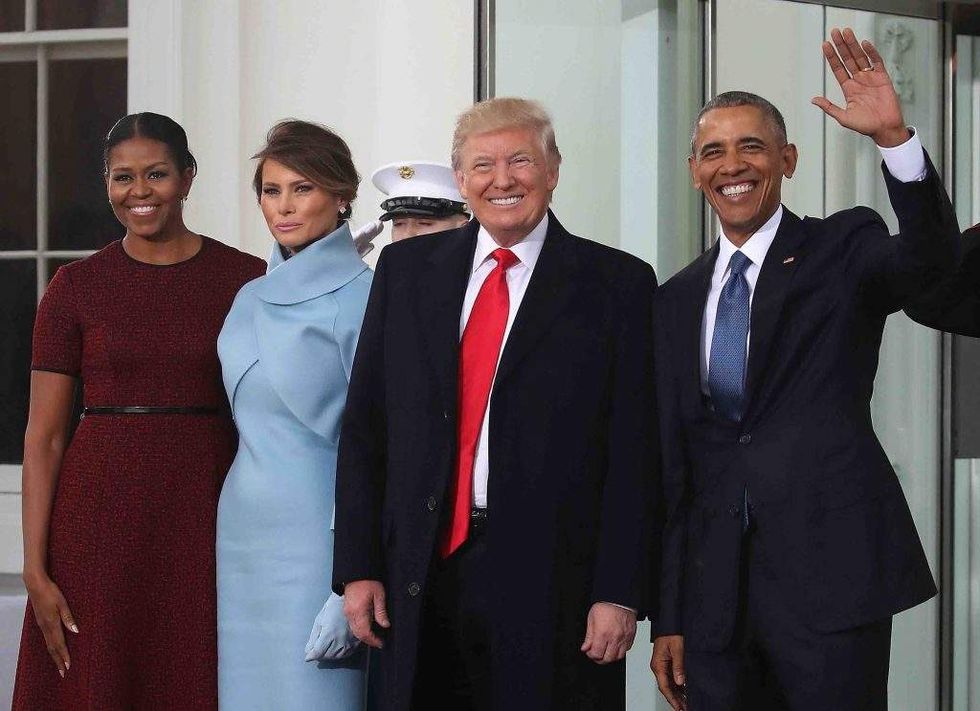 Getty Images
But by then, Trump said, the "vicious" nature of the campaign didn't even come up in conversation.
"We said horrible things about each other and then we hop in the car and we drive down Pennsylvania Avenue together. We don't even talk about it," Trump said. "Politics is amazing."
During his inaugural address, Trump "took [Obama's] administration apart," according to O'Reilly.
"And [Obama] is sitting five feet away from you," O'Reilly noted to the president. "In your mind, did you say, 'How is he reacting to this speech?'"
Trump responded by calling himself an "honest person" and then noted that as he turned around to shake Obama's hand after the speech, the former president was smiling and "seemed to be" happy with the remarks. Obama was then seen mouthing the words "good job" to Trump.