More Americans say they think that the Senate should confirm President Donald Trump's Supreme Court nominee, Judge Neil Gorsuch, to the nation's highest court than oppose his confirmation, according to a poll by the Pew Research Center.
Forty-four percent of respondents said that they favor the Senate confirming Gorsuch to the Supreme Court, while 32 percent said they are opposed. About a quarter — 24 percent — said they don't know.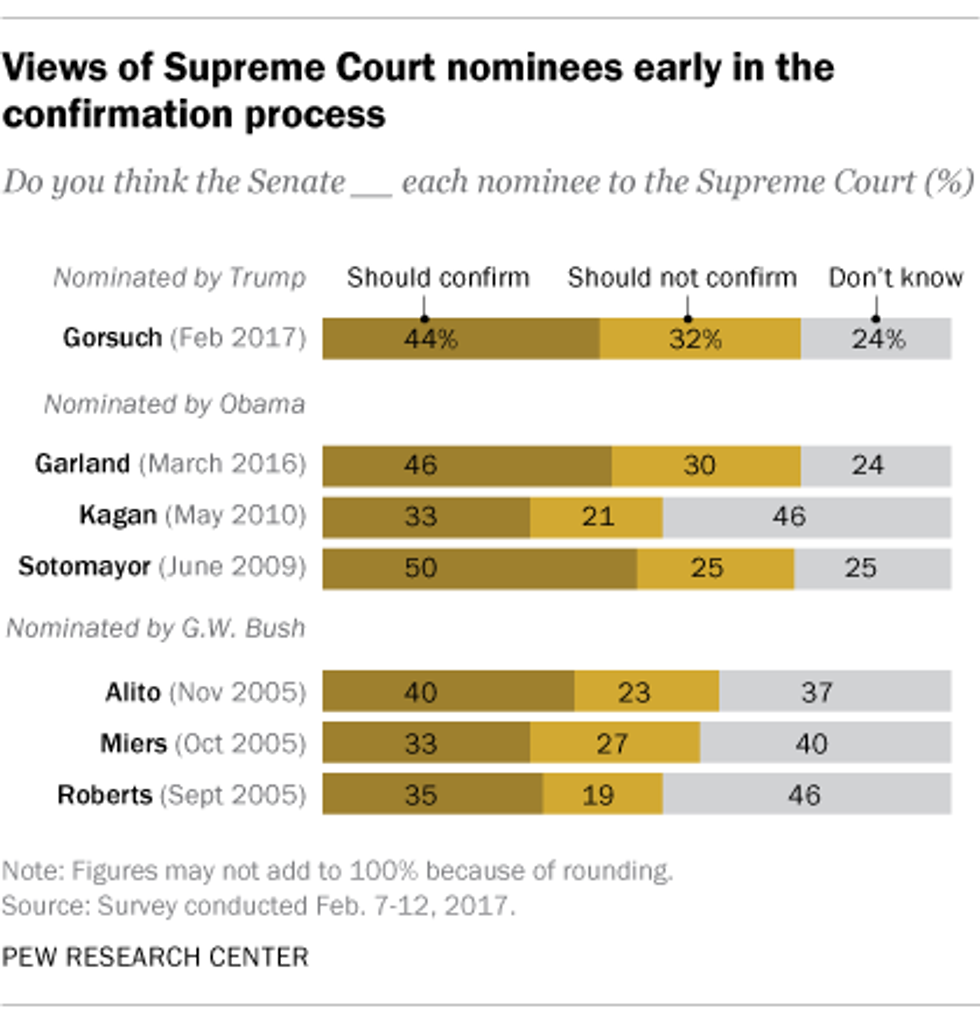 Pew found a sharp partisan divide in Americans' views on Gorsuch: 78 percent of Republicans and Republican-leaning independents support Gorsuch's confirmation while half of Democrats and Democratic-leaning independents oppose it.
Pew notes that the public opinion of potential Supreme Court justices is typically positive after their nominations are announced, although many are not well known to the American people.
According to Pew, support for former President Barack Obama's nomination of Judge Merrick Garland to the Supreme Court last year was "similar" to support for Gorsuch. Garland's nomination was supported by 46 percent of Americans, two percentage points higher than current support for Gorsuch. However, that nomination was not considered by the Senate. Republicans lawmakers argued that since Obama was nearing the end of his term, the next president should choose a justice.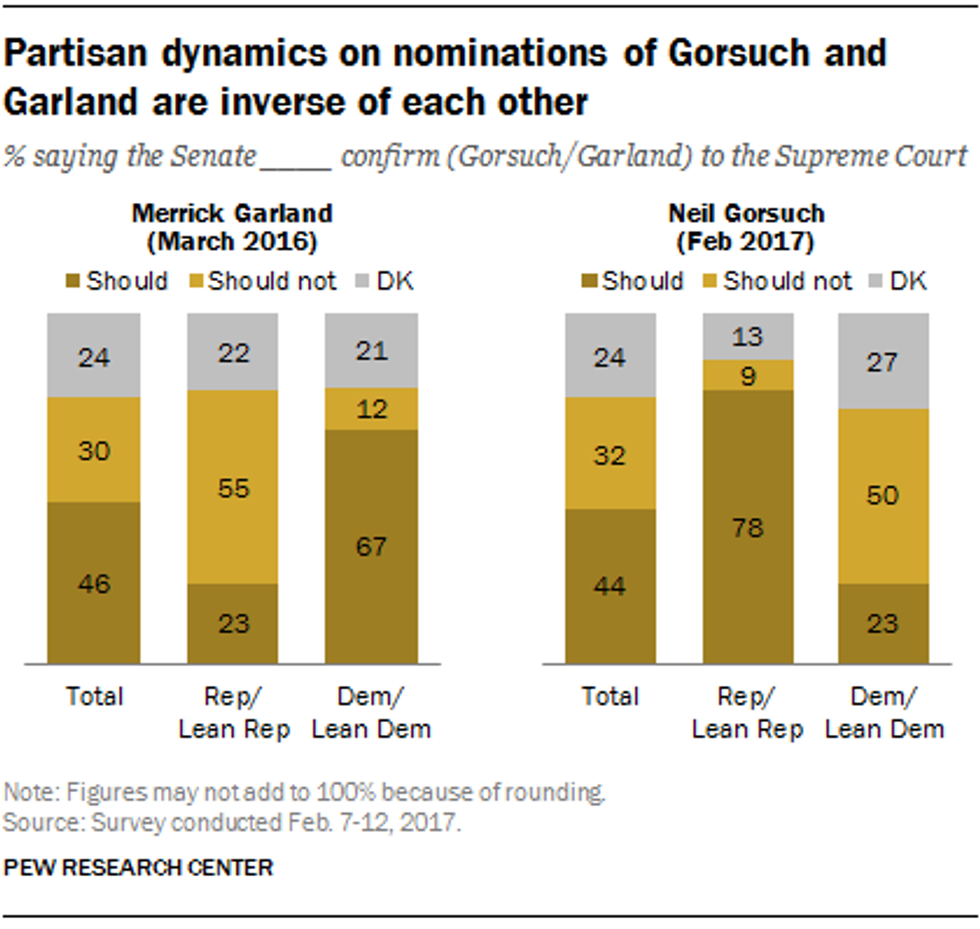 However, when Pew asked Gorsuch's opponents why they object to his confirmation, they found that more opponents objected to his ideology and his association with Trump rather than Senate Republican's refusal to consider Garland.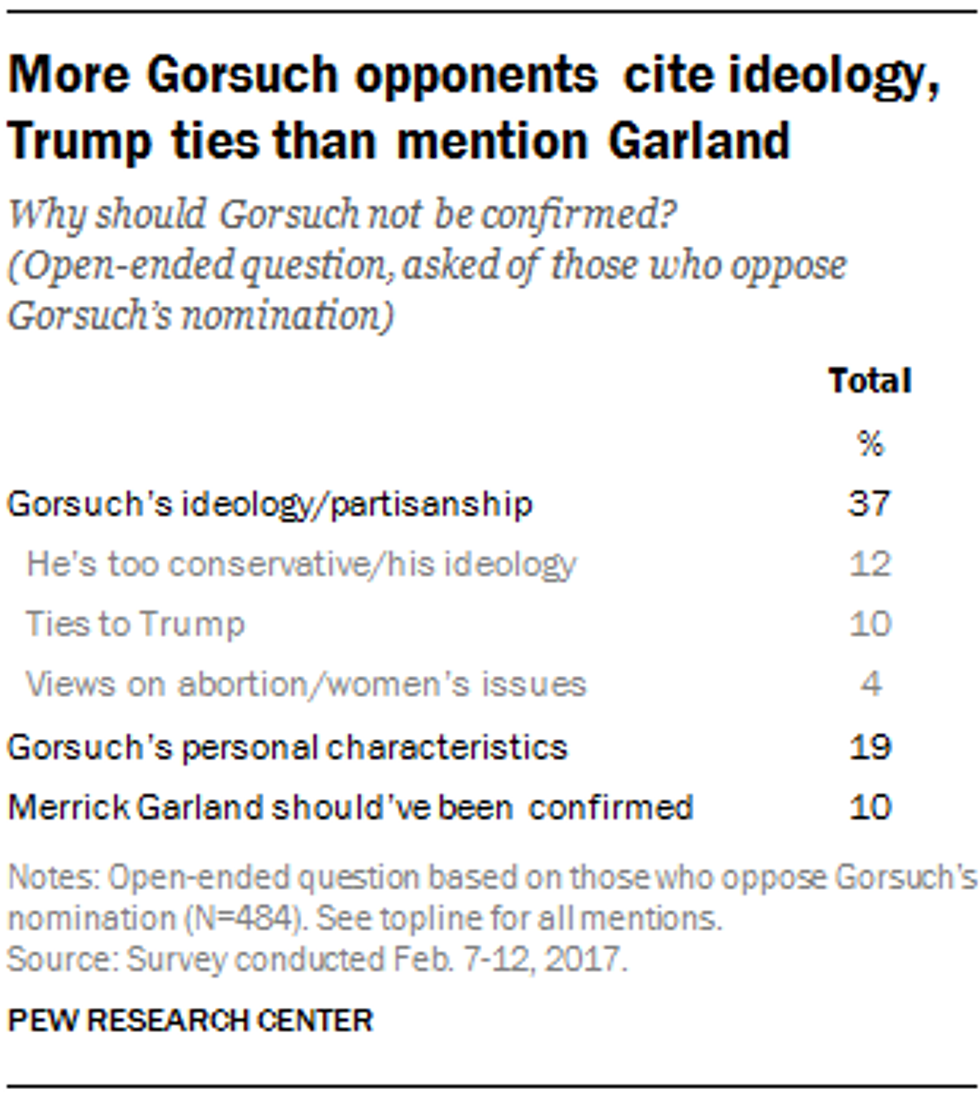 As a candidate for president, Trump promised to nominate a conservative Supreme Court justice who embraced an originalist view of the Constitution. After Trump nominated Gorsuch, many conservative groups praised Gorsuch's record on issues such as religious liberty and said the president kept his promise.
Trump nominated Gorsuch to the Supreme Court to fill the seat vacated by the late Justice Antonin Scalia.
Senate Judiciary Committee Chairman Chuck Grassley (R-Iowa) said in a statement Thursday that Gorsuch's confirmation hearings will begin March 20.