"I think when there's a crisis, God wants us to be there. He doesn't want us to run away. God has put us there for a reason, and he expects us do something about it."
Those are the words of the Rev. Franklin Graham, president of Samaritan's Purse, at the start of the North Carolina-based humanitarian organization's new documentary, "Facing Darkness," which details the harrowing story of Dr. Kent Brantly's medical ministry with Samaritan's Purse in Liberia, his being diagnosed with Ebola and his miraculous recovery.
Ebola is a virus that leads to severe bleeding and organ failure and is often a death sentence for its victims. According to the World Health Organization, the average fatality rate is 50 percent. Some outbreaks have seen death rates as high as 90 percent.
The most recent outbreak of the deadly virus, which is spread easily by human contact, impacted Liberia, Sierra Leone and Guinea. It began in 2013 in Meliandou, a small, isolated village in Guinea with only 31 households, according to the WHO. It wasn't until March 21, 2014, that the disease was identified as Ebola.
Samaritan's Purse had been in Liberia doing medical mission work since 2003, but by 2014, the humanitarian organization was helping lead the fight against the deadly virus.
"These things kind of come at you slow, and then all of the sudden, you find yourself in the middle of a tidal wave," Graham told TheBlaze of the Ebola outbreak and Brantly's subsequent diagnosis, later adding that God "performed a series of miracles" that led to the recovery of the Samaritan's Purse doctor.
When the Ebola outbreak first spread through West Africa in 2014, most of the world was unaware, ignorant of people like Joseph Gbembo, a Liberian featured in the documentary who lost 17 family members to the deadly disease and is now single-handedly raising the 16 children left behind.
According to 2016 data from World Bank, the 2014 outbreak infected more than 28,000 people in Liberia, Sierra Leone and Guinea and claimed the lives of more than 11,000 people.
Stretched beyond their limits in Guinea and Sierra Leone, Doctors Without Borders handed over the management of ELWA (Eternal Love Winning Africa) Hospital  — the main facility, founded in 1965 by the medical mission group SIM USA, caring for all Ebola patients in Monrovia, Liberia — to Samaritan's Purse on July 8, 2014.
Immediately after Samaritan's Purse took over operations in Liberia, Brantly traded his hospital scrubs for a full-body hazmat suit and was named medical director over the Samaritan's Purse Ebola Consolidated Case Management Center in Monrovia.
Brantly, who originally moved to Liberia with his wife and children in October 2013 to be a general practitioner, felt the monumental task gave him purpose and a way to live out his Christian faith.
"Medicine is a way to love your neighbor as yourself," he says in the documentary, referring to Mark 12:31.
When the epidemic began, Graham said, Samaritan's Purse had an obligation to care for those impacted by the disease. "There was no one there to do it," he said, "and all of the sudden you realize, 'We have to.'"
"These people are going to have no hope if we don't at least try," Graham recalled.
From that point on, the doctors, staff and volunteers at Samaritan's Purse made it their mission to stop the spread of Ebola in Liberia. Little did the team in Africa — or Graham, for that matter — realize what was to come.
On July 26, 2014, Liberian Independence Day, Brantly, who thought he had just eaten too much pizza and Tabasco sauce, became the first American to be diagnosed with the dangerous virus he had spent weeks fighting. At that point, Graham says in the documentary, "I didn't even know how to pray."
In addition to Brantly, Nancy Writebol, a missionary with SIM USA, whose staff were working alongside Samaritan's Purse at the center in Liberia, was diagnosed with Ebola.
Graham was in Alaska when he learned of Writebol's and Brantly's diagnoses and said the news put a "knot in my stomach." Yet in his uncertainty, Graham told TheBlaze, God had a plan.
"'Facing Darkness' is about God saving the life of Dr. Brantly. Not Samaritan's Purse. Not Franklin Graham. But God," he said. "[D]r. Brantly came back to [the U.S.] — not only did he survive, but he became the spokesperson for those that had Ebola. He became the hope of people that had Ebola that, 'Yes, you can survive this.'"
Just days after being diagnosed, Brantly became the first human being to be injected with an experimental drug known as ZMapp, which is made of monoclonal antibodies that, according to the Mayo Clinic, attach to dangerous cells and bolster the immune system's natural response. Soon thereafter, Writebol was given the drug, too. The serum, which was given to Brantly and Writebol while they were still in Liberia, is grown in tobacco plants and had previously been tested on only monkeys, NBC News reported.
"He went into convulsions immediately," Graham said of when the medicine was administered to Brantly. "And within 30 minutes, those convulsions subsided and he got up out of the bed and went to the bathroom — the first time in three days he had been out of the bed."
"God showed up," the Samaritan's Purse president proclaimed.
Brantly, after flying from Liberia to the U.S. on a plane fitted with its own isolation unit, arrived in Atlanta on Aug. 2, 2014, when the world watched as he walked from an ambulance into Emory University Hospital after being at death's door just days prior. Writebol, who also survived the disease, arrived a few days later.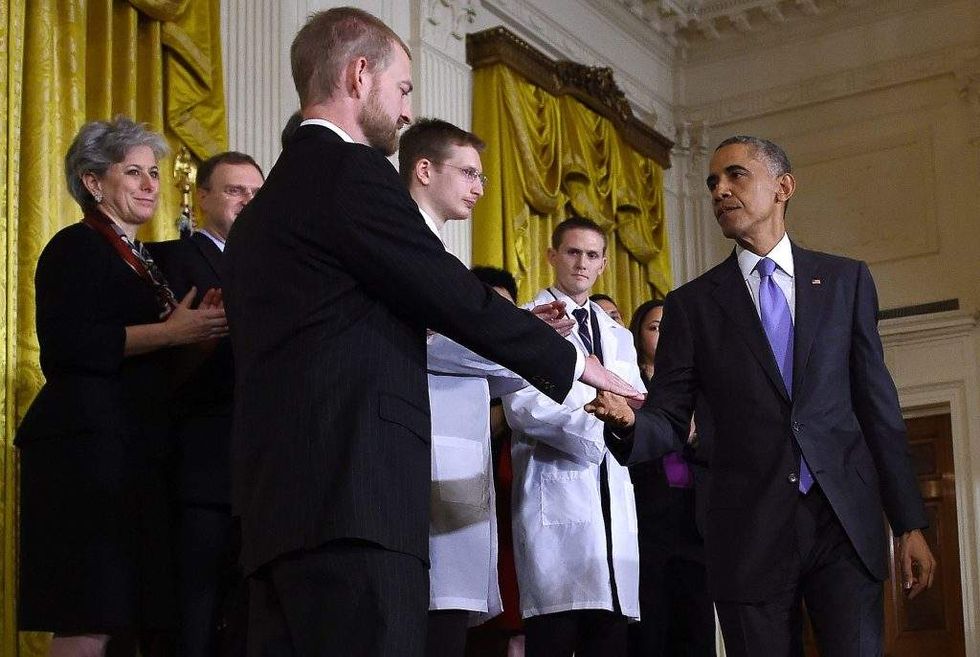 Former President Barack Obama reaches to shake the hand of Ebola survivor Dr. Kent Brantly after delivering remarks on the U.S. government's response to the Ebola virus during an event in the East Room of the White House Oct. 29, 2014, in Washington, D.C. (Win McNamee/Getty Images)
Brantly was discharged from the hospital Aug. 21, 2014, after making a full recovery. Doctors, though, are unsure of what, exactly, led to both Brantly and Writebol's recoveries.
"There is no prior experience with [ZMapp] and, frankly, we do not know whether it helped them, whether it made no difference or even, theoretically, if it delayed their recovery," Dr. Bruce Ribner, director of Emory's infectious disease unit, said during a 2014 news conference.
But in Graham's mind, the answer was clear: God performed a miracle. And "thousands upon thousands of lives were saved because of Kent Brantly," the reverend said, noting the awareness the doctor's experience brought to the disease.
"Dr. Brantly says something in this film which is so true," Graham recounted. "He says, 'Your faith doesn't make you safe,' and, as the matter of fact, it's his faith that put him in harm's way."
"It's because of our faith — our faith in Jesus Christ — that we go to these distant corners so that we can be a light in a very dark world," he added.
And Brantly has certainly been a light. His diagnosis and incredible recovery marked an indisputable shift in the fight against Ebola. For the first time, the world was paying attention.
In September 2014, Brantly had the opportunity to meet with former President Barack Obama in the Oval Office and testify before a joint Senate hearing on the United States' response to the Ebola epidemic plaguing so much of Africa.
In December 2014, Congress passed a spending bill that included $5.4 billion to fight the deadly virus domestically and internationally and, in January of last year, Liberia was finally declared Ebola-free.
As for his hopes for the "Facing Darkness" film, Graham said he is praying God will use the documentary to "raise up an army of young people" inspired to follow Brantly's example of courageous faith in the face of disease, war and destruction.
"When I had no hope, God reminded me that he is our hope — and he is our only hope," Graham said. "The world is in a much better place today because of Dr. Brantly and what God did in his life."
The movie comes out March 30 in select theaters around the country.