Planned Parenthood Executive Vice President Dawn Laguens wrote an op-ed in Marie Claire on Wednesday in response to the news that the GOP has included a measure that will defund Planned Parenthood's $500 million given to it by the federal government, and give this money to community health centers.
Laguens says Planned Parenthood's answer to the GOP is "short and simple: No way."
Providing safe and legal abortion is central to our mission of giving all people the care and information they need to make their own decisions. Abortion is a legal right and a health care service that should not be shamed or stigmatized by politicians, especially since 1 in 3 women in this country will have one at some point in her life.
Laguens then goes on to highlight that Planned Parenthood does far more than abortions, such as cancer screenings, STI testing and birth control, which are all legitimately government funded. While true, these services make up a small fraction of Planned Parenthood's business.
As secular pro-life states in their blog:
It's true that Planned Parenthood occasionally extends its reach into primary care — but only occasionally. In its annual report (page 30), flu shots, asthma care, and diabetes screenings aren't even common enough to warrant their own categories.* They instead fall under the category of "Family Practice Services," and Planned Parenthood only offered such services 33,060 times in the 2014-2015 audit year.

That same year, it committed 323,999 abortions. At Planned Parenthood, abortion is ten times more common than primary care. That probably has something to do with the fact that Planned Parenthood requires every affiliate to commit abortions, while no such mandate exists for legitimate health care. And of course, this video fails to acknowledge the obvious: the federally qualified health centers (FQHCs) that pro-life groups want to fund instead of Planned Parenthood offer primary care to a much greater extent than PP ever will.
Laguens says this disappearance of services will cause a "national health disaster."
However, the community health centers these funds will be diverted to are far more numerous as a this graphic from the Charlotte Lozier Institute shows. The white dots represent clinics that provide the same, if not more services for women. The yellow dots show the locations of Planned Parenthood clinics.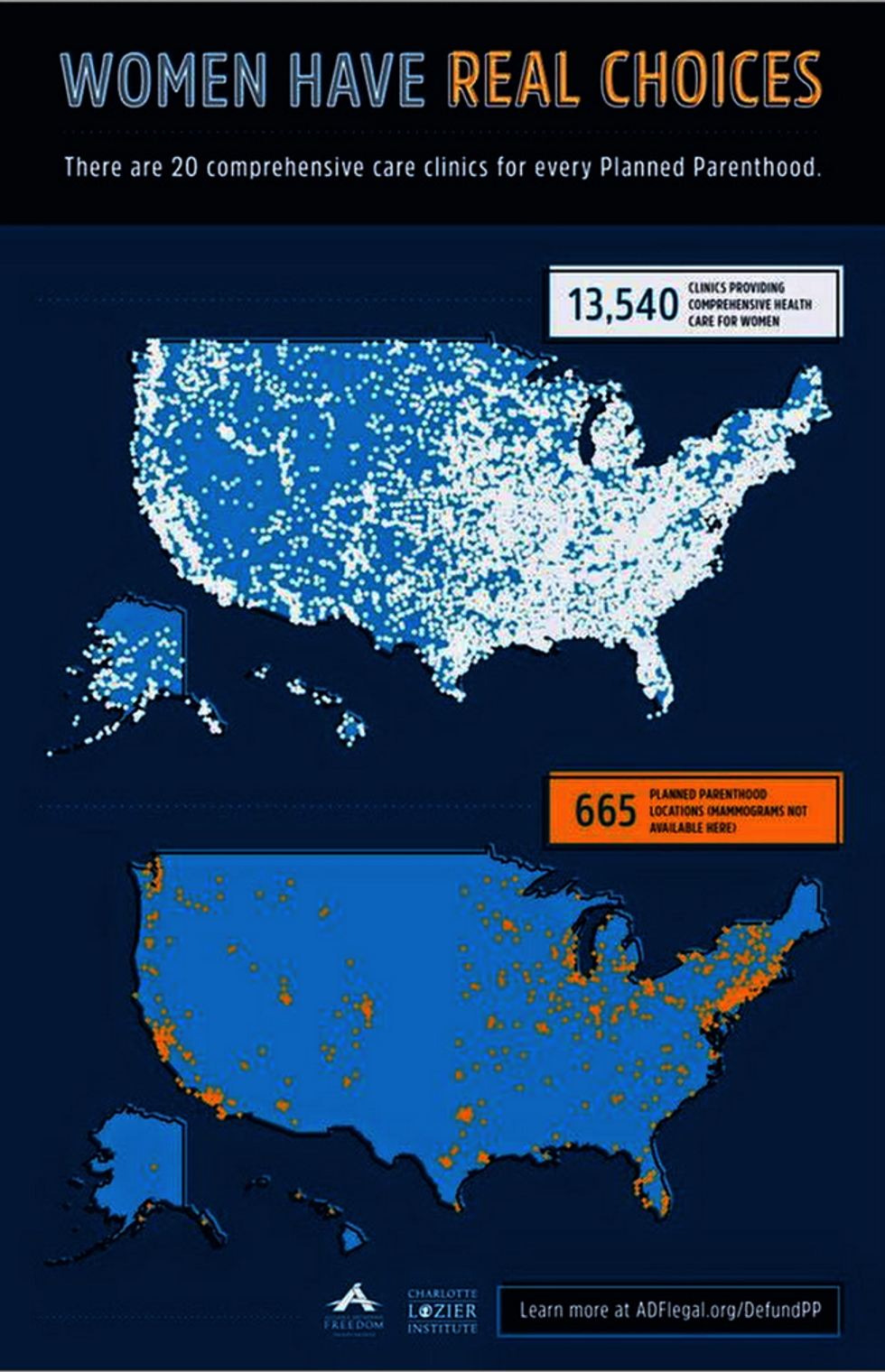 However, the GOP bill fairs, it is likely that Planned Parenthood will find itself defunded in the near future. President Donald Trump has told the abortion giant that it can keep it's funding if it gives up abortion, but this response from Laguens shows that Planned Parenthood is adamant about its position on the service.