A little more than four months after the polls closed in last year's presidential election, a new study is confirming what most Americans already knew about Hillary Clinton's 2016 presidential campaign: that she ran one of the worst presidential campaigns in American history.
According to a recent study by the Wesleyan Media Project, one of the driving factors behind Clinton's loss last November was her campaign's horrible political ads. The study found that the majority of Clinton's ads focused on personally attacking then-candidate Donald Trump, while failing to mention the policy differences between her and her opponent.
In fact, the study found that more than 60 percent of Clinton's ads focused on personally attacking Trump and his fitness for the White House rather than the policy differences between the two candidates. Trump, on the other hand, focused more than 70 percent of his ads on the policy differences between him and his opponent, while only spending about 10 percent of advertising time on personally attacking Clinton.
To put that in perspective, each major presidential candidate of the previous four presidential elections going back to 2000 — with the exception of Sen. John McCain in 2008 — focused at least 60 percent of their advertising on drawing policy contrasts with their opponent.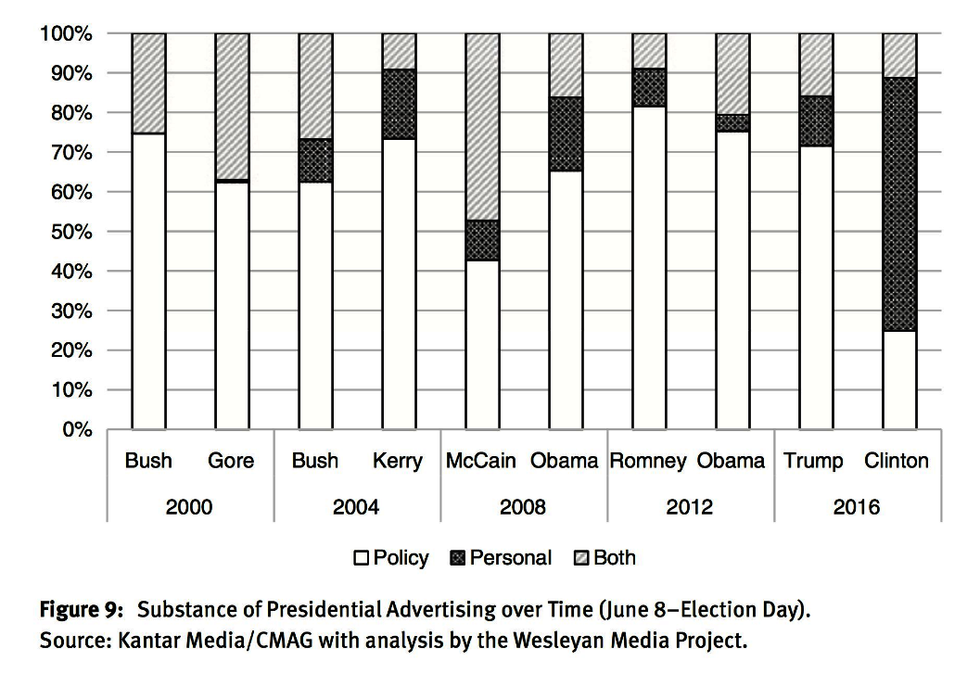 Image source: Wesleyan Media Project
More from the study:
Evidence suggests that negativity in advertising can have a backlash effect on the sponsor and that personally-focused, trait-based negative messages (especially those that are uncivil) tend to be seen as less fair, less informative and less important than more substantive, policy-based messaging.

In stark contrast to any prior presidential cycle for which we have Kantar Media/CMAG data, the Clinton campaign overwhelmingly chose to focus on Trump's personality and fitness for office (in a sense, doubling down on the news media's focus), leaving very little room for discussion in advertising of the reasons why Clinton herself was the better choice.

Trump, on the other hand, provided explicit policy-based contrasts, highlighting his strengths and Clinton's weaknesses, a strategy that research suggests voters find helpful in decision-making. These strategic differences may have meant that Clinton was more prone to voter backlash and did nothing to overcome the media's lack of focus on Clinton's policy knowledge, especially for residents of Michigan and Wisconsin, in particular, who were receiving policy-based (and specifically economically-focused) messaging from Trump.
To make matters worse, the study found that Clinton's media team failed to air ads in critical states that potentially cost them the election like Wisconsin and Michigan — states they believed were a lock for Clinton.
It was only in the final week of the campaign did team Clinton spend $72 million on advertising in states like Wisconsin, Michigan and Pennsylvania — but it was still too late.