A Michigan mother and her teenage child made headlines a couple of years ago as Erica Maison surprised her kid — 14-year-old Corey — with a dose of hormones.
You see, Corey was transitioning from a boy to a girl — and a  video of Corey getting hormones for the very first time went viral.
And now Corey's mother is becoming a man.
Inspired by Corey's transgender decision, Maison followed suit and chose to become male, undergoing a double mastectomy and getting a new first name — switching to Eric from Erica — after years of feeling trapped in a woman's body.
"When I was younger, I used to wish for cancer so I would have to get a mastectomy," Maison told Australia's "60 Minutes."
There are four other Maison children — all girls — and their father, Les Brown, is staying with his family.
"How do you ask a completely heterosexual man to still love you if you are now becoming a man?" Eric asked "60 Minutes" while seated next to Les.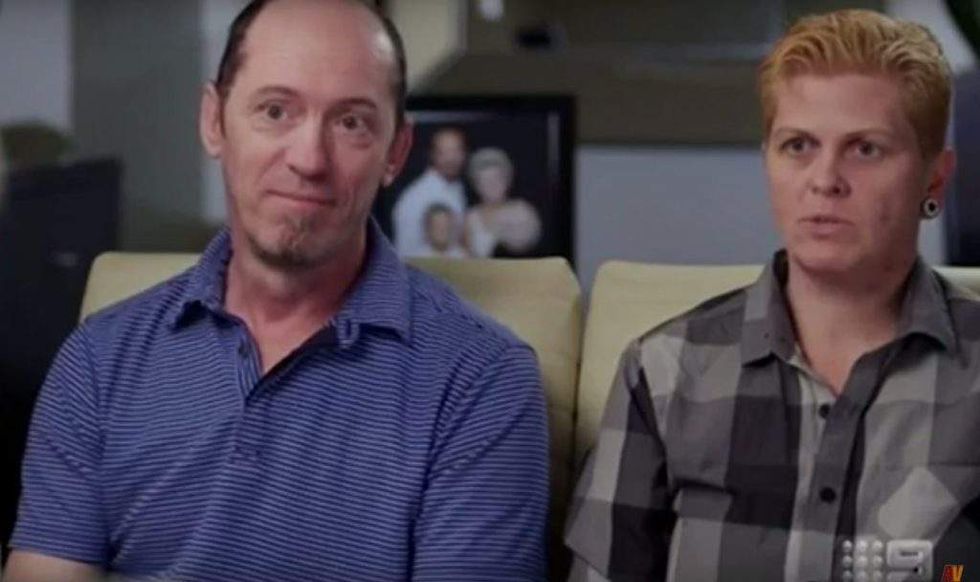 From left: Les Brown has five children with Eric (formerly Erica) Maison, who is transitioning to a man. (Image source: YouTube screen cap)
Brown told the program he's "still married to the same person I married. ... That's really all there is to it."
He added to "60 Minutes" that, "I fell in love with the person. She was beautiful as a woman, but equally beautiful on the inside. As long as Eric is happy with the appearance, Eric will be happy with what's in her brain — or his brain."
Eric added to the program: "The only regret I have is not being educated sooner about what transgenderism was, so I could do it sooner. But that's OK, because I have five beautiful children, I have an amazing husband and an amazing life. My life's pretty good now. It's awesome."
(H/T: Truth Revolt)