Let's take an informal poll.
You're in a convenience store and witness the relatively familiar sight of uniformed police officers grabbing coffee and a bite to eat. What are the odds you'd catch a glimpse of some punk walking up to the cops and taunting them and cursing at them, just because he figured he could get away with it?
Well, some guy did just that to a group of New York City Police officers recently — and video of the blood-boiling interaction, which apparently took place in Harlem, was posted to social media in the last few days.
Wearing a Che Guevara baseball cap, headphones draped around his neck and sporting the barest hint of a mustache, the mouthy fellow is seen on camera talking quite the big game — and just feet from the officers as he mocks them while other customers go about their business.
First, he's seen pretending as if he were one of them: "I'm all about chilling. I'm all about not doin' nothing. I'm all about collecting a paycheck. You work, I get paid."
He then moves directly in front of one officer, turns toward the camera and imitates one cop's standing position: "F*** you guys, I don't know s**t. I got a paycheck, I got a blue shield."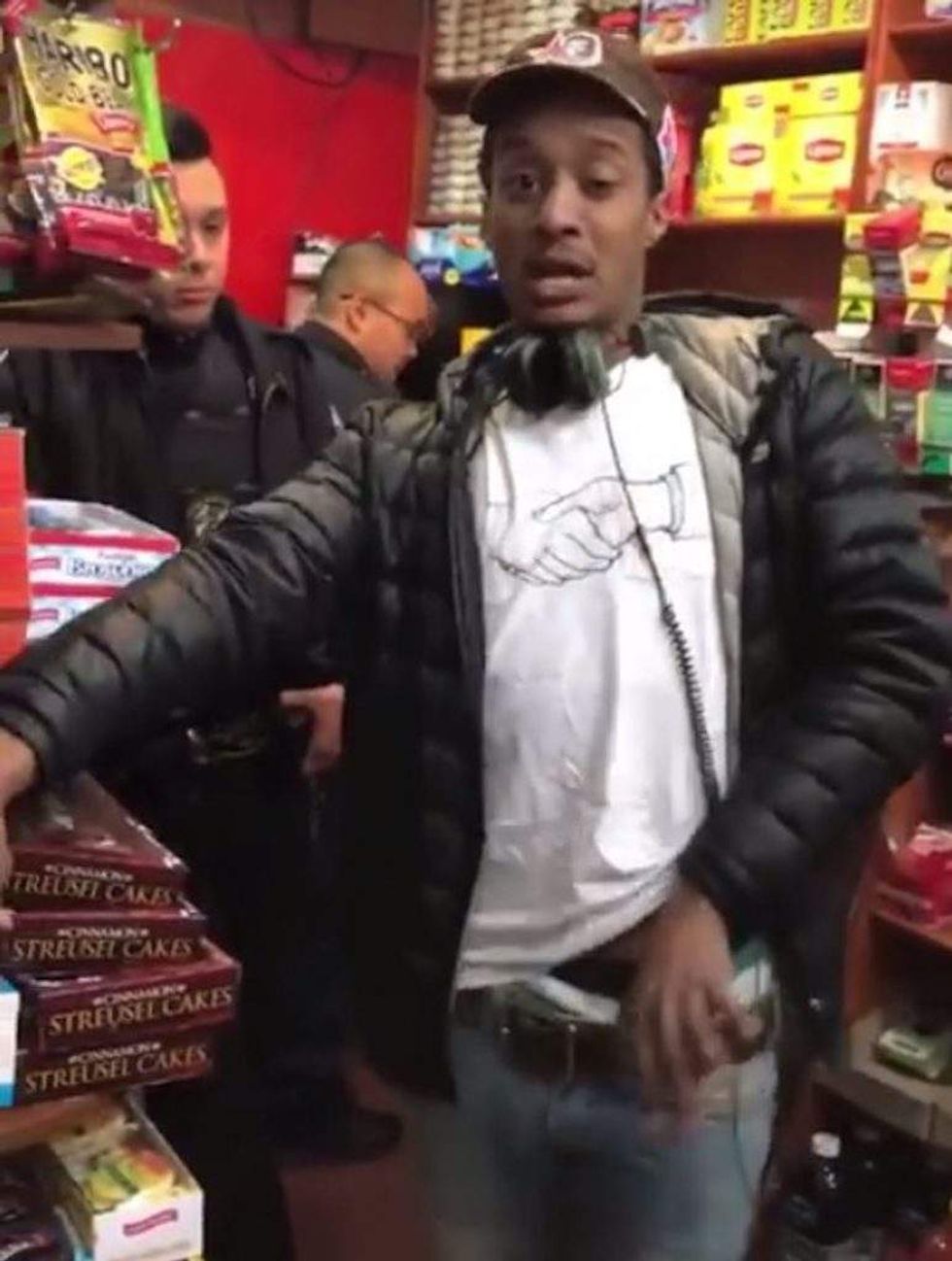 Image source: YouTube screen cap
The officers do nothing in response.
He continues, facing the officers and saying "that perception is not only reality, it's the f***ing golden ticket to f***ing truth" that they aren't earning their pay: "You motherf***ers aren't doing s**t! I get paid to actually produce work ... what's your value? Other than a light-skinned presence in my area?"
Image source: YouTube screen cap
After what appears to be store worker gently contesting the man's statements, he loudly proclaims the officers are "hanging the f*** out on my dime" and claims the worker complained about them taking up space in the store.
Soon the person shooting the video says the officers called for backup, which the taunting fellow describes as "white s**t" several times.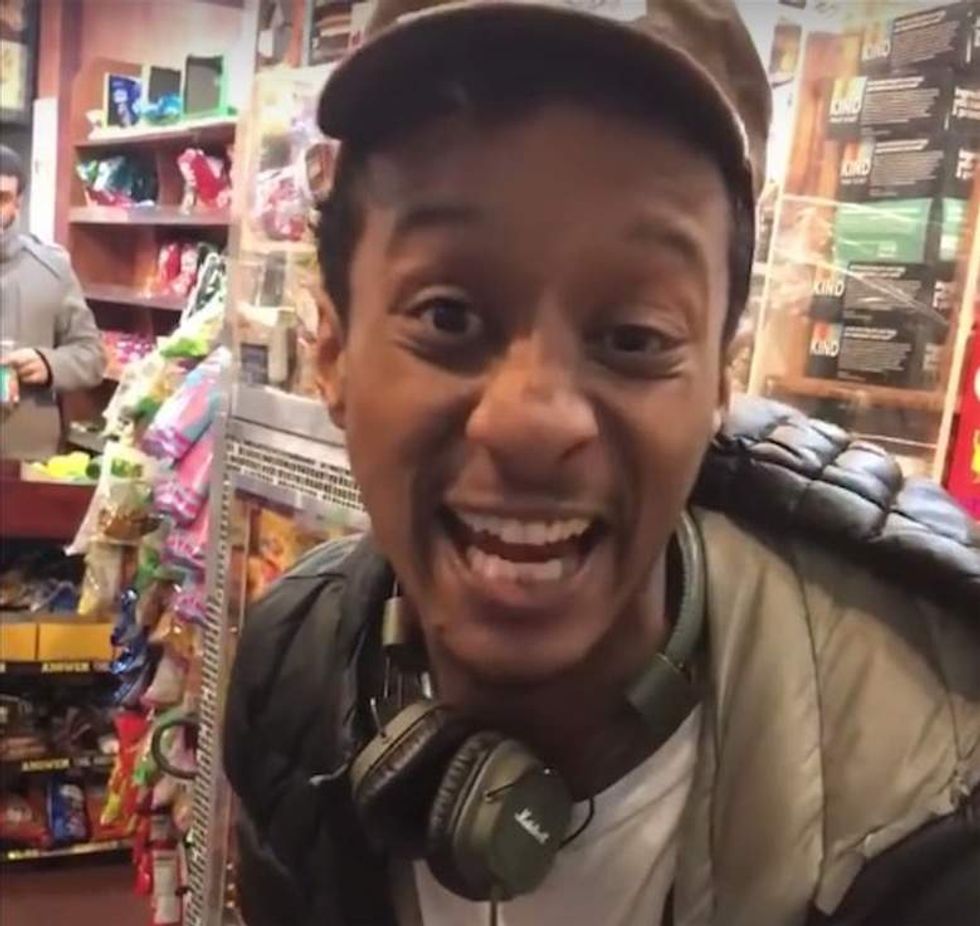 Image source: YouTube screen cap
"I'm sorry," he continues, "I'm an overly competent citizen who pays his taxes, who went to an Ivy League school, so who the f*** are they gonna say?"
As he continues to taunt the officers, the clip ends. It does not appear that police challenged the man at all.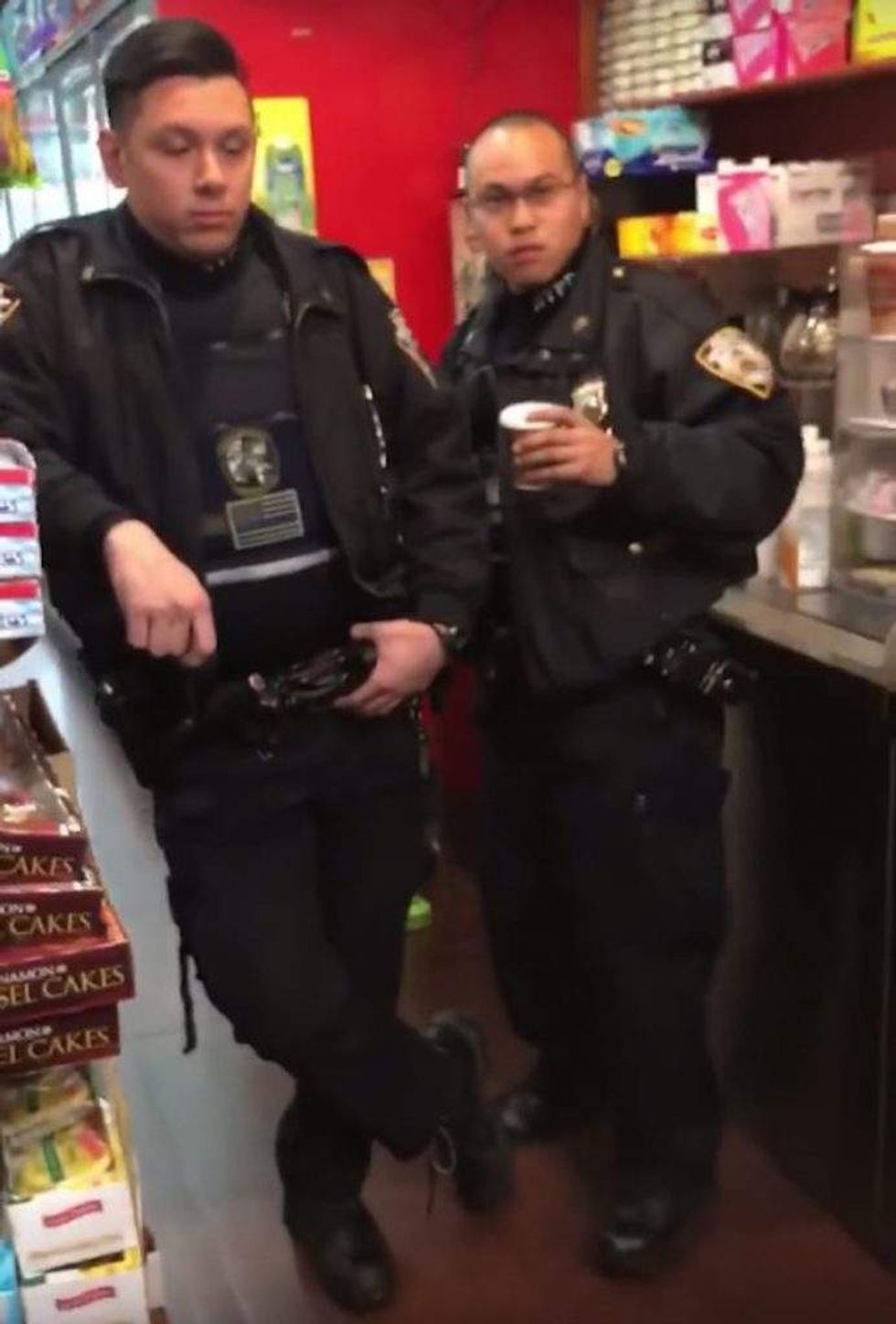 Image source: YouTube screen cap
According to NYPD Lt. John Grumpel — who on Monday told TheBlaze the department is aware of the video — it's par for the course in life of a police officer in the city.
"NYPD officers act in a professional manner," Grumpel told TheBlaze, even in face of someone spewing profanity at them. "They get past that" and do their job, he said.
Grumpel added that while it's "not a crime" to behave in such a manner and that it's "unusual" for someone to treat police officers like that for the sake of showing off or proving it can be done without consequences, there's little recourse for police.
"Unless they threaten you, there's really nothing can be done," he said, adding that it's not a "feel-good situation" and nothing was pursued in this case.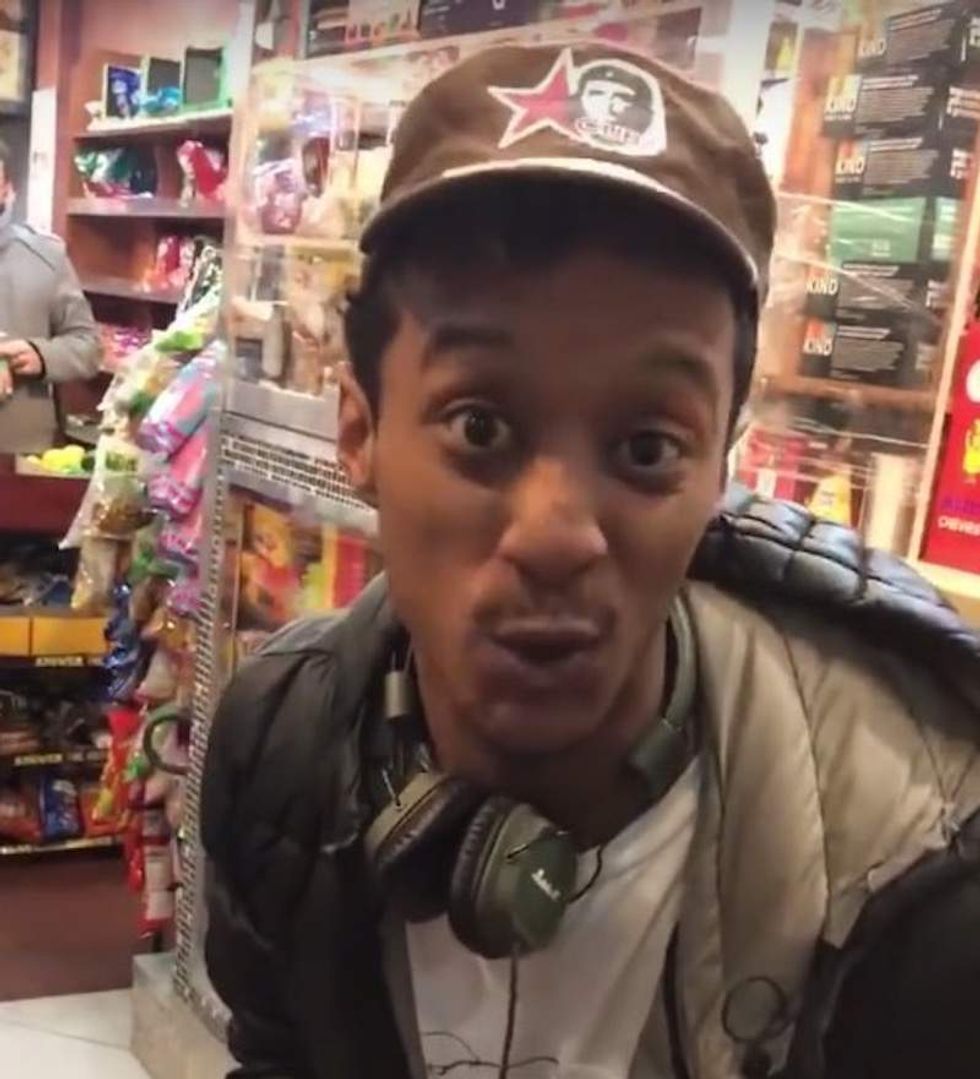 Image source: YouTube screen cap
Jack Rinchich — president of the National Association of Chiefs of Police — told TheBlaze he's seen similar situations during his 40 years on the job and that the NYPD cops "came out on top" in this instance.
"You have to admire the officers' restraint," Rinchich said, adding that "the vast majority of citizens agree it was uncalled for, to say the least."
Rinchich — who also saw two tours of duty in the Marines and is an ordained police chaplain — told TheBlaze officers have to ask themselves if an arrest will escalate the situation. "We're trained to withstand that sort of thing," he said. "If we lose our control, the whole thing goes south."
Grumpel shared with TheBlaze one important message for the "clown" in the video if he were ever the victim of a crime: "We'd be the first to respond."
Here's the clip. It also appears on Facebook, where it's nearing 1 million views. (Content warning: Strong language):
This story has been updated.