The ranking Democrat Rep. Adam Schiff (D-Ca.) on the House Intelligence Committee went to the White House Friday to see the same information that Chairman Nunes (R-Ca.) obtained and privately briefed President Trump about. His statement on the matter incited more questions than it provided answers.
"Today my staff director and I reviewed materials at the White House," the statement read. "It was represented to me that these are precisely the same materials that were provided to the Chairman over a week ago. While I cannot discuss the content of the documents, if the White House had any concern over these materials, they should have been shared with the full committees in the first place as a part of our ordinary oversight responsibilities."
"Nothing I could see today warranted a departure from the normal review procedures," it continued, "and these materials should now be provided to the full membership of both committees. The White House has yet to explain why senior White House staff apparently shared these materials with but one member of either committee, only for their contents to be briefed back to the White House."
The information began a political firestorm when Nunes claimed that it was evidence there had been intelligence gathered by the previous administration on Trump or his aides before the election. Trump had made the claim on his Twitter account and demanded that Congress investigate the explosive accusation.
Trump said that he felt "somewhat vindicated" by the dramatic announcement, but what exactly Nunes saw is still a mystery, and Schiff didn't reveal anything to change that.
Schiff told reporters Tuesday that Nunes should recuse himself from investigations into Russian meddling in the election, saying that the House Intelligence Committee chairman had an "inherent conflict" since he had been on the Trump transition team. Other Democrats went so far as to demand that Speaker Paul Ryan (R-Wisc.) remove Nunes from the committee altogether.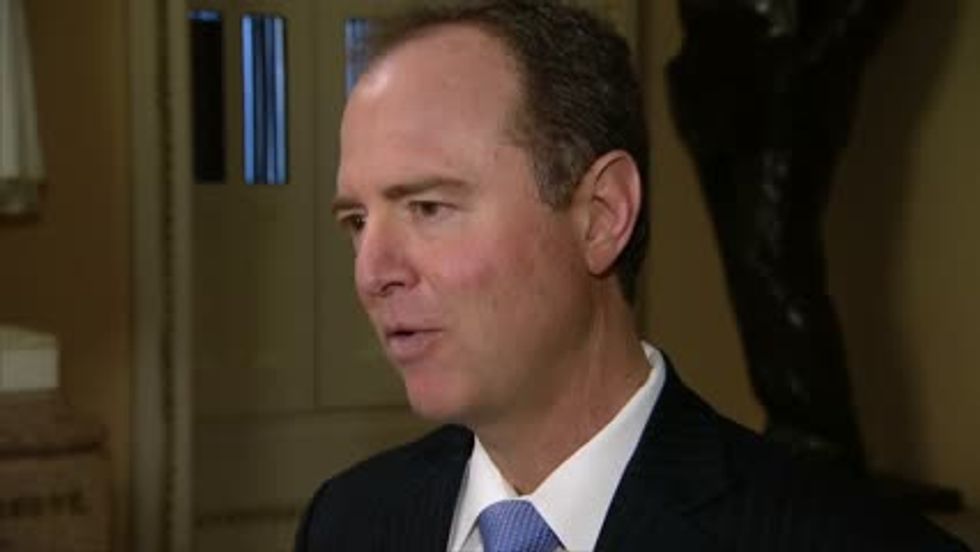 Schiff has recently divulged that the committee was looking into social media "bots" and "trolls" that were spreading "fake news" reports to meddle in the U.S. election. He said that such an investigation would include the possibility that the Trump campaign participated or colluded in these "fake news" campaigns.
Trump had also told Tucker Carlson that he would be providing evidence to support the claim to the intelligence committee.