Secretary of State Rex Tillerson assailed Russia for its alleged role in the Syrian gas attack that precipitated President Donald Trump ordering a military strike on Syria. He spoke to reporters soon after the strike Thursday.
"Clearly, Russia has failed in its responsibility to deliver on that commitment," Tillerson said, referring to a chemical weapons deal made between the U.S. and Russia in 2013. Then he followed with a very serious charge.
"Either Russia has been complicit or Russia has been simply incompetent in its ability to deliver on its end of that agreement," Tillerson concluded.
In September 2013, then-Secretary of State John Kerry announced a deal with Russian foreign minister Sergei Lavrov that should have eradicated Syria's chemical weapons stock. Destruction or removal of all the chemical weapons was to be completed by the middle of 2014.
At the time, the Syrian opposition decried the deal as sweeping the atrocities already committed under the rug.
"All of this initiative does not interest us," said General Selim Idris. "Russia is a partner with the regime in killing the Syrian people. A crime against humanity has been committed and there is not any mention of accountability."
Tillerson said Thursday that international response to the U.S. attack on Syria was "overwhelmingly supportive."
When asked if the missile attack launched Thursday night was because of Trump's emotional reaction to photos from the Syrian chemical attack, Tillerson denied it.
"I don't think it was, I don't view it as an emotional reaction at all," he said. "President Trump evaluated this first attack, these attacks that occurred on his watch, and reflected upon the prior responses, or lack of responses. He came to the conclusion that we could not, yet again, turn away. And turn a blind eye to what's happened.
"The use of these weapons as I indicated earlier," Tillerson explained, "one of the concerns we have is the more we fail to respond to the use of these weapons, the more we begin to normalize their use. And when we begin to normalize their use, we are opening up wider spread use by others to use such weapons.
"And I don't think we should in any way diminish the risk of the situation in Syria where there is a lot of chaos on the ground," he concluded. "There are elements on the ground in Syria. Elements that are plotting to reach our shore, and these type of weapons falling into their hands and being brought to our shore is a direct threat on the American people."
Happening now re: Syria: 'It's clear that @POTUS @realDonaldTrump made that statement to the world tonight.'

Sec Rex Tillerson @StateDept pic.twitter.com/fW2v5TOGwI

— Dan Scavino Jr. (@Scavino45) April 7, 2017
The military strike was composed of 50-60 tomahawk cruise missiles that were launched from U.S. warships in the Mediterranean Sea. The Syrian military reported that six people were killed and many others were wounded.
Tillerson had earlier claimed that there was no doubt that the chemical attack came from Assad's forces. Trump forcefully repeated the claim in a video statement after the U.S. strike, saying, "There can be no dispute that Syria used banned chemical weapons."
The U.S. military released footage of the tomahawk missiles fired at Syria.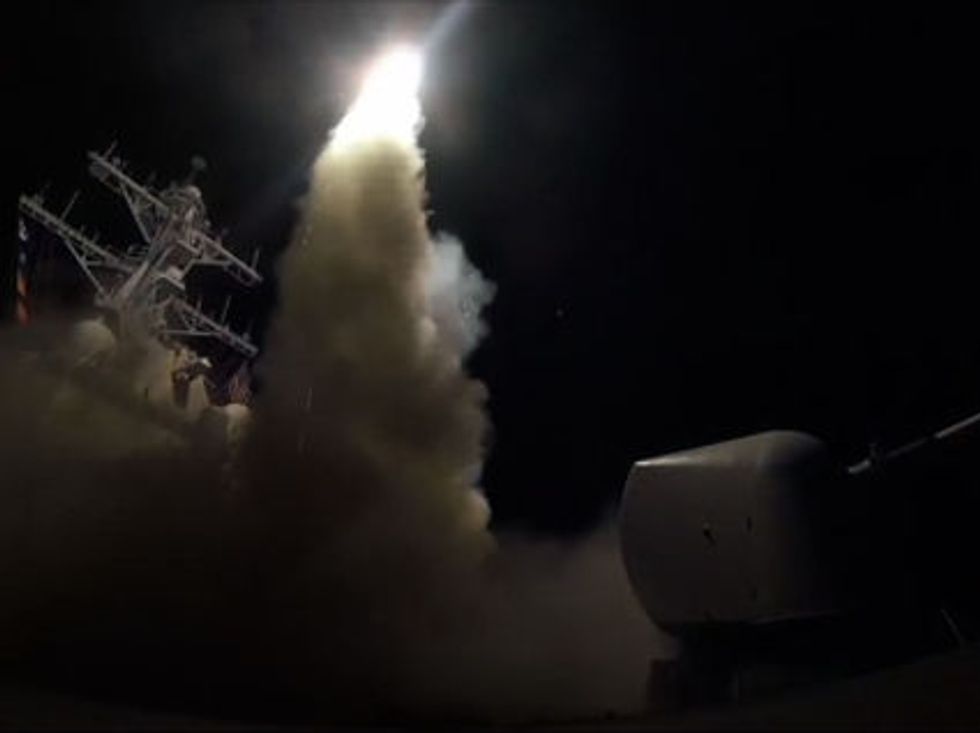 Many members of Congress voiced their support of the strike, including Sen. Marco Rubio (R-Fla.) who had earlier said the Trump administration emboldened Assad to the chemical attack by announcing they were no longer seeking regime change. Some criticized the act, saying Trump should have sought Congressional approval beforehand.