The father of a now-former UCLA star basketball player said that the white starters for this season's squad were "too slow" afoot to help win a national championship.
"Realistically, you can't win no championship with three white guys because the foot speed is too slow," LaVar Ball told the Indian Valley Daily Bulletin, which noted he presumably meant starters TJ Leaf, Bryce Alford and Thomas Welsh.
La Var Ball's son, Lonzo Ball, a point guard, is headed for the NBA draft — where he's projected to be an early pick — in June after having completed his freshman season at UCLA with a loss to Kentucky in the Sweet 16 playoff bracket of the NCAA Basketball Tournament in late March.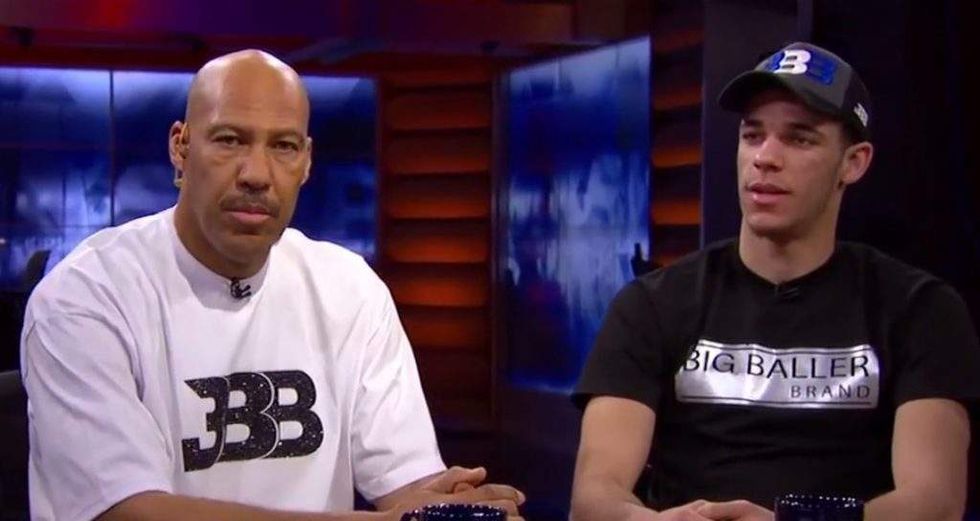 La Var Ball (left) sits with his son Lonzo Ball, in an ESPN interview. (Image source: YouTube screen cap)
"I told Lonzo, 'One of these games you might need to go for 30 or 40 points.' It turned out that was the one game," La Var Ball told the paper Thursday. "Then once they get to the Elite 8, they're right there."
He tried to walk it back Friday in an interview with ESPN 710 LA, ESPN reported.
"I am not saying I don't like the white guys and we lost because of them," La Var Ball said. "No — that's how they twisted it up."
It's likely too little, too late. Twitter has been buzzing over the dad's observation.
Actor Michael Rapaport tore into him in a big way, saying La Var Ball is like a "bullying soccer mom." (Content warning: Lots of strong language):
LaVar Ball is a 3 Card Monty Player https://t.co/vDdEFbsqmO

— MichaelRapaport (@MichaelRapaport)1491585544.0
Others chimed in as well:
Dear White People, We the African Americans dont claim #LavarBall as one of our own. Please accept him as our gift. From, The Black People

— 8-Ball🎱 #BlackLivesMatter (@8-Ball🎱 #BlackLivesMatter)1491569171.0
When LaVar Ball says white players are why UCLA lost I assume he's referring to his half-white son getting 39 dropped on him by De'Aaron Fox

— Rob Fox III (@Rob Fox III)1491530935.0
#lavarball I think Lavar is jealous that his sons are bigger names than him. Funny he said that cause his sons are biracial. Wife is white.

— ThePhenomenalWoods (@ThePhenomenalWoods)1491583881.0
#LavarBall blames the L to Kentucky on the white guys, meanwhile the white guys played better then his son🤔🤔🤔🤔

— Jarron (@Jarron)1491585219.0
"Lucky for LaVar Ball, black people can't be racist." -@ClayTravis https://t.co/6VfN4aZaWJ

— FOX Sports Radio (@FOX Sports Radio)1491565758.0
La Var Ball played basketball for Washington State University and later played for the London Monarchs of the World League of American Football.
Despite Lonzo Ball's departure from UCLA, his two younger brothers will attempt to fill his shoes on the squad: LiAngelo looks to play there next season, and LaMelo is committed to the school as well, ESPN reported.