CNN contributor and popular liberal pundit Sally Kohn assaulted Republicans on Twitter for their use of the "nuclear option" to confirm Judge Neil Gorsuch to the Supreme Court, but conservatives were quick to give her a facts-based history lesson.
"Are we really surprised that after Democrats DIDN'T use #NuclearOption, Republicans DID?" Kohn wrote on Twitter on Thursday. "Perpetual high-road/low-road distinction."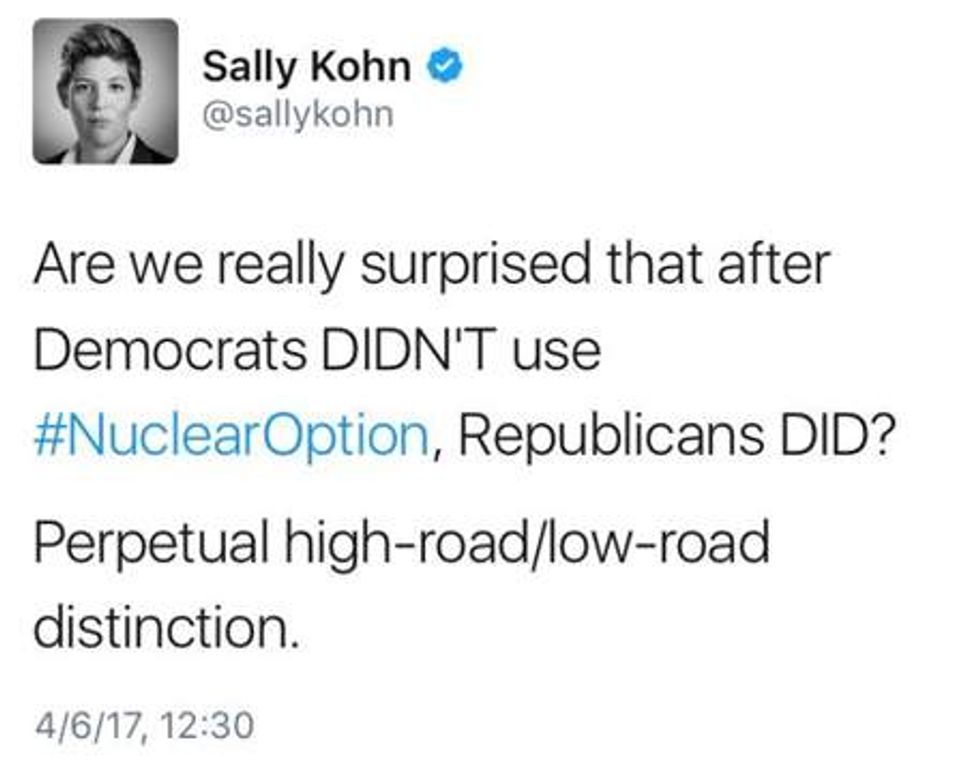 The comment came just as the Republican-controlled Senate voted to change Senate rules so that only a simple majority would be needed to end debate related to confirming a Supreme Court justice on the Senate floor, a procedural rule change commonly called the "nuclear option." Under previous rules, which had been in place for decades, at least 60 votes were required to end debate.
Kohn's criticism of Republicans was instantly met with fierce opposition from conservatives, who pointed out it was the Democrats who used the nuclear option in 2013 to confirm numerous federal judges nominated by President Barack Obama.
Writing for the Washington Free Beacon, Alex Griswold wrote of Kohn's comments, "But Dsemocrats did use the nuclear option when they controlled the Senate in 2013, changing the rules to kill the filibuster of any executive appointments and non-Supreme Court federal judges. Republicans on Thursday then applied the nuclear option to Supreme Court nominations."
Peter Hasson, an associate editor with the Daily Caller, laughed at Kohn while providing the following link to an article she wrote back in 2013, in which Kohn praised Democrats for going nuclear.
On why I'm glad the Democrats went nuclear — my latest column for @CNN: http://t.co/C8ArRpV2jJ

— Sally Kohn (@sallykohn) November 22, 2013
In Kohn's article, which she wrote for CNN.com, she said the term "nuclear option" is "overblown" and justified the decision by saying the Republicans were "anti-government, anti-Obama bullies."
Jeff, who works for the Decision Desk HQ, which analyzes election results on election day, said, Kohn "knows and she doesn't care," in response to another user who wrote, "Oh Sally. Why do you do this to yourself?"
@neontaster @sallykohn she knows and she doesn't care.

— Jeff B/DDHQ (@EsotericCD) April 6, 2017
Liberals and leading Democrats uniformly rejected Republicans' decision to change Senate rules.
"When history weighs what happened, the responsibility for changing the rules will fall on the Republicans' and Leader McConnell's shoulders," said Senate Minority Leader Chuck Schumer (D-N.Y.), according to a report by the New York Times.
"They have had other choices," Schumer added. "They have chosen this one."