U.S. Attorney General Jeff Sessions is being excoriated for supposedly using charged language against immigrants, but a closer look at the text of his speech shows that he is being misrepresented by some in the media.
In the speech to border guards Tuesday, Sessions referred to violent criminal gangs such as MS-13, or Mara Salvatrucha, and the infamous Zeta drug cartel, but some are applying his words to all immigrants. And while the word was in the prepared remarks, he omitted it in the actual speech, a detail lost to his critics.
Politico White House reporter Josh Dawsey tweeted this without the full context of the quote, "Sessions to border agents: 'It is here, on this sliver of land, where we first take our stand against this filth.'"
Washington Post writer Dan Drezner tweeted about the quote, "Filth. He described illegal immigrants as 'filth.' Whatever your views on immigration that's f**king embarrassing for a US official to say." That was retweeted more than 3,700 times, while his retraction and apology only got slightly more than 100 retweets.
Chris Taylor of Mashable tweeted, "The Attorney General of the United States just called Mexican immigrants "filth." But by all means, keep being outraged about United."
But as Becket Adams of the Washington Examiner reported, not only was that phrase attributed to criminal gangs and not simply immigrants, but Sessions decided against using the word when he actually gave the speech.
"When we talk about MS-13 and the cartels, what do we mean?" Sessions asked in the speech. "We mean international criminal organizations that turn cities and suburbs into war-zones, that rape and kill innocent citizens and who profit by smuggling poison and other human beings across our borders. Depravity and violence are their calling cards, including brutal machete attacks and beheadings."
The misquoted line followed, but without the word "filth."
"It is here, on this sliver of land, on this border, where we first take our stand," he proclaimed.
The false quote took a life on its own on social media:
Not all news outlets got it wrong, fortunately.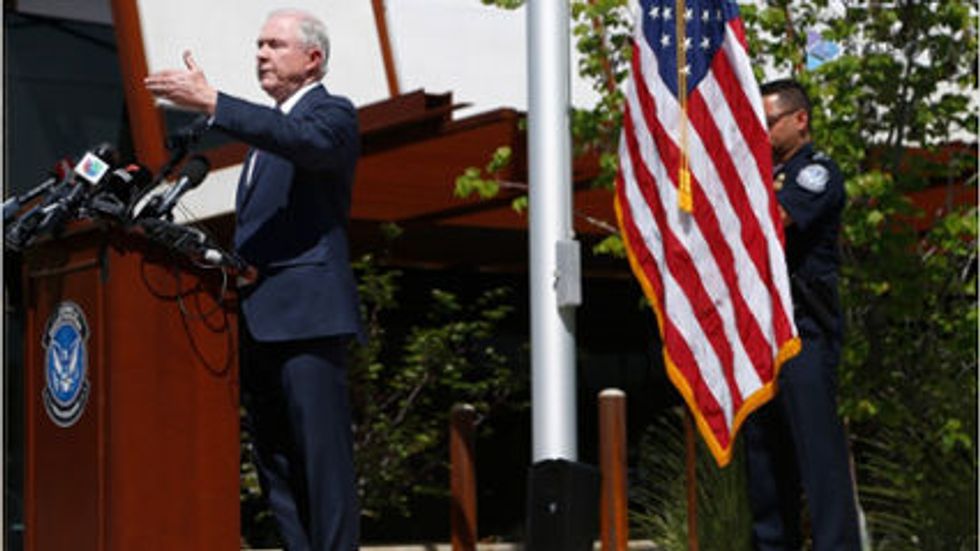 Sessions praised Trump in the speech for the precipitous drop in illegal border crossings that has been reported by law enforcement officials. Illegal crossings are reported to have dropped by 72% in the first few months of the year, to a figure not seen in 17 years.
Even Trump critic Jorge Ramos had to admit that the "Trump Effect" was probably saving the lives of those who were turning away from the perilous and dangerous trek northward to the U.S.-Mexico border.