President Donald Trump had harsh words for Russian President Vladimir Putin while explaining why he felt the need to act after the chemical attack in Syria. He made the comments to Maria Bartiromo Tuesday on Fox News.
"Frankly, Putin is backing a person that's truly an evil person," Trump said. "And I think it's very bad for Russia, it's very bad for mankind, it's very bad for this world."
"But when you drop gas, or bombs, or barrel bombs," he added, "these massive barrels with dynamite and they drop them right in the middle of a group of people. And in all fairness, you see the same kids, no arms, no legs, no face. This is an animal."
"I will tell you that when I looked at the pictures," he continued, "especially when you see them on television. And you see these beautiful kids that are dead in their father's arms. Or you see kids gasping for life, and you know they're, it's over, it's over for them. They're hosing them down. Hundreds of them."
"When you see that," Trump explained, "I immediately called General Mattis, I said, 'what can we do?' and they came back with a number of different alternatives. And we hit them very hard."
"Now, are we going to get involved in Syria? No," he answered. "But if I see them using gas, and using things that, I mean, even some of the worst tyrants in the world didn't use the kind of gases that they used. And some of the gases are unbelievably potent."
"So when I saw that I said we have to do something," the president concluded.
In #FBN interview to air later, #Trump says US not going into #Syria, #Putin backing "truly evil person"pic.twitter.com/9Gd0qTnuTk

— Jon Williams (@WilliamsJon) April 12, 2017
The subject of barrel bombs was an awkward one after White House Press Secretary Sean Spicer appeared to include them with chemical weapons that would violate Trump's red line and precipitate a military reaction. When asked to clarify, the Trump administration offered an unclear response, since Assad has used barrel bombs often in his military campaign against the rebels trying to remove him from power.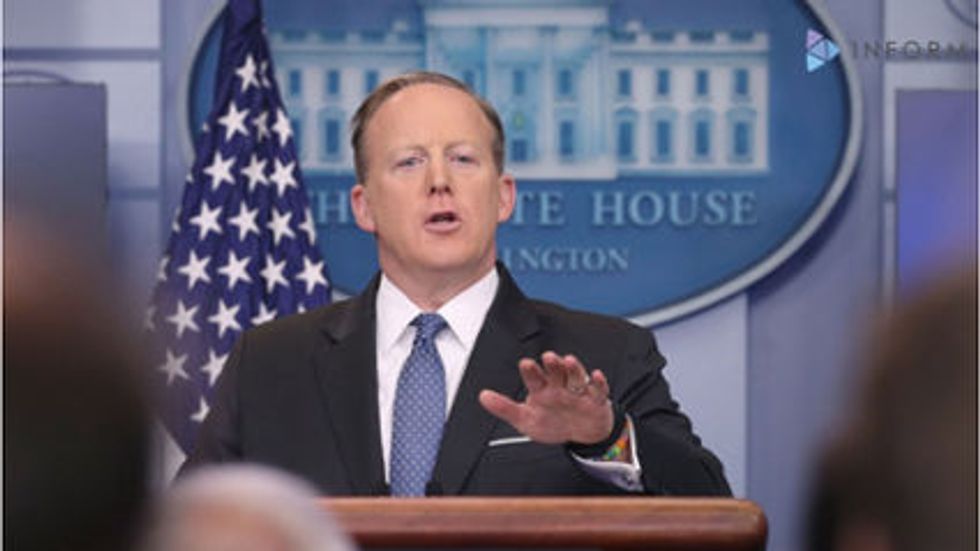 While Democrats and other Trump detractors have accused the administration of having possibly criminal ties to the Russian government, the U.S. foreign policy posture has become decidedly hostile against them. Secretary of State Rex Tillerson issued an ultimatum to Putin Tuesday, saying he needed to choose between allying himself with Syria and Hezbollah, or with the United States and the rest of the world.