Russian Foreign Minister Sergey Lavrov confronted NBC News chief foreign affairs correspondent Andrea Mitchell about her "manners" in an awkward moment caught on camera during U.S. Secretary of State Rex Tillerson's trip to Moscow.
Mitchell, who covers the State Department for NBC News, was traveling with Tillerson on what was his first trip to the former Soviet Union as the nation's top diplomat. Tillerson previously visited Russia multiple times while he was the CEO of ExxonMobil. Tillerson and the American diplomatic envoy sat down with Lavrov and the Russian diplomatic envoy in Russia on Wednesday.
As the leaders took their seats, Mitchell shouted out questions. It was clear, though, that Lavrov didn't appreciate Mitchell's aggressive style.
"Mr. Lavrov, the Russians don't believe the [U.S.] intelligence," Mitchell shouted out to Tillerson's Russian counterpart from feet behind him.
"How confident are you, Mr. Secretary—" she followed up. Lavrov cut Mitchell off right there to confront her about "manners."
"Who was bringing you up?" Lavrov said in response to Mitchell. "Who was giving you your manners, you know?"
Tillerson, who doesn't often show emotion, smiled as the exchange took place.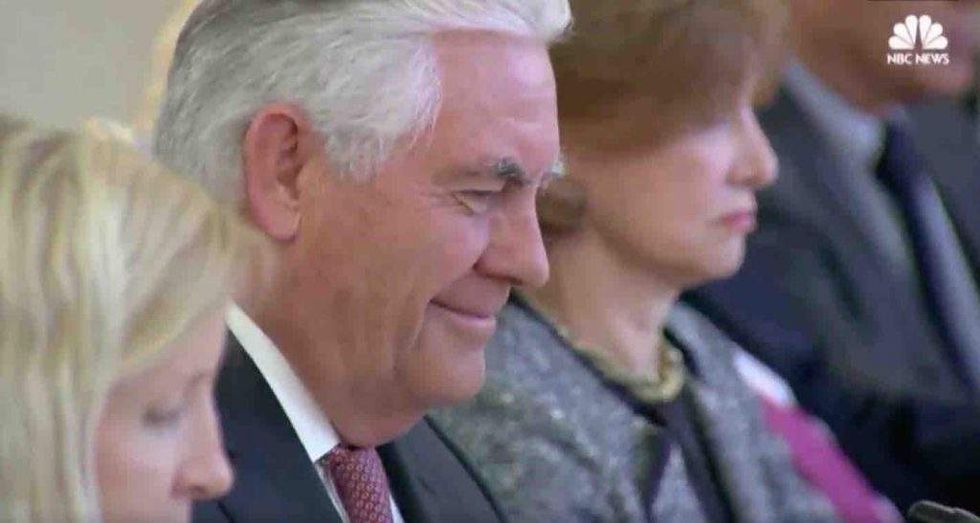 Secretary of State Rex Tillerson smiles during an exchange between NBC News' Andrea Mitchell and Russian Foreign Minister Sergey Lavrov (Image source: NBC News)
It wasn't the first time Mitchell has been rebuked for shouting out questions. Just last month, for example, Mitchell was seen being escorted out of the room while Tillerson met with Ukrainian foreign minister Pavlo Klimkin in Washington, D.C.
Mitchell eventually left the room along with other members of the media, following brief statements from the two leaders.