A professor at Arizona State University gave her Global Politics of Human Rights class a choice for the end of the semester: Take a final exam or undertake a group project.
As you might guess, the group project option was the winner.
And what did that project entail? A protest against the policies of Republican President Donald Trump, of course, which took place Thursday on the Tempe, Arizona, campus.
"The class decided that as a group project they wanted to make their voices heard about the issues that are affecting them today, so instead of just reading about the human-rights violations, they'd speak out about the current violations that are happening," Angeles Maldonado told the Arizona Republic, adding to the paper that she believed it was her duty as a professor to support their decision.
So about 20 of Maldonado's students created signs and stood in a line near the library of the public university, making a human wall, the paper said, adding that other ASU students joined their ranks and picked up more signs to display the slogan, "Wall Against Hate!"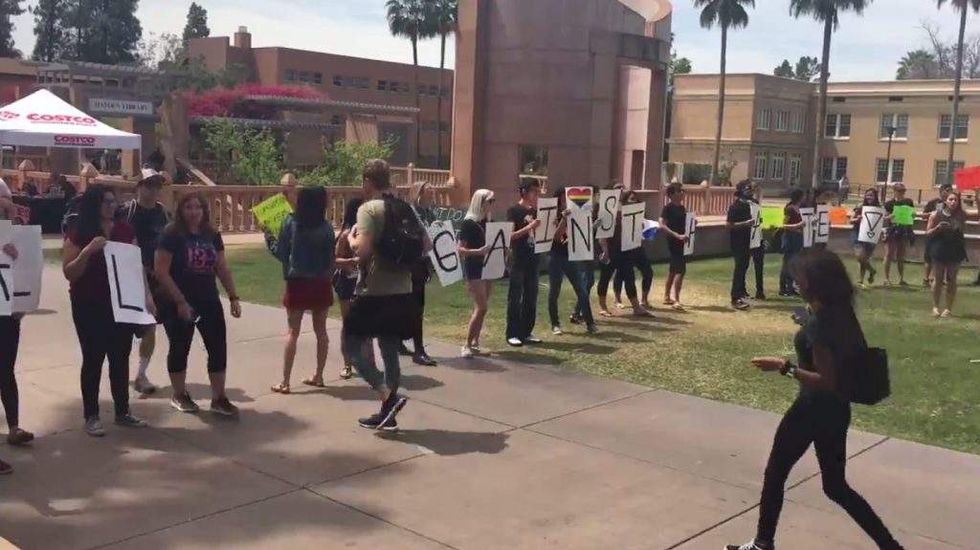 Image source: Arizona Republic video screen cap
"This was something that we all got together and said we would express some of the things we don't like, so a lot of the other people here are protesting things like immigration, immigration ban, women's rights, things like that," Alex Corella, a student in Maldonado's class who participated, told the Republic.
Other issues brought to light included LGBT rights, women's rights, Black Lives Matter, immigration, and the prison system, the paper said.
"I've been going out to a lot of protests lately to show the administration that we don't approve of them and to show the people in our community that there are people who support them," Maria Pakulis — a female gender studies major who isn't in Maldonado's class but joined the protest — told the Republic.
Things even got a little heated during this group project.
College staffers asked the protesters to gather elsewhere so sidewalk traffic could get through, the paper said, adding that the students stood about a foot apart instead of shoulder-to-shoulder. Not good enough, apparently, as campus police got a call, the Republic said. This led protesters to drop their signs and link arms.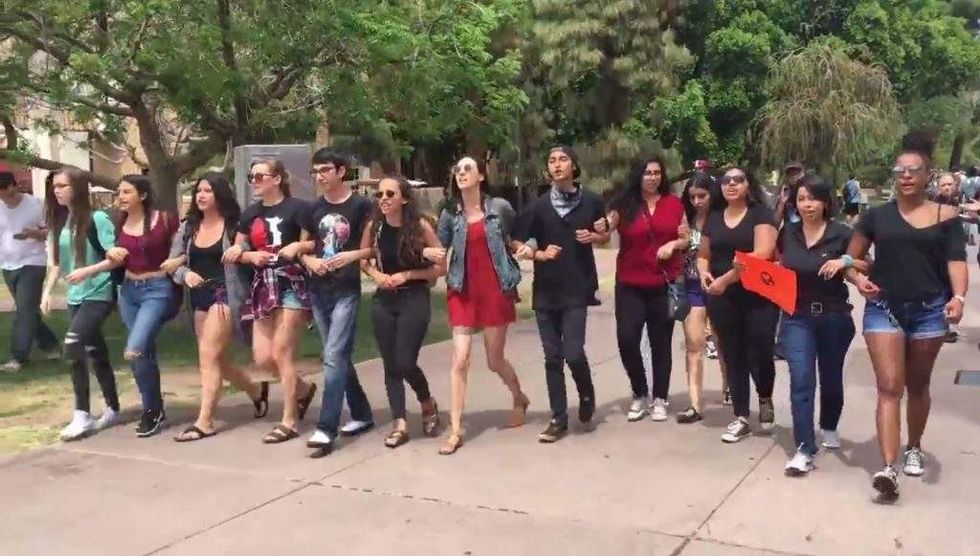 Image source: Arizona Republic video screen cap
It gave pedestrians quite the challenge getting past them.
Police then warned Maldonado directly, the paper said, and the group finally gave pedestrians enough room to walk.
Corella later made a pronouncement that likely was shared by the rest of his fellow classmates: "This is better than a final," he told the paper.
The ASU administration issued the following statement about the protest to the Republic:
As an institution of higher education and an environment that promotes academic freedom, Arizona State University supports the free exchange and expression of ideas. All individuals and groups on campus have the right to express their opinions, whatever those opinions may be, as long as they do not violate student code of conduct and student organization policies and do not infringe on another student's individual rights. This policy applies to all students.
(H/T: Heat Street)