Luanne Haygood watched helplessly as her 10-year-old autistic son was arrested at a Florida school April 12 — but she made sure to capture it all on video.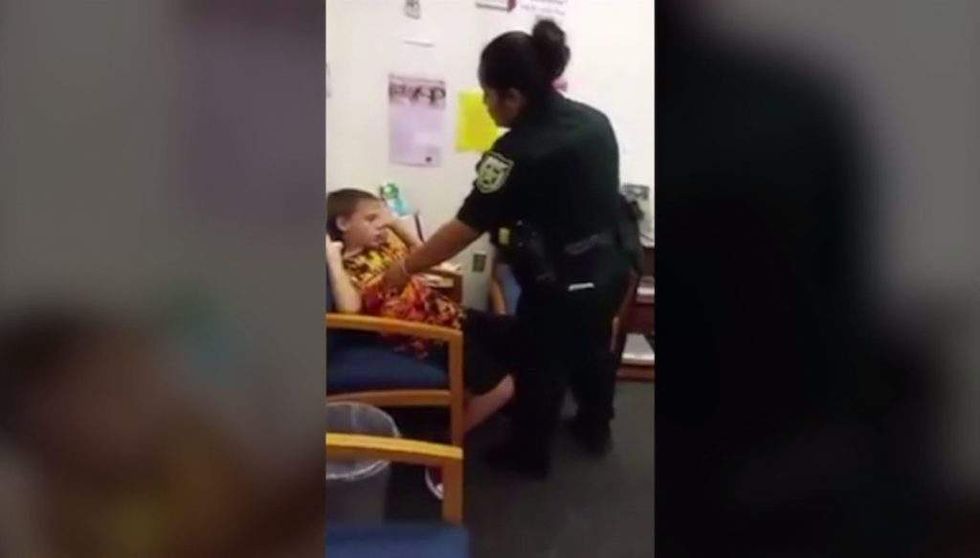 Image source: Storyful video screen cap
John Haygood, 10, pleaded with Okeechobee County School Resource Officers as they put handcuffs on him.
"I don't want to be touched," he's heard saying on the clip. "Please don't touch me."
Soon the boy was crying as he was led out of Okeechobee Achievement Academy and into a patrol car.
"I don't know what's going on, Mama!" he said.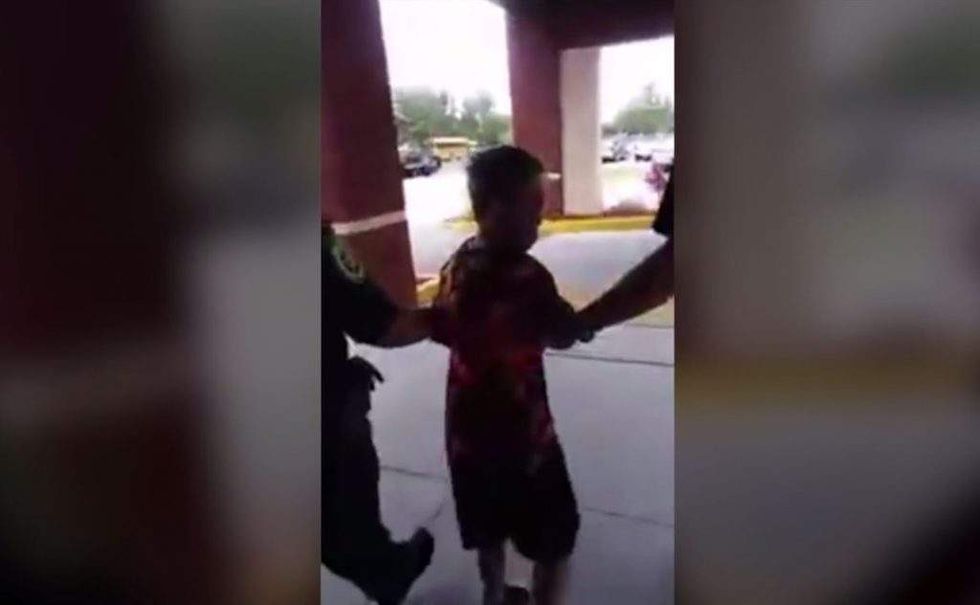 Image source: Storyful video screen cap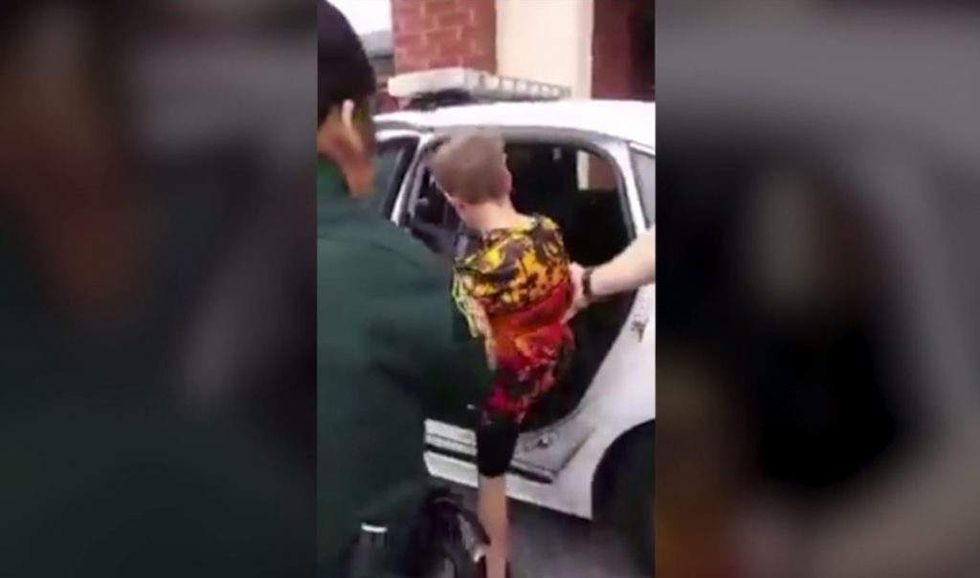 Image source: Storyful video screen cap
His mother tried getting answers from the officers who told her she couldn't sit with him in the vehicle.
"He has autism. He doesn't know what's going on," she's heard telling the officers on the clip. "He's scared to death. He's 10-years-old."
Here's Haygood's video:
With that, John Haygood was taken to juvenile detention where he spent the night behind bars and had only one meal in 12 hours, WPEC-TV reported. On Thursday morning, he appeared in a jail jumpsuit before a judge, WFOR-TV reported. He was then released under house arrest, WPEC said.
Turns out the charge against John Haygood was felony battery on a school board authority, the sheriff's office told WFOR.
But the incident didn't happen last Wednesday.
Luanne Haygood told WFOR her son kicked a paraprofessional at the school last October. The incident allegedly left the victim with scratches and other marks, WPEC reported.
"He didn't feel good with a paraprofessional," Haygood told WFOR. "I told him you got to go back to school. He said, 'I don't want to go back to school. I don't like him. I don't like him. He hurts me.' "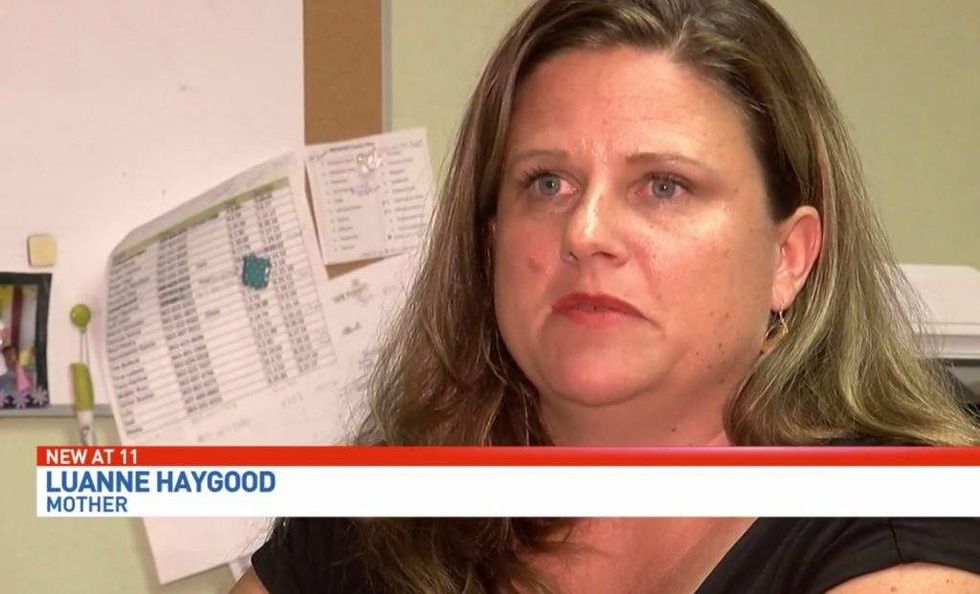 Image source: WPEC-TV video screen cap
John Haygood was expelled in October, WFOR added, and forced to complete work from home.
But when he went back to school for mandatory testing April 12, WPEC said, a school resource officer recognized him and confirmed there was an outstanding warrant for his arrest.
"I asked, 'Are you going to arrest him right now?' " Haygood recalled to WPEC. "She said, 'Yes ma'am, we have to.' "
Now the outraged mother is wondering why it all went down at the school — particularly after all this time.
"To go and have him arrested on school grounds in front of other students, in front of personnel, during school hours," she told WFOR. "They could've come to my house at any time to tell me what was going on."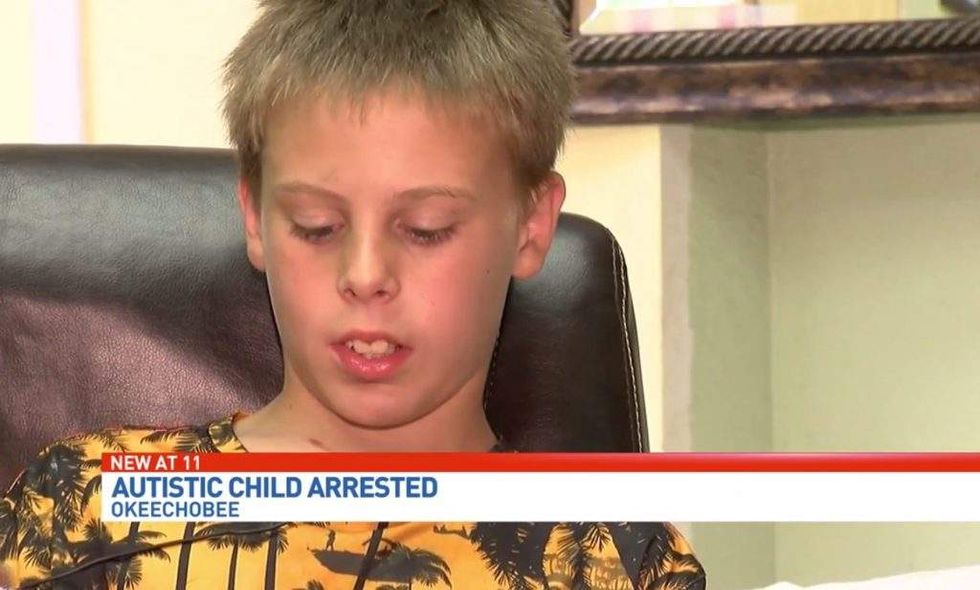 John Haygood after his arrest at the school. (Image source: WPEC-TV video screen cap)
The school district told WPEC it's been the district's "procedure to invite students in to take the Florida Standards Assessment. The district would not invite someone to one of our campuses for the sole purpose to arrest."
Okeechobee County sheriff's deputies told WWLP-TV they couldn't serve the arrest paperwork until April 12.
"I was extremely angry," Haygood added to WFOR, noting she "felt like this was a power play. I felt like this was ... 'This is what you get. You can't do anything about it. We're going to arrest your son if he can't abide by the rules.'"
The sheriff's office and prosecutors told WWLP they weren't aware Haygood has autism. The state attorney's office told WWLP it will take that into consideration.
Luanne Haygood acknowledged her son's history of trouble at the school but said it didn't have to culminate with an arrest and a night in juvenile detention.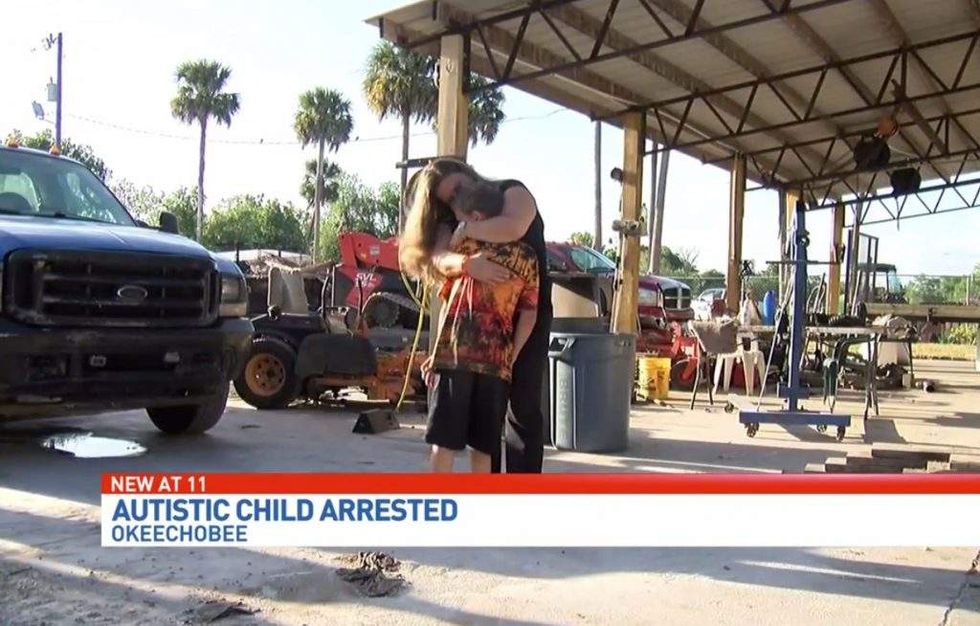 Image source: WPEC-TV video screen cap
"If I let my emotions go, I'm going to lose it. I'm going to cry, cuss, rant and rave. Nobody will listen to me. 'Oh, that's the crazy lady' or whatever," she told WFOR. "I want something done. I want other kids to not have to go through this."