In what was touted by the media as a possible rebuke to the Trump presidency and a foreshadowing of a tough midterm election, the Georgia 6th Congressional District election instead disappointed Democrats and allowed President Donald Trump to declare victory Tuesday.
Trump happily congratulated Republicans in a tweet chiding the media and the support streaming into Georgia from other states.
Despite major outside money, FAKE media support and eleven Republican candidates, BIG "R" win with runoff in Georgia. Glad to be of help!

— Donald J. Trump (@Donald J. Trump)1492574957.0
Enthusiastic Democrats were hopeful that their candidate Jon Ossoff might take advantage of an electorate energized to oppose Trump, and the media did their part to hype up the event. Republicans had a large slate of candidates in the "jungle primary," including a few who unapologetically supported Trump.
The election had been proclaimed widely as a referendum on the Trump administration, especially by Democrats who believed they would win the seat without a runoff.
The Republican who will now oppose Ossoff in the runoff is Karen Handel, a former secretary of state for Georgia. Handel also ran and failed to gain the nomination for Georgia governor and the nomination for the U.S. Senate.
Networks aired the speech from the 30-year-old Jon Ossoff to his supporters on Tuesday evening, where he acknowledged what CNN would confirm later — he was not going to reach the 50 percent threshold to avoid a runoff election. Ossoff finished with 48 percent of the vote, while Handel led a field of 17 candidates with 19.8 percent.
"There is no doubt that this is already a victory for the ages," Ossoff told followers.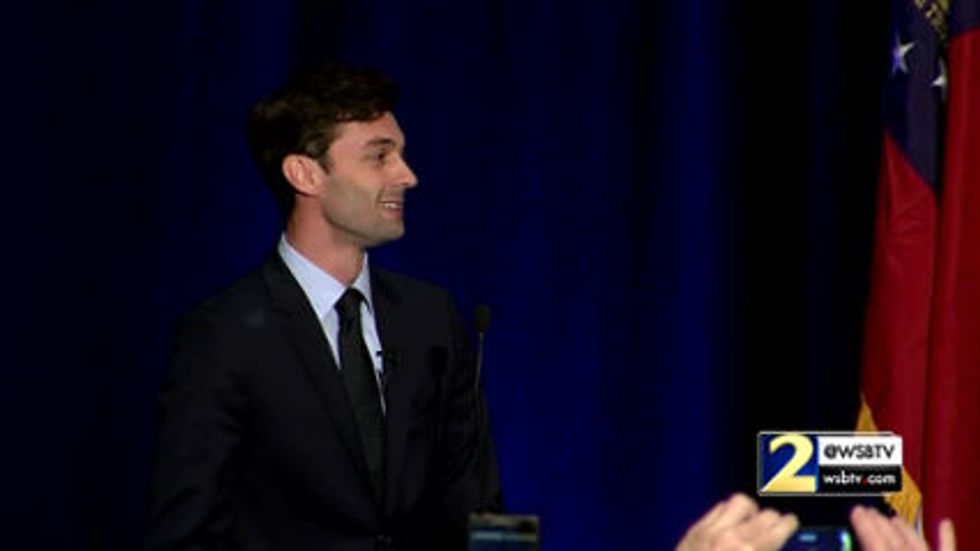 The winner of the June 20 runoff election will fill the seat vacated when Tom Price left the office to become secretary of Health and Human Services for the Trump administration. The district includes suburban households outside Atlanta, a stronghold for Republicans that is showing cracks since the 2016 election.
Democrats adopted the phrase, "make Trump furious" in an attempt to animate liberal voters who wanted to frustrate and anger the president.