Cheryl Judy said it's all a big misunderstanding.
The art teacher for Sherman Junior and Senior high schools in Seth, West Virginia, told the Charleston Gazette-Mail that she pinned a certain patch to the back of her jacket last Thursday afternoon.
Thing is, her patch reads "TUCK FRUMP," with the "F" in "FRUMP" and the "UCK" in "TUCK" highlighted in white. What's more, Judy told the paper she pinned the patch on her jacket while in a classroom with high school students who were doing artwork. Then a photo of her wearing the jacket in the classroom hit social media.
Meet Cheryl Judy, @2MuchArt, teacher at Sherman Jr. Senior High School in Boone County. @JackPosobiec… https://t.co/GKz1VVxfbb

— DeeconX (@DeeconX) 1492372984.0
It all happened during Judy's planning period, the paper said, adding that she pinned on the patch between 2:30 and 2:45 p.m.
"I thought that was a good time to pin that on there while they were busy," she told the Gazette-Mail of her students, "so I hung it over the back of the chair where they couldn't see it and I pinned the patch on."
But it didn't stop there.
Judy told the paper she showed the finished product to the students — between six and eight total — but only to make sure the patch was on straight. Besides, she told the Gazette-Mail, the students in the classroom were "like-minded."
"We had discussed this kind of stuff before," Judy told the paper. "They were not offended by it. It doesn't really have anything inappropriate on it unless you read it the wrong way."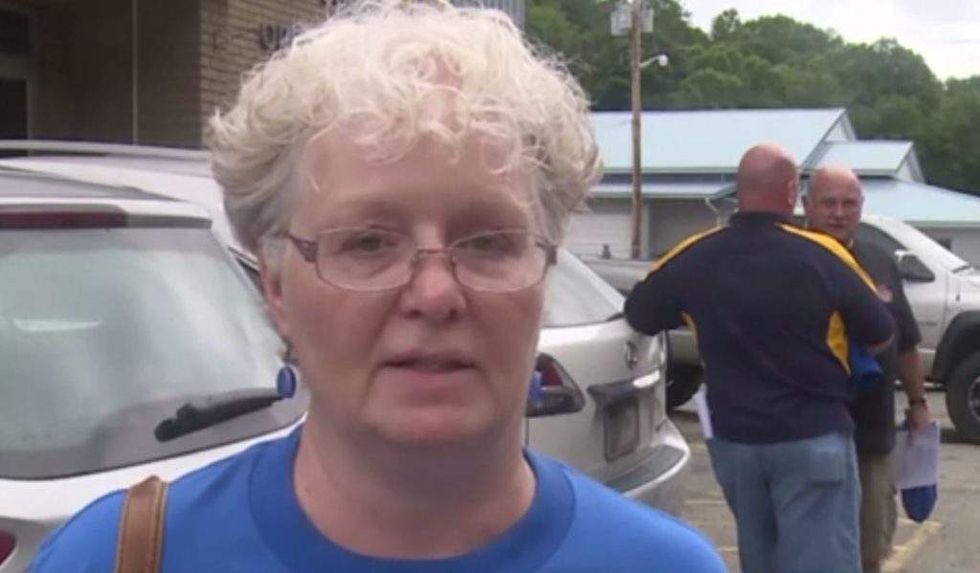 Art teacher Cheryl Judy pinned a patch on her jacket, which went viral on social media. (Image source: WSAZ-TV video screen cap)
Things likely would have ended there, but while Judy was wearing her "TUCK FRUMP" jacket, one of the students in the classroom asked to take a photo, the Gazette-Mail reported. Then the photo hit Snapchat, the paper said — and then everywhere else.
"Without me thinking I said 'Sure,' and she didn't post it to be mean or anything," Judy told the Gazette-Mail. "She has apologized for it, and she didn't know that this is what would happen, and she put it on Snapchat and then it just went everywhere. It exploded. It was unintentional on my part and on her part."
But some community members aren't happy about the photo.
"Very inappropriate for a teacher to wear that to school or anywhere else for that matter," parent Howard Kirk told WOWK-TV. "She's a public employee, so her opinion of Trump, while she's at work or at a public function, she's speaking for Boone County schools."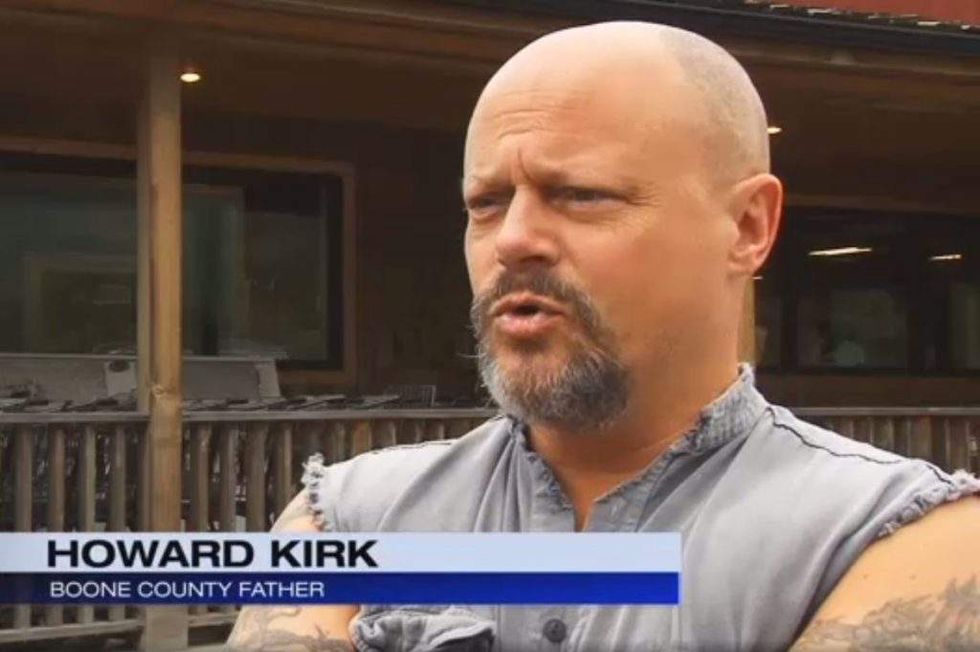 Image source: WOWK-TV video screen cap
But parent Lori Selbe said that while Judy may have used bad judgment, she shouldn't be fired.
"It's maybe something that isn't 100 percent appropriate, but at the same token, I don't think she should lose her job over it," Selbe told WSAZ.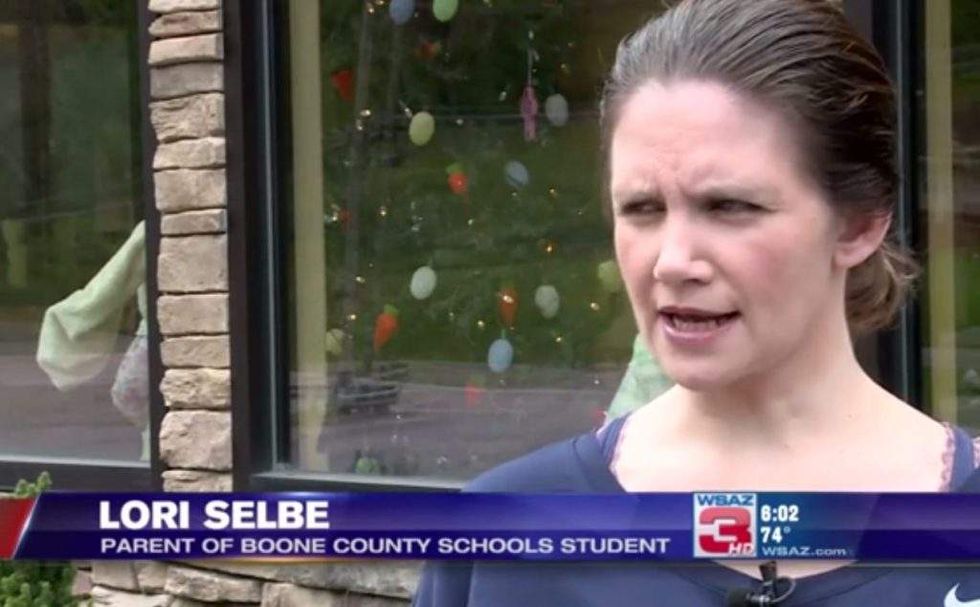 Image source: WSAZ-TV video screen cap
In the end, Judy said she believes many are getting the wrong idea.
"I really think people believe that I wore that patch all day long and all over the school, and I didn't, and I'm really sorry that all this has happened," she told the Gazette-Mail.
Judy, however, told the paper she actually wore her "TUCK FRUMP" jacket to the school board meeting Thursday evening and "nothing was said about it ... that it was inappropriate or anything."
Superintendent Jeff Huffman told WSAZ a full investigation will commence next week — the school is on spring break this week.
"We expect professionalism with both conduct and appearance," Huffman told the station. He said Judy's jacket "seems to have caused ... a great amount of concern from around the area and around the nation, as we've received multiple phone calls today."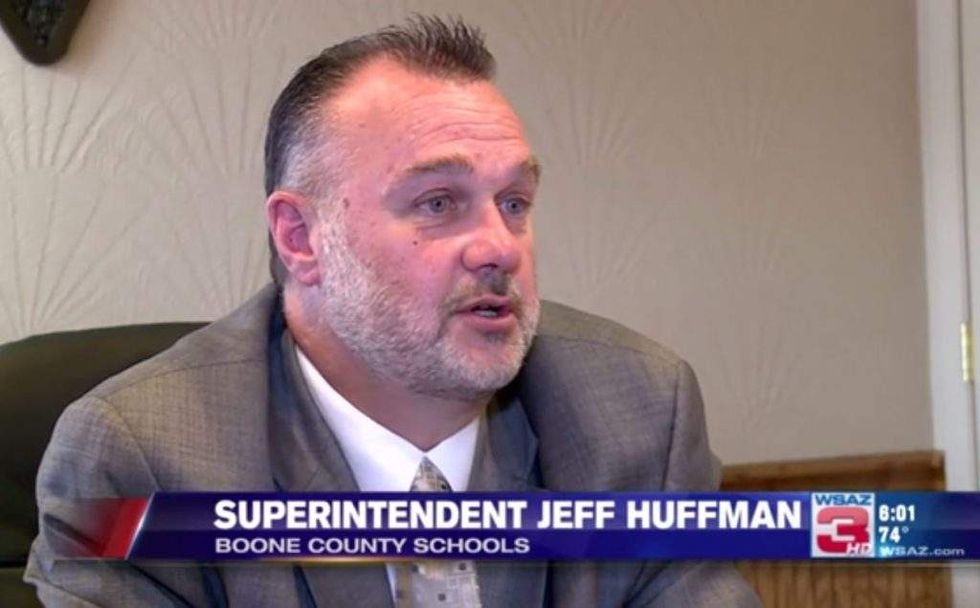 Image source: WSAZ-TV video screen cap
Judy, who described herself as a "very liberal person" in a statement to WOWK, told the Gazette-Mail that she doesn't want to lose her job over this.
"I don't try to push my ideas onto other people — my liberalism. I don't try to push onto other people, my religion, nothing," she told the paper. "And I do encourage my students to speak freely about their ideas and their beliefs without criticism in my classroom because that is a part of art, to be able to express that kind of stuff."