Shea Moisture products for naturally curly hair have long been favored by black women — but when the company expanded its reach to whites with a video advertisement Monday, that was more than some of the brand's core consumers could stand.
The video began with a black woman noting the difficulties of dealing with her hair: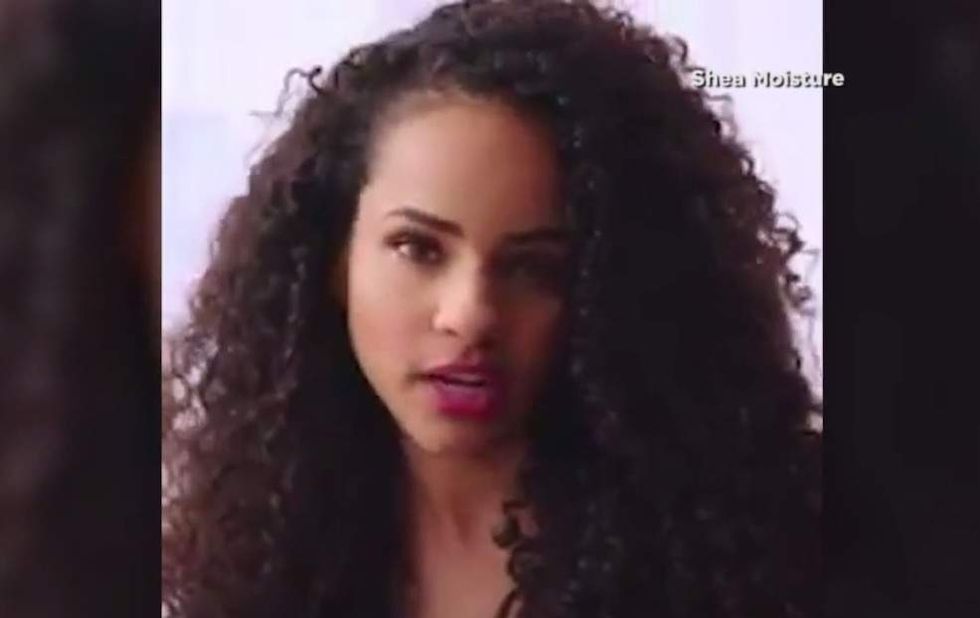 Image source: KDAF-TV video screen cap
But then it cut to white women harping on the same dilemma. Which was apparently a no-no.
Black women complained and said they felt insulted by the ad, the Washington Post reported, noting that one writer called it a "blatant erasure of African American women who made the brand what it is."
"Yes, we know good hair is for everyone," a BET writer said, according to the Post, "but that is why companies that cater specifically to black women need to exist — because so many of the products out there do not."
Other reactions were more direct:
To an 'ethnic isle' near you #sheamoisture #Shea https://t.co/yP5S8bpUef

— Sonia Grace (@Sonia Grace) 1493097997.0
Shea Moisture centered white women in a black woman space and that is so hurtful. Yall not getting my coins. Them white women can have yall

— ✨🦋𝓁𝓊𝓃𝒶🦋✨ (@✨🦋𝓁𝓊𝓃𝒶🦋✨) 1493061159.0
Shea Moisture's response? A big apology and the immediate removal of the ad.
"Wow, okay – so guys, listen, we really f-ed this one up," the company's apology began. "Please know that our intention was not – and would never be – to disrespect our community, and as such, we are pulling this piece immediately because it does not represent what we intended to communicate."
Noting that "WOC" (i.e., women of color) are discriminated against, the message added, "We are different — and we should know better."
But not everyone was on board with the complaints, the Post reported, as some said they were overreactions — and even white women without naturally curly hair noted that they've used Shea Moisture products:
I've used "ethnic" products for over a dozen years, without shame. I ❤️ great products. #SheaMoisture #Cantu… https://t.co/TYiKq4dAcg

— I'm Becoming my Own Superhero~It'sALongJourney (@I'm Becoming my Own Superhero~It'sALongJourney) 1493101621.0
Here's a KDAF-TV report on the hubbub: