North Korea accused the U.S. and South Korea of a launching an unsuccessful assassination attempt against North Korean dictator Kim Jong Un involving biochemical weapons, ABC News reported Friday morning.
A statement from North Korea's official media announced the accusation and added that their government will "ferret out and mercilessly destroy" U.S. and South Korean "terrorists" who purportedly targeted Kim. It noted that a "Korean-style anti-terrorist attack will be commenced from this moment to sweep away the intelligence and plot-breeding organizations of the U.S. imperialists and the puppet clique."
North Korean ministry claimed that the government was made aware of a 2014 assassination attempt against Kim that was to be carried out by an "ideologically corrupted and bribed" citizen who reportedly worked closely with Russian operatives to take out Kim, ABC News reported.
The Korean outlet also alleged that South Korean operatives provided financing and technology to the rogue North Korean citizen in order to attack the dictator with a biochemical weapon provided by the United States' Central Intelligence Agency.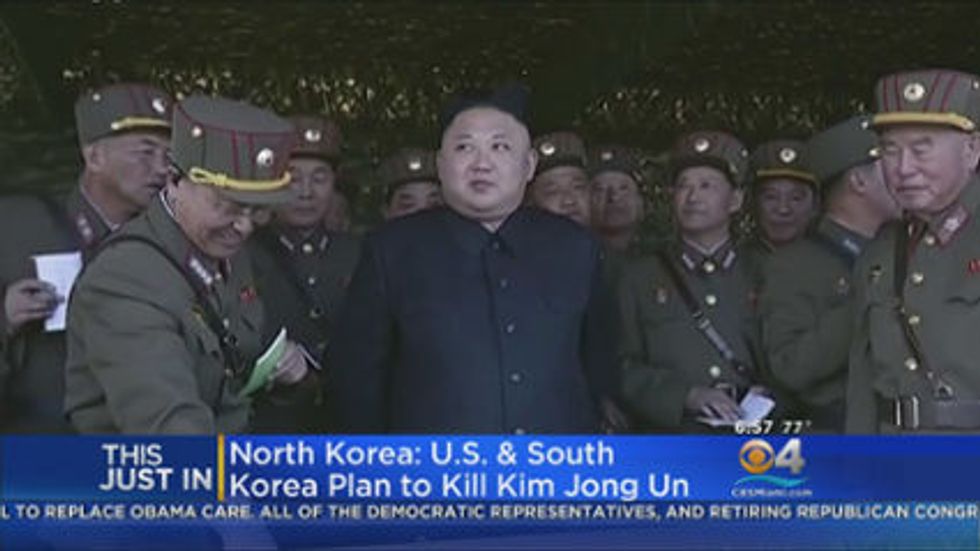 A report emerged from the state-run North Korean media on Tuesday claiming that they are "close" to nuclear war with the United States.
"Due to the U.S. military provocations that are becoming more explicit day by day, the situation in the Korean peninsula that is already sensitive is being driven to a point close to nuclear war," a North Korean news anchor warned via the media as per a Reuters translation.
A North Korean newspaper said that the nation was "waiting for the moment it will reduce the whole of the U.S. mainland to ruins."
On Monday, President Donald Trump admitted that he'd be "honored" to meet with the North Korean dictator.
"If it would be appropriate for me to meet with him, I would absolutely. I would be honored to do it," Trump told Bloomberg in an interview conducted in the Oval Office. "If it's under the, again, under the right circumstances. But I would do that.
"Most political people would never say that," Trump said, "but I'm telling you under the right circumstances, I would meet with him."