A Pennsylvania public high school assistant principal has resigned after being caught on video screaming and cursing at two teen pro-life activists outside the school last month.
Zach Ruff, formerly dean of academics and student life at the STEM Academy in Downingtown, turned in his resignation to school board officials Thursday afternoon.
"Dr. Ruff, the school board, administration and all members of the Downingtown Area School District would like to put this terribly unfortunate incident in the past to enable everyone to move forward," the district's statement on the matter reads.
Video of the incident was shot by Conner Haines, 16, who stood on a sidewalk outside STEM Academy with his 19-year-old sister Lauren, both of them holding pro-life signs as vehicles exited the campus after school April 21. Ruff threatened to call police several times, stood in front of the activists presumably in an attempt to block students from seeing them and cursed at the pair.
At one point, Ruff pointed at Conner Haines' sign showing a photo of an aborted fetus and said, "You can go to hell, where they are, too."
When Haines suggested that Ruff turn to Jesus Christ for the forgiveness of his sins, Ruff stood inches from Haines' face and issued a scorching rebuttal.
"Listen here son, all right?" Ruff said with a chuckle. "I'm as gay as the day is long and twice as sunny. I don't give a f*** what you think Jesus tells me and what I should and should not be doing."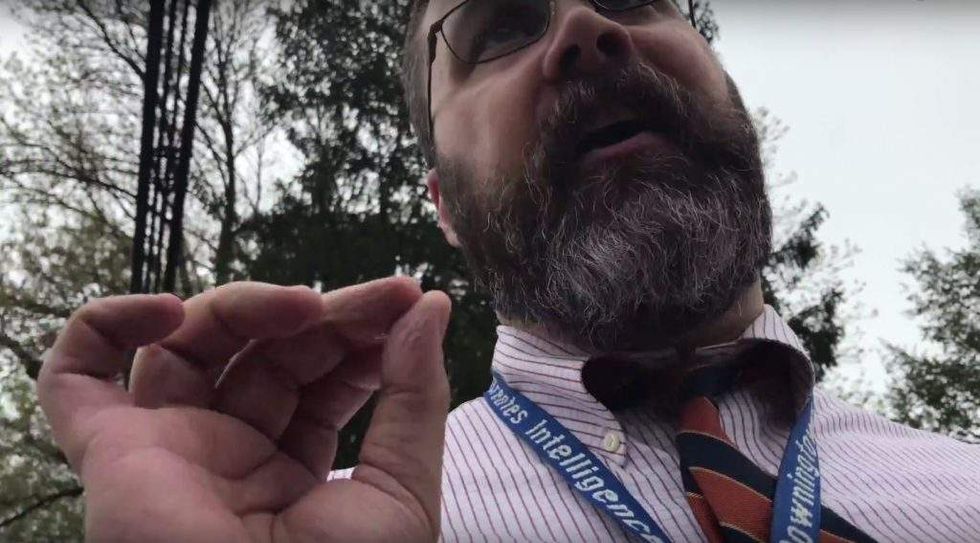 Image source: YouTube screenshot
Ruff also called the Bible a "book of fiction" and told Conner Haines that "you and Trump can go to hell."
Later in the clip, Ruff appeared to grab Haines' sign and yelled, "Stop harassing my children!"
That apparently set off one man who got out of his car and got in Ruff's face: "You got a f***in' problem? He's on public property."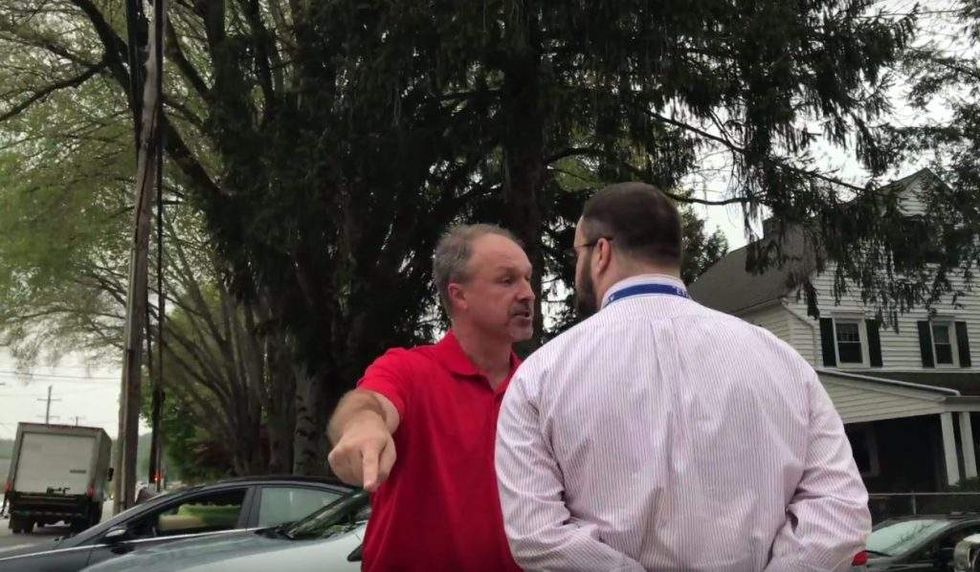 Image source: YouTube screenshot
Ruff retorted, "He's not allowed to yell at my students."
"He can do whatever the f*** he wants," the man told Ruff.
When Ruff told the man he's holding up traffic, the man replied, "I don't give a s**t."
Ruff then threatened to call the police, and the man smirked before walking off and saying, "Another loony, wacko liberal."
Seemingly proving the man's point, Ruff next began singing "I Love a Parade" at top volume to drown out the Haines siblings — he even attempted some dance steps.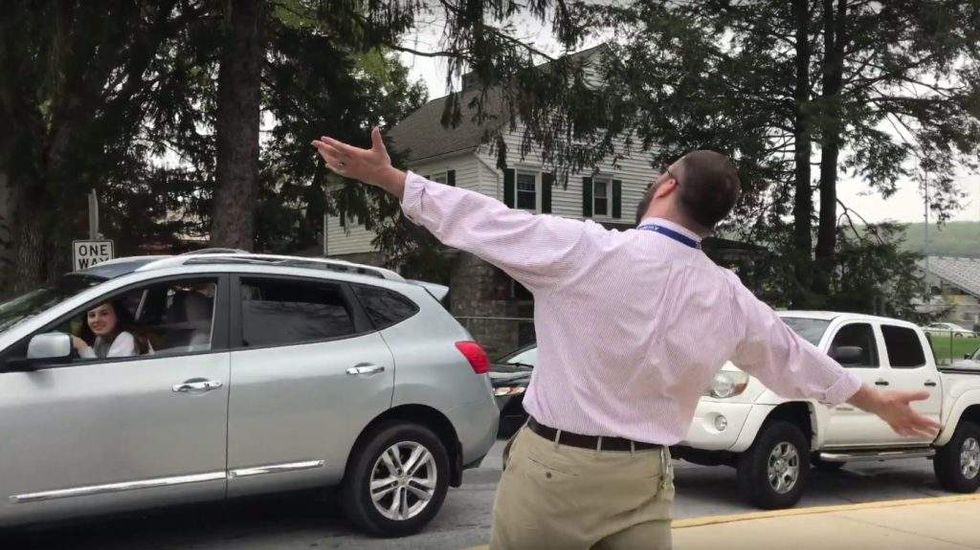 Image source: YouTube screenshot
Ruff was placed on paid administrative leave the week following the incident.
"We do not condone or support the conduct expressed in the video and are deeply disappointed that this incident occurred," the school's statement read following the incident. "His conduct does not represent the values of the school district or the respect we expect our employees to show for the civil rights of others."
But despite widespread negative attention Ruff's behavior received, many in the school and community supported him. Students collected more than 50,000 "Care2" petition signatures in support of Ruff.
"As Downingtown STEM students, we do not condone the language used by Dr. Ruff directed at the pro-life protesters, however we would like to say the actions taken by Dr. Ruff were both morally and legally justified, and as such, he should continue his critical role at the STEM Academy as the Dean of Academics and Student Life," petition co-author Zach Ng wrote, the Daily Local reported.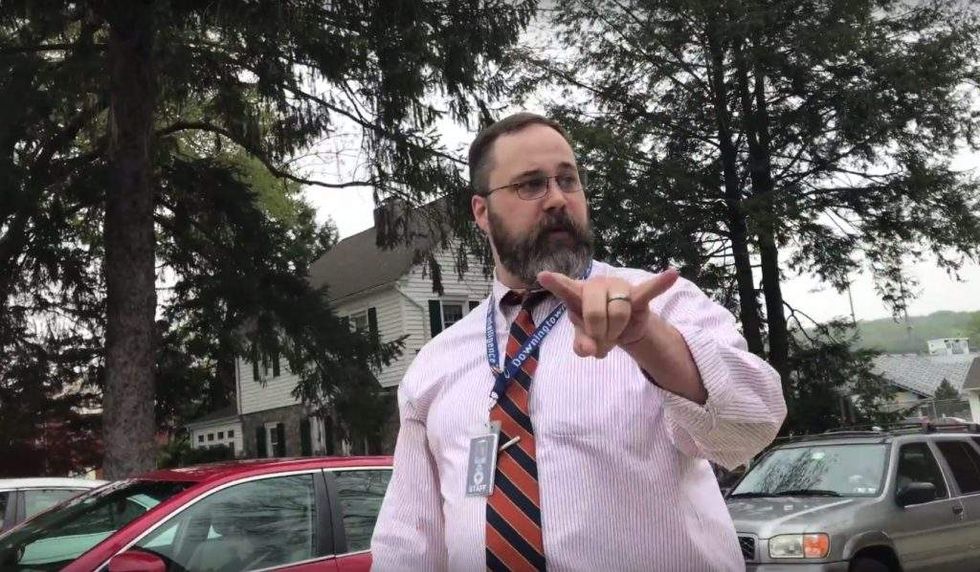 Image source: YouTube screenshot
A Facebook user identifying herself as a STEM student stood up for Ruff and said the pro-life activists were blocking traffic and distracting drivers with their signs, WCAU-TV reported.
"Mr. Ruff had every right to defend his students," the commenter said, according to the station. "What they are not showing in this video is what the posters actually depicted. There was a horrendous image of a dead baby covered in blood. This image distracted me, and I almost rear-ended the person in front of me."
At a school board meeting the night before Ruff tendered his resignation, attendees were divided with regard to how the district should further respond, the paper said, adding that some argued Ruff was protecting students while others said he was "unfit" to remain employed.
The district held a disciplinary hearing with Ruff on May 5 during which he indicated he may resign his position, and he was suspended without pay at the conclusion of that hearing. The district's statement said that "Ruff has acknowledged that the demonstrators had a right to be on a public sidewalk. He acknowledged that his conduct cannot be defended or condoned and he deeply regretted his actions as displayed on the video."
According to Ruff's page on the school's website — which was still active Friday morning — he's in the final stages of his doctoral dissertation at Drexel University in Philadelphia "in their Educational Leadership and Management program, and hopes to complete his research this academic year. Mr. Ruff received his Principal Certification from Penn State Great Valley's campus, a Masters degree from Neumann University and his undergraduate work was done in his home state of Vermont."
Here's the full video of the incident. (Content warning: Rough language):