The news about the explosion in Manchester in Britain is still developing as police investigate what seems to be a terror attack, but that didn't stop one man who identifies himself as a "freelance writer" for CBS making a terribly cruel joke about the matter.
"MULTIPLE CONFIRMED FATALITIES at Manchester Arena," the tweet blared. "The last time I listened to Ariana Grande I almost died too."
He continued his inappropriate comedic antics with the follow up tweet saying, "Honestly, for over a year I thought an Ariana Grande was something you ordered at Starbucks."
The very insensitive joke was absolutely blasted by those who thought it was just too crass with reports of nearly 20 deceased. Another writer responded, "Dude, no. Delete and sincerely apologise to save yourself a shred of grace and dignity. Don't just carry on joking, you plum." Another responded, "you're an embarrassment to boston (and earth). what if someone said this sh*t after the marathon bomb? don't be an a**hole for attention."
He wasn't done with that either, as he acknowledged the backlash he was getting, but kept rolling out jokes:
Checked my phone and got this message from Twitter. Try swearing at me now! https://t.co/TbIXnxhusM

— David Leavitt (@David Leavitt) 1495495705.0
Here are some responses to the bad joke:
@David_Leavitt Your friends and family are ashamed of you right now

— Matt Lucas (@RealMattLucas) May 23, 2017
@David_Leavitt You are a horrible person. What is wrong with you? 19 murdered at a concert attended mostly by teenagers. Hope you never find work again.

— Sarah Kendzior (@sarahkendzior) May 23, 2017
@jedifarfy @JessicaNorthey @Advil @David_Leavitt Same. His kind of callousness and complete lack of empathy deserve the attention of those who pay him.

— Gretchen* (@GeeLaAZ) May 23, 2017
This is NOT ok, @CBS. What's wrong with you? Joking about innocent children dying?! Disgusting. @David_Leavitt, you are scum. #Manchester pic.twitter.com/YE0qMN6Tcv

— Democrats for Trump (@YoungDems4Trump) May 23, 2017
. @David_Leavitt you are filth. Hope all your dreams are crushed and something tragic happens to you so that you can then become a human.

— David Krumholtz (@mrDaveKrumholtz) May 23, 2017
Regardless of political views, I believe we can all agree that David Leavitt is a scumbag.

— Seanicus (@SeanicusGaming) May 23, 2017
Alright Twitter folks, time to band together & REPORT @David_Leavitt until his account is disabled. #Manchester pic.twitter.com/BnTWCueWx5

— MATTHEW (@TheRealSteele) May 23, 2017
Jokes about a terrorist attack on Twitter. Men, women, children were injured/killed

You employ this psycho @David_Leavitt? @CBS @Yahoo

— Hafiz Shariff (@HafizDoc) May 23, 2017
@David_Leavitt I hope someone decks you, you vile cretin.

— Kirk McKeand (@MckKirk) May 23, 2017
After two hours of resounding jeers from social media, he relented and apologized:
There are reports that the attack might have been by a suicide bomber who detonated a nail bomb.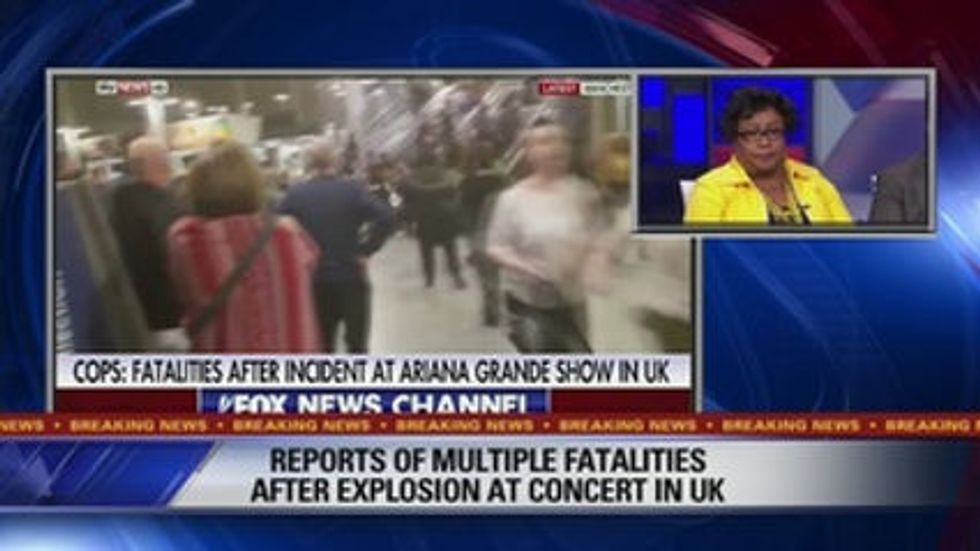 UPDATE:
CBS News tweeted about the controversy, saying simply that Leavitt does not work for CBS News.
.@David_Leavitt does not work for @CBSNews.

— CBS News PR (@CBS News PR) 1495501689.0
As a freelance writer, Leavitt has published at CBS in the past - but perhaps with the public furor, he may not work there in the future.