Comedienne Kathy Griffin apologized on Twitter Tuesday night after she received tremendous backlash after being featured in a photo shoot holding a bloody, decapitated President Donald Trump head.
In a video posted on Twitter and captioned, "I am sorry. I went too far. I was wrong," Griffin blamed her decision on being a comic.
"I sincerely apologize," Griffin began on camera. "I am just now seeing the reaction of these images. I'm a comic, I cross the line — I move the line, then I cross it; I went way too far."
She continued and added, "The image is too disturbing. I understand how it offends people. It wasn't funny — I get it."
"I've made a lot of mistakes in my career, I will continue," Griffin said. "I asked your forgiveness, taking down the image, gonna ask the photographer [Tyler Shields] to take down the image, and I beg for your forgiveness. I went too far. I made a mistake and I was wrong."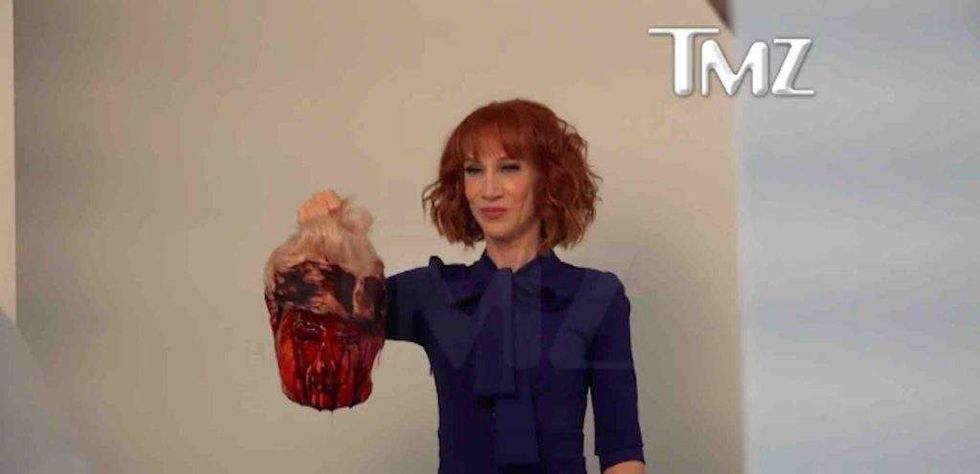 Image source: TMZ screenshot
In a video clip obtained by TMZ, Griffin revealed that she worked with photographer Shields for the photo shoot, but did not immediately disclose the inspiration behind it.
"This is fake blood, just so you know," Griffin said in the clip. "I won't give away what we're doing, but Tyler and I are not afraid to do images that make noise."
The video then showed Griffin holding up a decapitated head that resembled Trump's head.
In the clip, Griffin joked that she and Shields might have to leave the U.S. as a result of the controversial photo shoot.
"We have to leave for Mexico today," Griffin told Shields, "because we're going to prison — federal prison."
"Let's … leave for Mexico today. Because we're not surviving this," Griffin concluded.
See Griffin's apology in the video below.
I am sorry. I went too far. I was wrong. pic.twitter.com/LBKvqf9xFB

— Kathy Griffin (@kathygriffin) May 30, 2017