Amid the headlines about comedienne Kathy Griffin holding a fake bloody, severed head made to look like Republican President Donald Trump's during a photo shoot, a follow-up report from TMZ alleged that Trump's young son Barron saw the photo and thought it was real.
Enter far-left celebrity Rosie O'Donnell.
While the former co-host of "The View" has frequently advertised her compassion and advocacy for children, such sentiments didn't appear to come across for 11-year-old Barron on Wednesday:
@Liz_Wheeler @DonaldJTrumpJr @kathygriffin -was he watching TMZ? do u think he saw anything about these 2 heroic me… https://t.co/uVvnDZry64

— ROSIE (@ROSIE) 1496253747.0
She instead reframed the argument to attack President Trump, wondering if Barron saw reports on the two men stabbed to death and another wounded on a Portland, Oregon, train after coming to the defense of Muslim females getting insulted and berated by another passenger.
O'Donnell then wrote that such "hatred" has been "promoted by his father." O'Donnell has been in a long-standing feud with Trump that's boiled over into relentless attacks against the commander in chief — particularly since the inauguration.
Griffin apologized for the photo and saw CNN cut ties with her over it. The cable network has featured Griffin's frequently off-color commentary on New Year's Eve broadcasts alongside CNN host Anderson Cooper for past 10 years.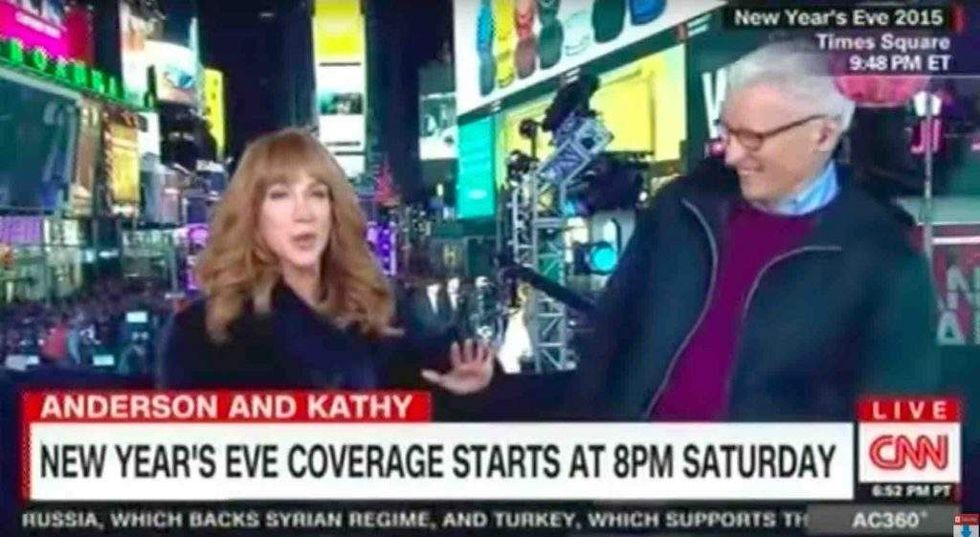 Image source: YouTube screenshot
For his part, Cooper tweeted that he was "appalled by the photo shoot Kathy Griffin took part in. It is clearly disgusting and completely inappropriate."
While O'Donnell agreed Griffin's photo was a "mistake," her response to the report concerning Barron's alleged reaction to it seems curious — particularly given that O'Donnell found herself in hot water last fall when she suggested Barron may have autism.
O'Donnell later apologized for the autism remark — to Trump's wife, Melania.
(H/T: Young Conservatives)