A U.S. Marine who graduated early was barred from participating in his Indiana high school's commencement ceremony Tuesday because he was wearing his uniform, the Northwest Indiana Times said.
Pfc. Jacob Stanley graduated from Crown Point High School in December and then joined the Marines, the paper said. Stanley completed boot camp on Friday, flew home for his graduation and even practiced with his classmates during the day, the paper reported.
But Principal Chip Pettit reportedly told Stanley that he wouldn't be allowed to wear his uniform at the ceremony, the Times said. Stanley reportedly got more than a few calls and texts from friends who encouraged him to wear it anyway and take pride in it, the paper said — and that's just what Stanley did.
However, when Stanley showed up for commencement in his dress blues, the Times said he was turned away.  While his name was listed in the graduation program, the paper said school officials didn't read his name along with his fellow graduates.
While Pettit praised the military — telling WMAQ-TV "we are forever grateful for the sacrifices that they make on a daily basis for our freedom" — he defended the cap-and-gown-only decision.
"This tradition is not intended to be disrespectful to students, parents, or our community, but as a source of pride for our students," Pettit told the station. "It is also not intended to be disrespectful to our students choosing to serve in the military, our active duty servicemen and women, and our veterans."
Stanley's schoolmates, however, didn't see it that way.
Fellow graduate Leann Tustison told the Times the decision was "unacceptable" and "absolutely ridiculous. He's in the military putting his life on the line for us."
"If he wants to walk across the stage in his uniform that he worked so hard for and earned, he should have the right to do that," she told the paper. "That's his achievement. They honored other people's achievements whether they were in a triathlon or other activities."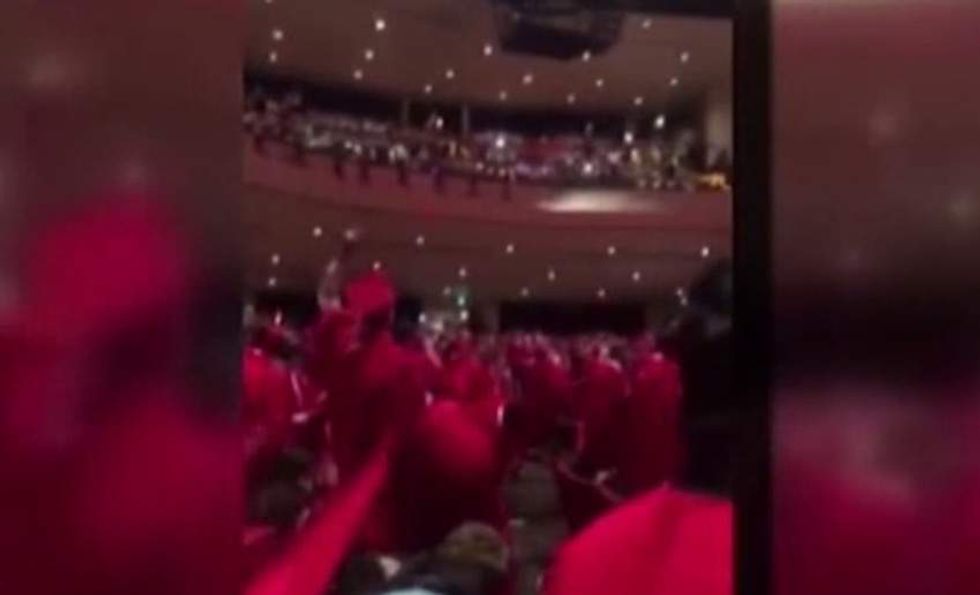 Inside the Crown Point High School graduation ceremony. (Image source: WMAQ-TV video screenshot)
Tustison told the Times that other students were "outraged" and that "it was a disgrace."
Indeed, Jessica Janda told the paper that America doesn't show enough respect for the military and that it was "despicable that he wasn't allowed to wear his uniform. We should be proud of that as Americans."
Stanley seemed a bit more forgiving in the aftermath.
"I don't want the social media controversy that is drawing attention away from the Class of 2017," he said in a statement through the 9th Marine Corps District, Naval Station Great Lakes, WMAQ reported. "I also do not want to make any additional statements and wish to put this all behind me so I can start my career in the Marine Corps."
Sgt. Tyler Mitchell, a marketing and public affairs representatives for Marine Corps Recruiting Station Indianapolis, told the station that the Marines are proud to have Stanley and appreciate his pride in wearing the uniform.
"We also recognize that there are policies in place which outline graduation dress codes and the appropriate wear of Marine Corps uniforms when in public," Mitchell told WMAQ in a statement. "As high school graduations recognize the academic accomplishments of the class and the class's final chapter at that institution, the decision to allow individuals to wear uniforms during graduations is at the discretion of the school."
At nearby Hobart High School, a graduate in her Marine uniform marched in the school's commencement June 1, the Times reported.
Steve Disney, superintendent of a different school district — River Forest — told the paper that senior Terrell Stottlemire, who joined the National Guard, will graduate from River Forest High School on Saturday.
"If he wore his uniform," Disney told the paper, "it would be something we would consider an honor."
(H/T: EAGNews)