A liberal magazine took to Twitter on Monday to defend North Korea after the death of American student Otto Warmbier.
North Korean state-run media said last year that Warmbier, who was then a student at the University of Virginia, was arrested for what they called "a hostile act" against the Kim Jong Un regime.
Warmbier, 22, was arrested and then sentenced to 15 years in prison with hard labor. He reportedly fell into a coma shortly after his arrest. He was abruptly released by North Korea last week and died on Monday afternoon.
The "hostile act" Warmbier allegedly committed was attempting to remove a propaganda banner from the hotel where he was staying.
On Monday, The Washington Post's Josh Rogin tweeted a link to an interview he did with Warmbier's roommate. In the tweet, Rogin called Warmbier "an innocent kid tortured by an evil regime."
Otto Warmbier was an innocent kid tortured by an evil regime. Read my interview with his North Korea roommate here: https://t.co/C4rBYUN6BX

— Josh Rogin (@Josh Rogin)1497906451.0
In a tweet, Affinity Magazine objected to Rogin's characterization, dismissing it as "whiteness":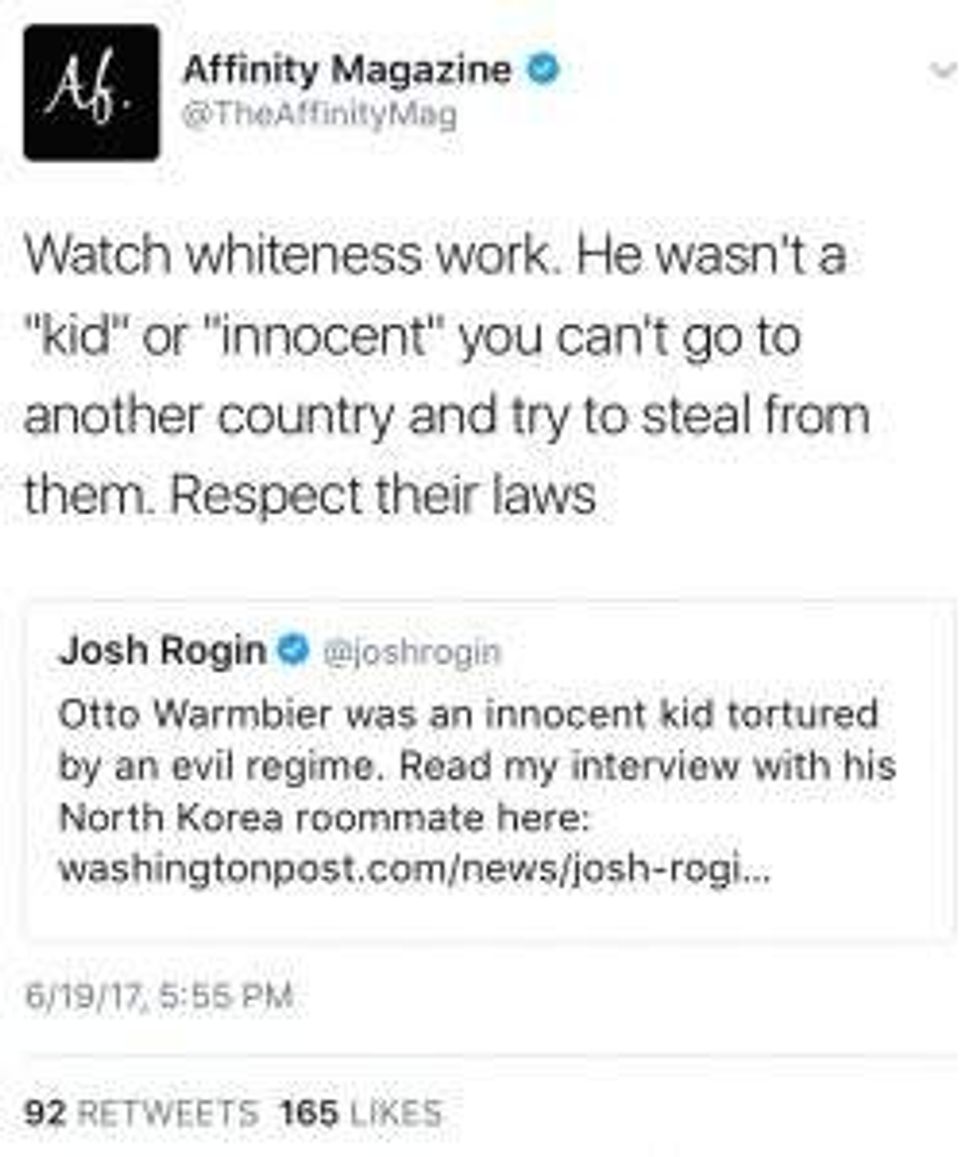 Image source: Twitter screenshot
The magazine wrote that Warmbier "wasn't a 'kid' or 'innocent.'"
"[Y]ou can't go to another country and try to steal from them," the tweet said. "Respect their laws."
Twitter users called the magazine's argument "callous."
Woke Kids: RESIST TRUMP Also Woke Kids: Obey The Law in North Korea https://t.co/EQs6R0wwu2

— FinlandOrMaybeRussiaHat (@FinlandOrMaybeRussiaHat)1497966878.0
I'm going to quote your "respect their laws" approach to illegal immigrants, protesters who refuse lawful orders, a… https://t.co/tCeGVZ7N2H

— Jim Geraghty (@Jim Geraghty)1497958057.0
This appears to be a real take. "Remember kids, the important takeaway here is about white privilege, not totalita… https://t.co/0ovRuYhnM5

— Lyman Expand the House Stone, AKA 石來民 (@Lyman Expand the House Stone, AKA 石來民)1497964230.0
Look at this unspeakably callous tweet about the brutally murdered, innocent Otto Warmbier. H/T @jimgeraghty https://t.co/HaCN8sQcCy

— David Limbaugh (@David Limbaugh)1497966244.0
This was posted yesterday. I can't imagine possessing this little empathy. https://t.co/Ww55Rp2daZ

— Natalie Johnson (@Natalie Johnson)1497967120.0
When your advocacy leads you to defending a cruel, autocratic regime fatally torturing a fellow citizen, you've tak… https://t.co/EwhiFRoOJA

— Jake Tapper (@Jake Tapper)1497967679.0
In the face of criticism for defending North Korea, the magazine deleted its initial tweet. But tweets in which the magazine reiterated its position remain on Twitter:
This literally never happens in the media. They label black children as grown men. https://t.co/ngH8qQGdUC

— Affinity Magazine (@Affinity Magazine)1497916506.0
@K3DSL @MrTamhas In North Korea, that's their law. It's not America

— Affinity Magazine (@Affinity Magazine)1497916962.0
@Hadiyahcummings Of course not, the punishment was harsh but also you have to respect the laws in other countries

— Affinity Magazine (@Affinity Magazine)1497919044.0
Affinity Magazine says in its Twitter profile that they cover social justice, politics, and culture "from the teen perspective."
"Written by teens for teens," it adds. "Always controversial."