William Griffith, Jr. said he was just minding his own business walking home last Saturday afternoon following his job cleaning elderly people's apartments when he got a very unwelcome greeting from a fellow pedestrian on a Cincinnati sidewalk.
Surveillance video shows a man approaching Griffith from behind and sucker punching him in the head.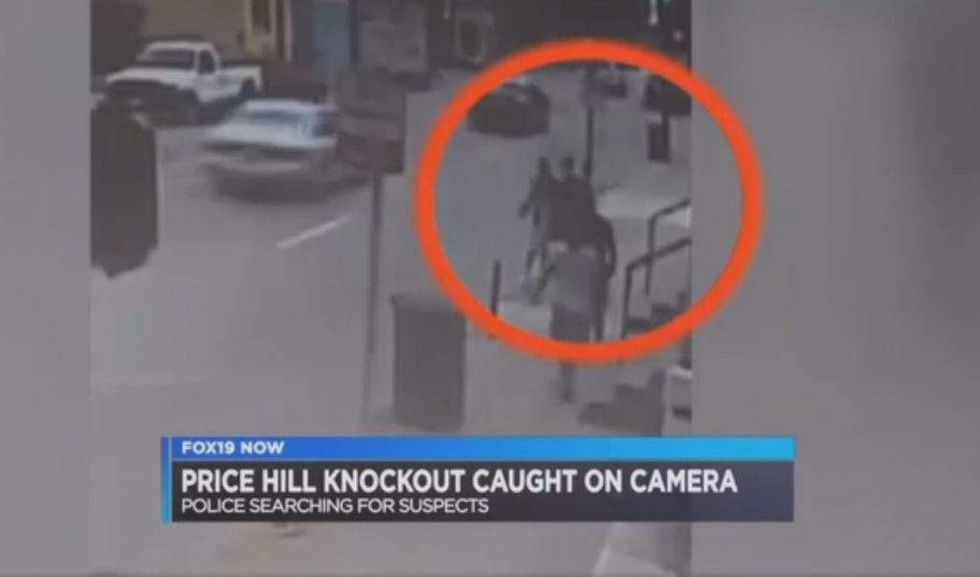 Image source: WXIX-TV video screenshot
The blow crumpled the victim to the pavement and knocked him out, WCPO-TV reported, citing Hamilton County court documents.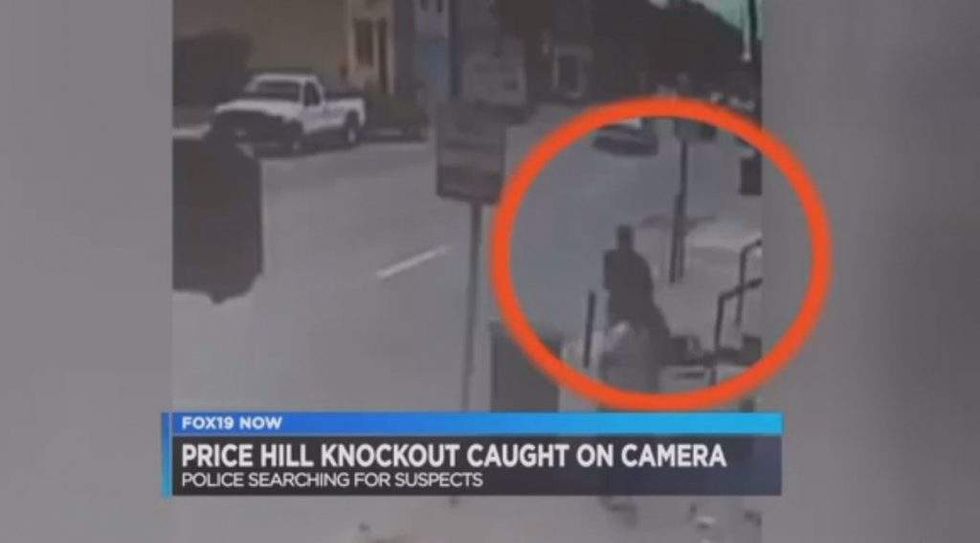 Image source: WXIX-TV video screenshot
"I was stunned," Griffith told WXIX-TV. "I couldn't believe it. I mean, the dude came right up from behind me ..."
He told the station he doesn't know his attacker — who is seen on video walking away right after the sucker punch — or why he did it.
"This generation, I don't know," Griffith told WXIX. "I'm old school. I'm 54 years old ... I don't know their motives ... I mean, just to have fun?"
After the surveillance video hit social media, it was identified as the infamous "knockout game," WCPO said — a scary pastime in which pedestrians are randomly punched and cellphone videos of the assaults are often posted online.
Griffith suffered facial cuts, a black eye and a broken jaw and said if the attack on him was a kind of game, he doesn't find it amusing.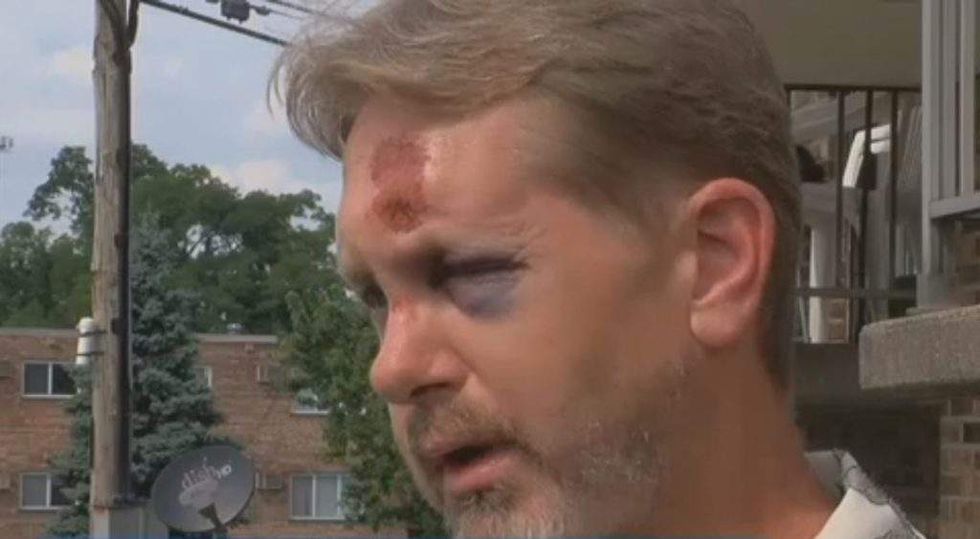 Image source: WXIX-TV video screenshot
"I mean if you wanna get a thrill, do something positive," he told WXIX.
If there's any silver lining in this situation, 29-year-old Keith Capell was arrested Wednesday and was charged with felonious assault in connection to the incident, WCPO reported, citing a complaint filed in the case.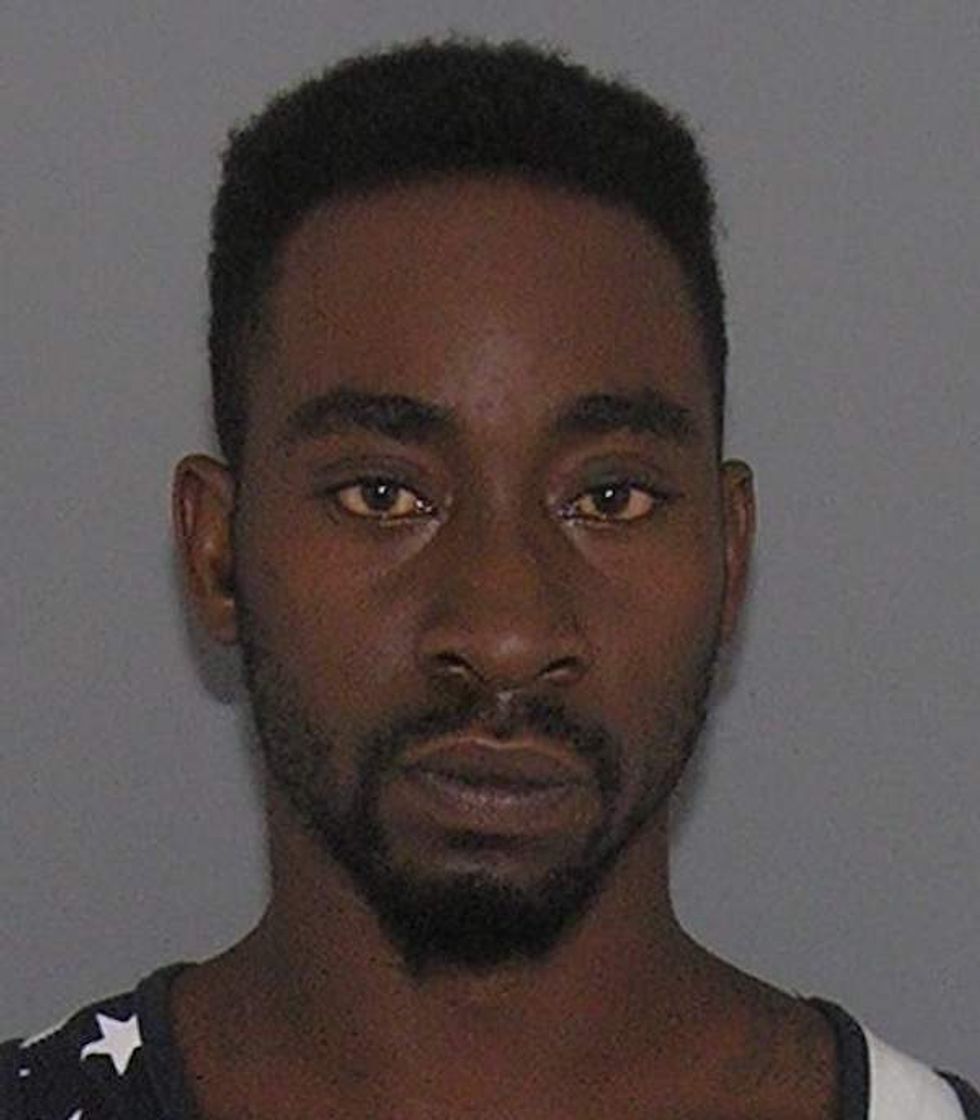 Keith Capell (Image source: Hamilton County Sheriff's Office)
Capell was in court Thursday morning and given a $260,000 bond, WCPO noted, adding that the presiding judge said he was "frustrated by ... the limitations" given him in setting Capell's bond.
Capell's attorney said the victim "threatened [Capell] with a knife," WCPO reported, but the prosecutor said that wasn't true.
Capell also had less than 1 ounce of heroin in small baggies when he was arrested and was charged with possession of drugs, WCPO added, citing the complaint.
(H/T: Truth Revolt)