Three men — 19-year-old Nicolas Thomas Embertson, along with Thomas Nason and Cornelius Ayers Jr., both 18 — were casing the home of a Minnesota crop farmer Jan. 28 for a future burglary, KSTP-TV reported, citing statements to investigators.
They had checked all the doors of the Madelia home, all of which were locked, KSTP said. Then Embertson and Ayers boosted Nason to the deck, the station said.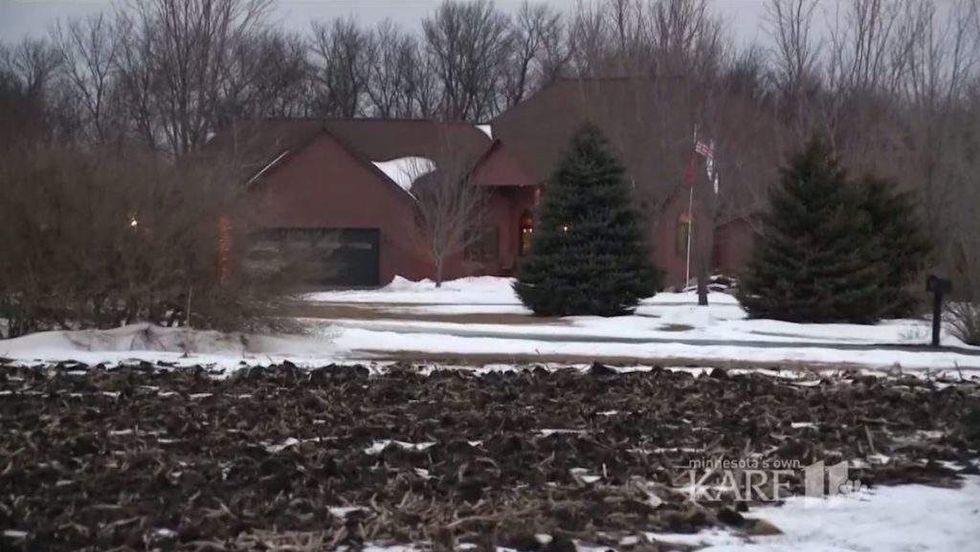 Image source: KARE-TV video screenshot
Homeowner David Allen Pettersen told authorities he heard someone trying to open a door and saw someone walking on his deck through his bedroom window, KSTP said — and then he confronted Nason.
Nason reacted by jumping off the deck — about a 10-foot drop, KSTP said — and crawled away. The sheriff's office later reported Nason appeared to have broken his ankle, the station said.
Pettersen said he grabbed his .45-caliber handgun and tried to shoot the front driver's side tire of the suspects' car with two or three shots before calling 911, KSTP said.
The trio were in the car and trying to get away when they heard the gunshots, the station reported. Embertson reportedly said, "I think I've been hit," and then lost consciousness as the vehicle backed away, KSTP said.
Embertson was behind the wheel at the time, and the car stopped when it drifted off the driveway, the Mankato Free Press reported. Nason said he and Ayers put Embertson — who was struck in the pelvis — in the backseat, and then Nason drove them away, the paper said. Embertson was pronounced dead at a hospital.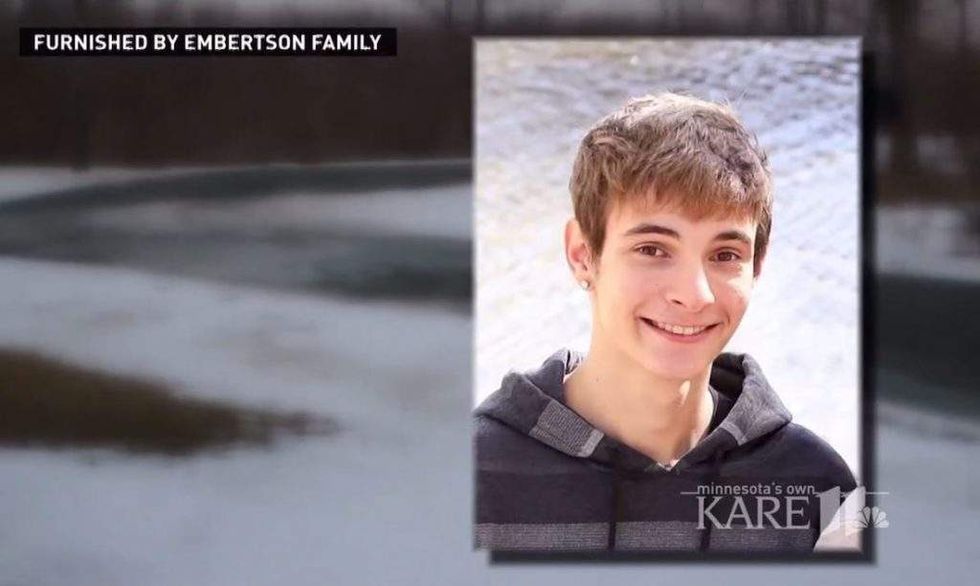 Nicolas Thomas Embertson (Image source: KARE-TV) video screenshot
Two knives were found in their vehicle, the Free Press added, citing search warrants — a butcher knife in the backseat and a paring knife in the pocket of the front passenger door. Nason and Ayers were later sentenced on burglary counts, KARE reported.
Pettersen, 65, was initially charged with second-degree manslaughter in connection with Embertson's death.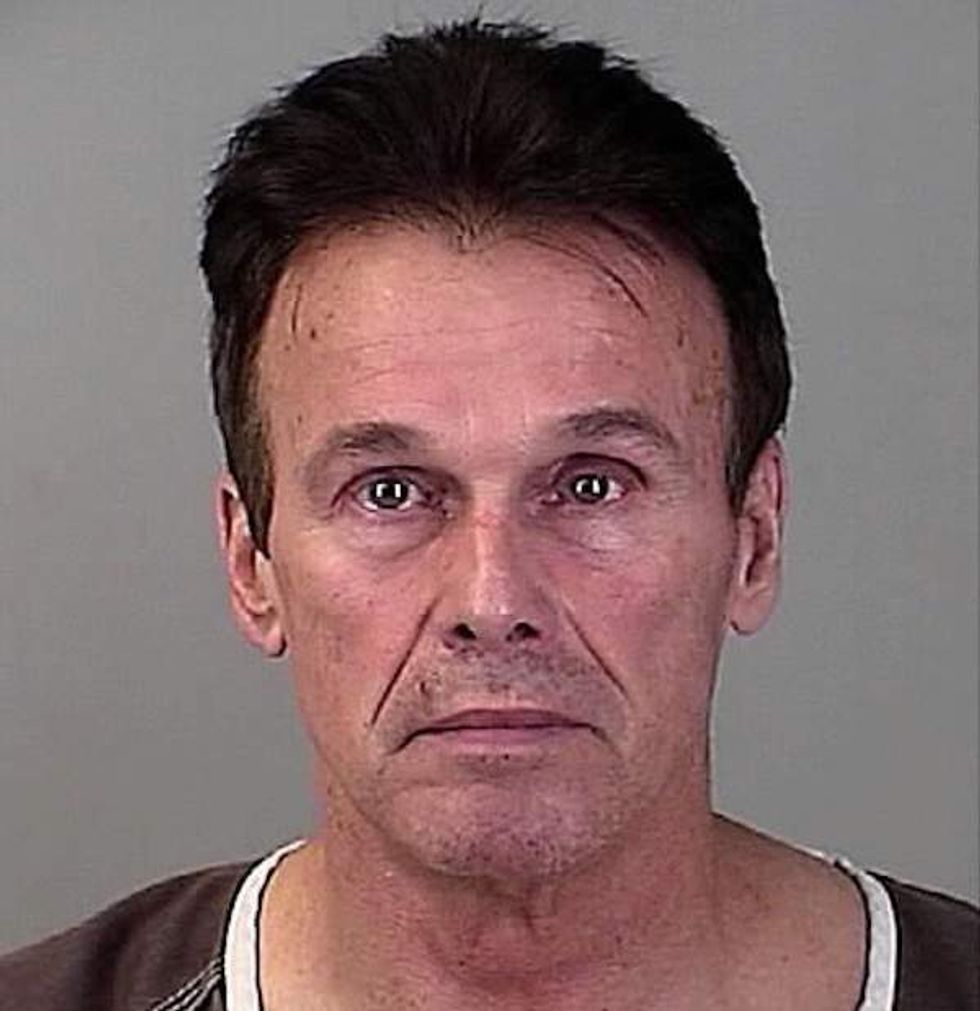 David Allen Pettersen (Image source: Watonwan County Jail)
However, that charge was dropped in exchange for his guilty plea of intentional discharge of a dangerous weapon, KARE-TV reported.
Pettersen was sentenced Tuesday to 90 days in jail plus two years of supervised probation, the station reported, adding that he will get credit for three days served.
At the hearing, Pettersen — looking much older with grey hair — told the court he regretted what happened last January but didn't excuse the actions of Embertson and his two friends.
"These men came in the dark. They were armed with knives. What were their intentions?" Pettersen told the courtroom. "Were they only there to steal, or did they intend to harm me — and why?"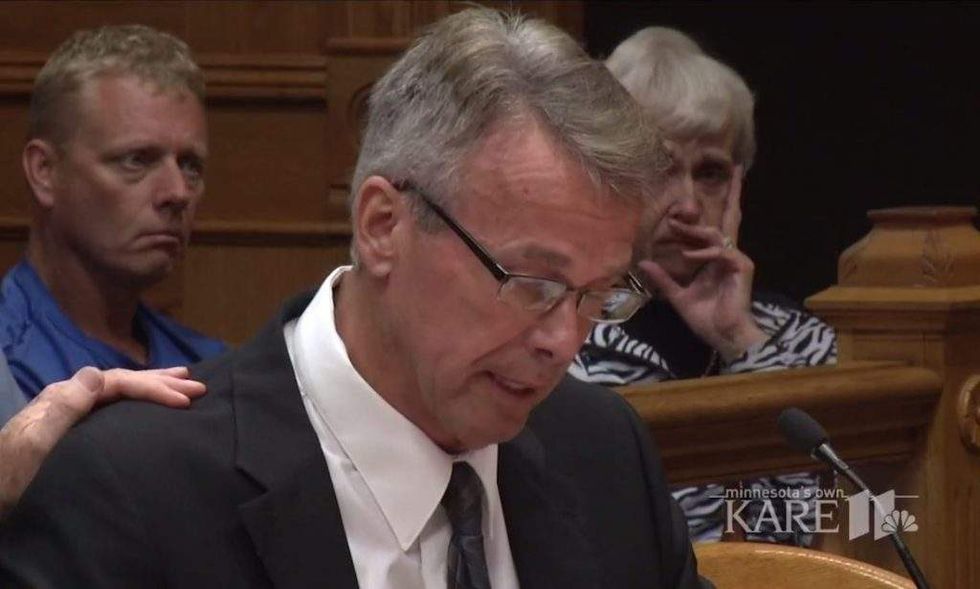 Image source: KARE-TV video screenshot
He said, "If it wasn't for their decision, I wouldn't have been in that position."
Still Pettersen said he wished he would've called 911 first, KARE reported, and "takes no satisfaction" from Embertson's death.
"I will carry that awful responsibility with me for the rest of my life," a tearful Petterson told the court.
Embertson's mother, Tracy McCabe, read an impact statement arguing for a longer jail sentence: "[Pettersen] shot and killed my son. My son was not a threat to him. My son did not enter his home. He was given a death sentence."
Embertson's grandfather, Robert Embertson, read an impact statement that noted, "Jail time is necessary to let the community know that you can't take someone's life when your life isn't threatened."
Embertson's father, Erik, told KARE: "I think 90 days in jail was fair, along with the fact that he won't have his felony dropped. It needs to be understood, nationwide, that you don't take the law into your own hands."
Pettersen's attorney said after the hearing a work release would be requested so his client can continue farming, the station reported.
This story has been updated.