An MRC/Newsbusters analysis from the big three network television news shows in primetime concluded that the controversial June 2016 meeting received twenty times as much coverage as a similar Clinton scandal. The analysis was published Monday.
The study said that ABC, NBC, and CBS evening news shows gave the Trump Russia scandal 62 minutes and 18 seconds of coverage over four nights, while only giving a 2015 scandal involving Hillary Clinton 3 minutes and 1 second.
The Clinton scandal involved the sale of uranium to the Russian government.
Author Peter Schweizer, in his 2015 book Clinton Cash, broke the story that a Canadian uranium company, seeking approval of a sale to the Russian government from then Secretary of State Clinton's State Department, had donated millions to the Clinton Foundation.
The controversial meeting between Donald Trump Jr. and Russians during the 2016 election was revealed through several stories by the New York Times and resulted in a public relations scramble from the White House. Initially, Trump Jr. acknowledged the meeting and said it was about adoption policies, then through subsequent NYT revelations, admitted that he had attended in hopes of obtaining damaging information about Hillary Clinton.
After the New York Times indicated to Trump Jr. that they were to publish excerpts from his emails they had obtained, he voluntarily divulged the emails about the meeting. These showed that he was told the damaging information on Hillary Clinton would have come from the Russian government's effort to help elect his father and defeat Clinton.
MRC/Newsbusters provided a chart comparing the coverage giving to both stories.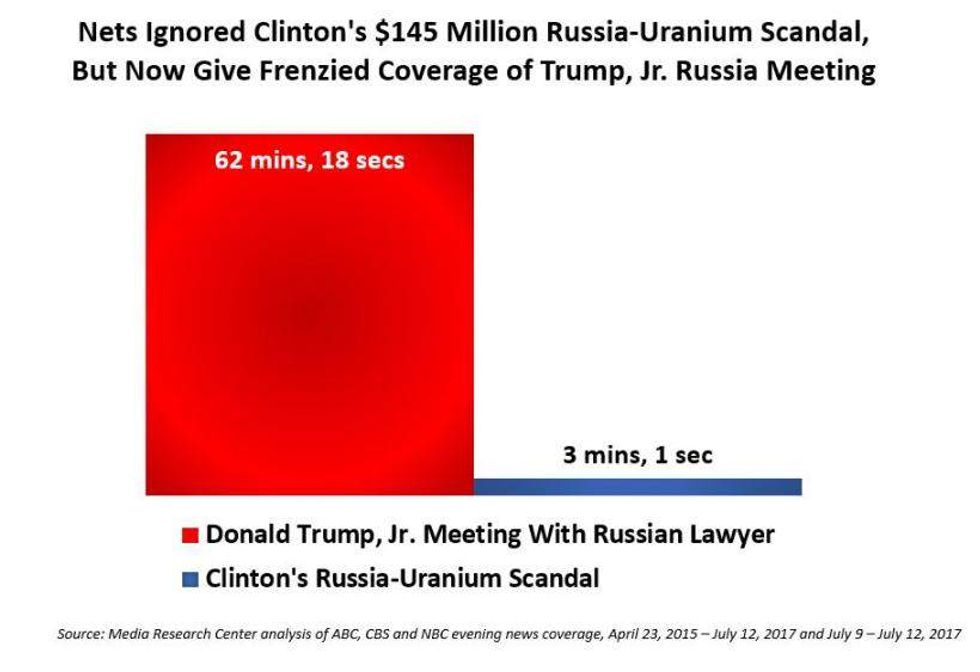 The analysis added up more than 25 minutes of coverage from CBS Evening News on the Trump Russia meeting, more than 22 minutes from ABC's World News Tonight, and more than 14 minutes from NBC Nightly News.