It didn't take Janice Smarr very long to figure out something ugly was going on. After all, she visits the grave of her son Nicholas just about every day.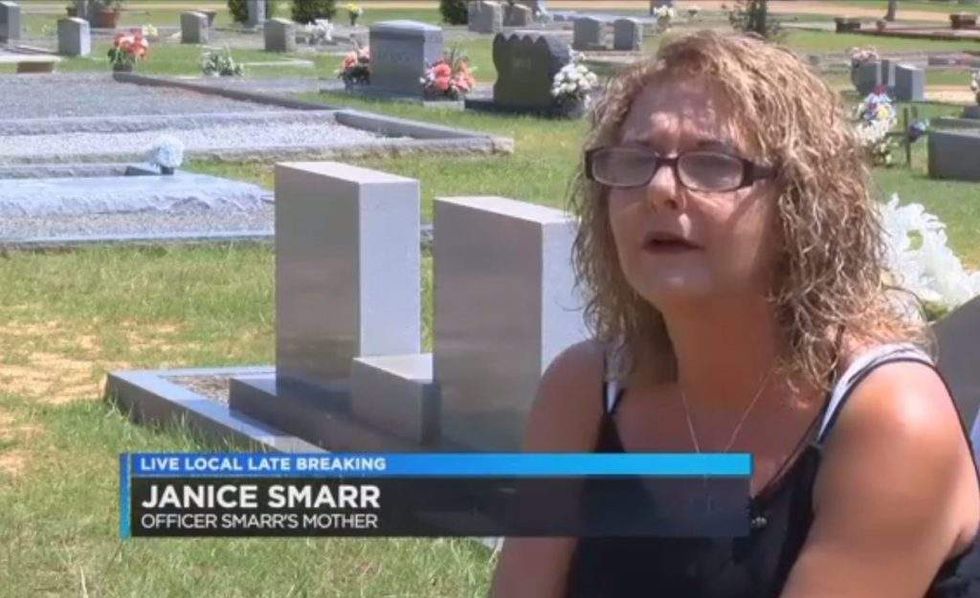 Image source: WALB-TV video screenshot
Nicholas Smarr was a 25-year-old officer with the Americus, Georgia, police department who was fatally shot in the line of duty last December, along with his best friend, Jody Smith, an officer with Georgia Southwestern State University. They responded to domestic violence call when a man, who later took his own life, fired at them.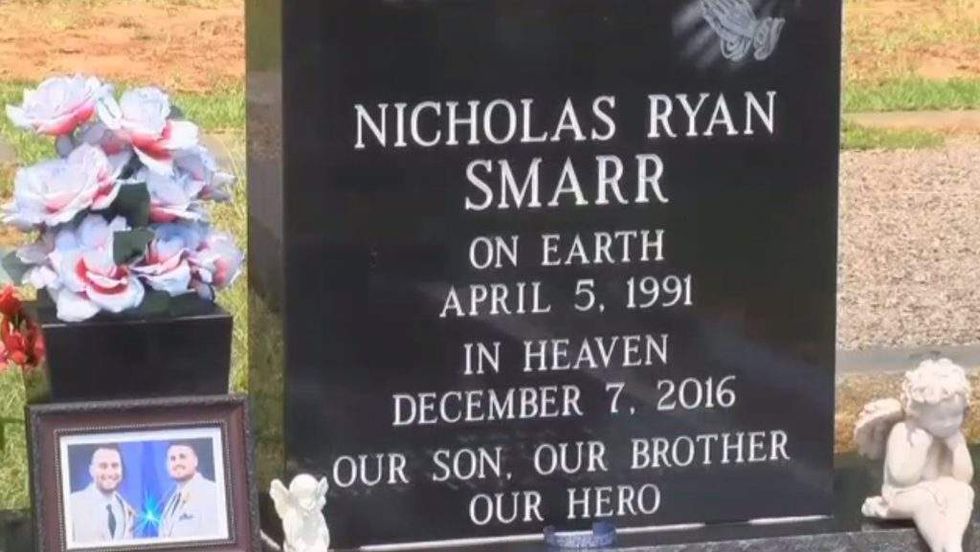 Image source: WALB-TV video screenshot
Last week, Janice Smarr saw footprints on her son's black granite grave marker in Oak Grove Cemetery, the Telegraph reported. On another morning mud and other objects were on the marker, Americus Police Chief Mark Scott told the paper.
"There were footprints on the grave, so that was obviously intentional," he told the Telegraph.
After a family member set up a camera in the cemetery, it produced photos of four people at Smarr's grave after midnight last Wednesday, the paper said.
The images allegedly show Kaheem D. Chambers, 17, standing, spitting and walking on Smarr's grave, WALB-TV reported.
Chambers was arrested and charged with criminal trespassing, Maj. Herman Lamar with the Americus Police Department told the station. Chambers was booked into jail, Scott told the Telegraph.
Teens arrested for trespassing on fallen Americus officer Nick Smarr's grave | The Telegraph https://t.co/VmKqS88Kqo

— Diana (@Diana) 1500759178.0
The Georgia criminal justice system considers a 17-year-old an adult.
"I think my son had arrested him before," Smarr told the Telegraph. "It's just very disrespectful, and he probably did it because he just got out of jail and he was mad at the police."
Three 16-year-old girls with Chambers also were arrested for their roles in the incident. Two, who had prior records, were charged with obstruction of a police officer and curfew violation and sent to a youth detention center, the paper said, adding that the third girl was charged with curfew violation and released to her parents.
"They were all known to officers," Scott told the Telegraph regarding the suspect. "I just can't fathom why you would think that would be OK on anybody's grave."
The paper said Facebook commenters tried to interject race into the arrests, but Janice Smarr said that wasn't the issue at all.
"We didn't care if they were white, black or Mexican," she said. "We didn't want anyone messing with his grave.
"He already died for the city," she added to the Telegraph. "He needs to lie in peace."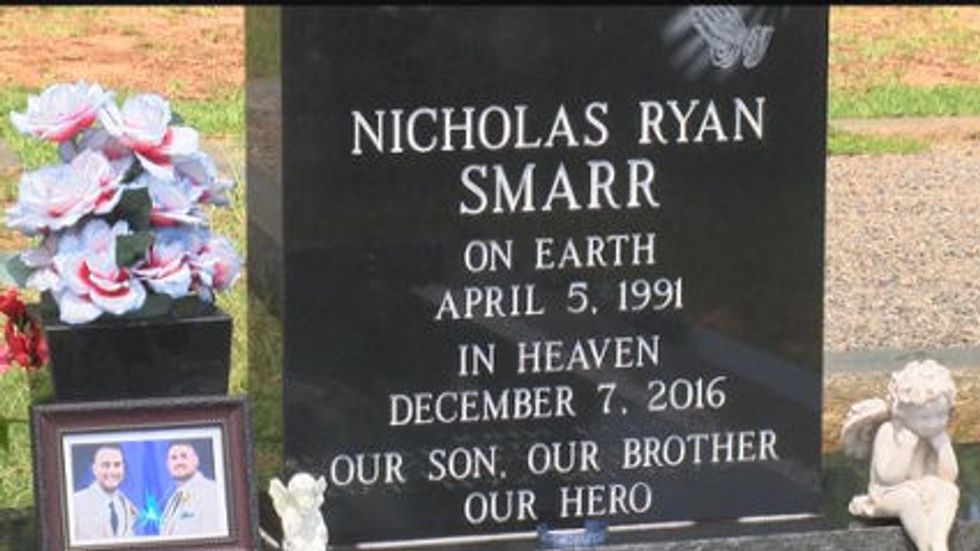 (H/T: Blue Lives Matter)