NFL ratings slipped last year because of players protesting during the national anthem, a new survey found.
According to a study by the marketing information firm J.D. Power and reported on by ESPN, there were 8 percent fewer viewers of NFL games in 2016 than in 2015. The drop in viewership was initially attributed to the presidential election. In the nine weeks leading up to the election, the NFL saw a 14 percent decline in viewership compared with the previous year.
After the election of President Donald Trump, however, the league experienced a 1 percent drop in viewers from the same time the year before.
In October 2016, the liberal website The Atlantic declared in a headline that "NFL Ratings Just Fell Off a Cliff" and asked "Why?" The subtitle of the article named "four culprits," none of which were players' national anthem protests.
Instead, it blamed the presidential debates, cord-cutters, Twitter streams and retiring football stars for the decline in viewership.
But the main reason why more Americans tuned out from NFL games didn't have to do with any of those "culprits" cited by The Atlantic.
The J.D. Power survey found that 26 percent of the 9,200 people polled said they tuned out because of the national anthem protests, which were initially prompted by former San Francisco 49ers quarterback Colin Kaepernick taking a knee instead of standing up with his hand over his heart.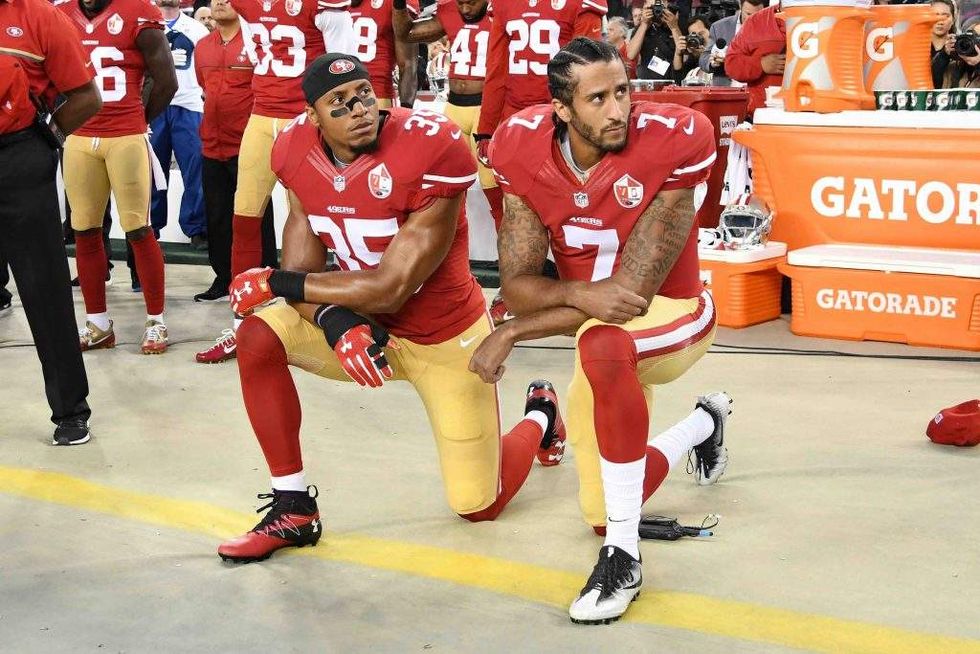 Colin Kaepernick (7) and Eric Reid (35) of the San Francisco 49ers kneel in protest during the national anthem before playing the Los Angeles Rams on Sept. 12 at Levi's Stadium on Sept. 12 in Santa Clara, California. (Thearon W. Henderson/Getty Images)
Another 24 percent of those polled said they tuned out because of game delays and issues surrounding some of the players, such as domestic violence accusations.
Meanwhile, only 16 percent said they watched NFL games less because of the presidential debates. Twenty percent said they watched less because of excessive commercials. Only 5 percent of those polled said a lack of cable (i.e. cord cutters) was the reason they spent less time watching.
The decline in viewership in 2016 came as a result of just 12 percent of fans watching less, ESPN reported. Seven percent of those polled said they watched NFL games more than in 2015 while 62 percent reported watching just as much as they did the year before.
(H/T: Daily Caller)