A high school student's painting of the Statue of Liberty donning a hijab, a head covering worn by Muslim women, hangs in the California office of U.S. Rep. J. Luis Correa, a Democrat — and some people don't like that one bit.
The painting in Correa's Santa Ana office also depicts the statue holding her iconic torch over her left shoulder — like a baseball player waiting for a turn at bat — which We the People Rising activist Mike McGetrick called "perplexing, even disturbing" in a letter to Correa asking him to take it down, the Washington Post reported.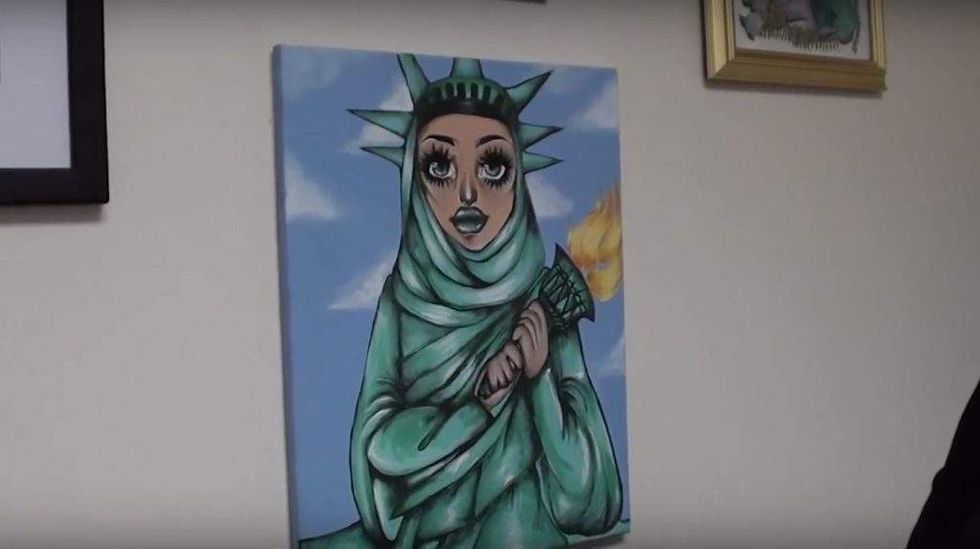 Image source: YouTube screenshot
But it's the association of the statue with Islam in the painting that seems to upset him most.
"Ultimately, to attribute a specific religion to the Statue of Liberty is inaccurate, unprofessional and offensive," McGetrick wrote, the paper said, which added that We the People Rising advocates for stricter immigration laws.
The Post added that the group passed out fliers in local neighborhoods, urging constituents to contact Correa and tell him to get rid of the painting. What's more, We the People Rising promises a Sept. 11 protest at Correa's district office if the painting is not taken down, the paper added, citing a report by the Orange County Register.
During a meeting regarding the issue between We the People Rising members and a Correa staffer — which got a little heated at times — McGetrick called the painting "filthy."
But Correa on Tuesday morning told the Post he won't remove the painting, calling it an individual artist's expression — something he won't police, as doing so could lead to a "very dangerous slippery slope."
"My thoughts were, here's probably a young Muslim lady who is trying very hard to be part of America, who is trying very hard to show people that she is an American, given the context that is going on around us in our country," Correa told the paper during a phone call from Jerusalem. "By me taking it down I'm acknowledging that she did something wrong."
More from the Post:
After receiving complaints about the painting, the congressman's office reached out to the House Office of General Counsel for guidance, Andrew Scibetta, communications director for Correa, said. The legal team made clear that there was "nothing wrong or in any way malicious in posting this photo," Scibetta told The Post.

Following advice from law enforcement, Correa's office declined to identify the painting's artist, in order to protect her and prevent her from becoming the target of threats.

The student's painting came in fourth place among entries in Correa's district, and is one of several runner-up art pieces displayed on the congressman's wall. The first-place winner of the Congressional Art Competition for Correa's district — a mural depicting Mexican-American World World II veterans — is displayed in a tunnel between the Capitol and House office buildings alongside more than 400 other works from other districts that won.
This isn't the first time a piece of artwork from the congressional competition caused a stir. A painting depicting police officers as pigs — and hanging on a Capitol Hill wall — drew immense controversy earlier this year.
Republican lawmakers took down the painting at least three times in January — only to have Rep. Lacy Clay (D-Mo.), who sponsored the painting, put it back up repeatedly, citing defense of the First Amendment and freedom of expression. Finally it was ruled inappropriate and set for removal.
Federal judge denies Clay's lawsuit seeking re-hanging of controversial 'cops as pigs' painting https://t.co/c1jtIakXVQ

— ❌Ƭαвιтнα Ɓℓιѕѕ❌ ❤🇺🇸👠💄👛🔫 (@❌Ƭαвιтнα Ɓℓιѕѕ❌ ❤🇺🇸👠💄👛🔫) 1492482919.0
A federal judge in April rejected Clay's lawsuit claiming the painting's removal violated the student's right to free speech.