On Monday, the U.S. Department of Commerce posted a picture on Twitter of YouTube sensations "Diamond and Silk" visiting the department.
The pair visited the department headquarters last week to discuss how to grow and expand their business — an online enterprise that mainly serves the function of promoting President Donald Trump.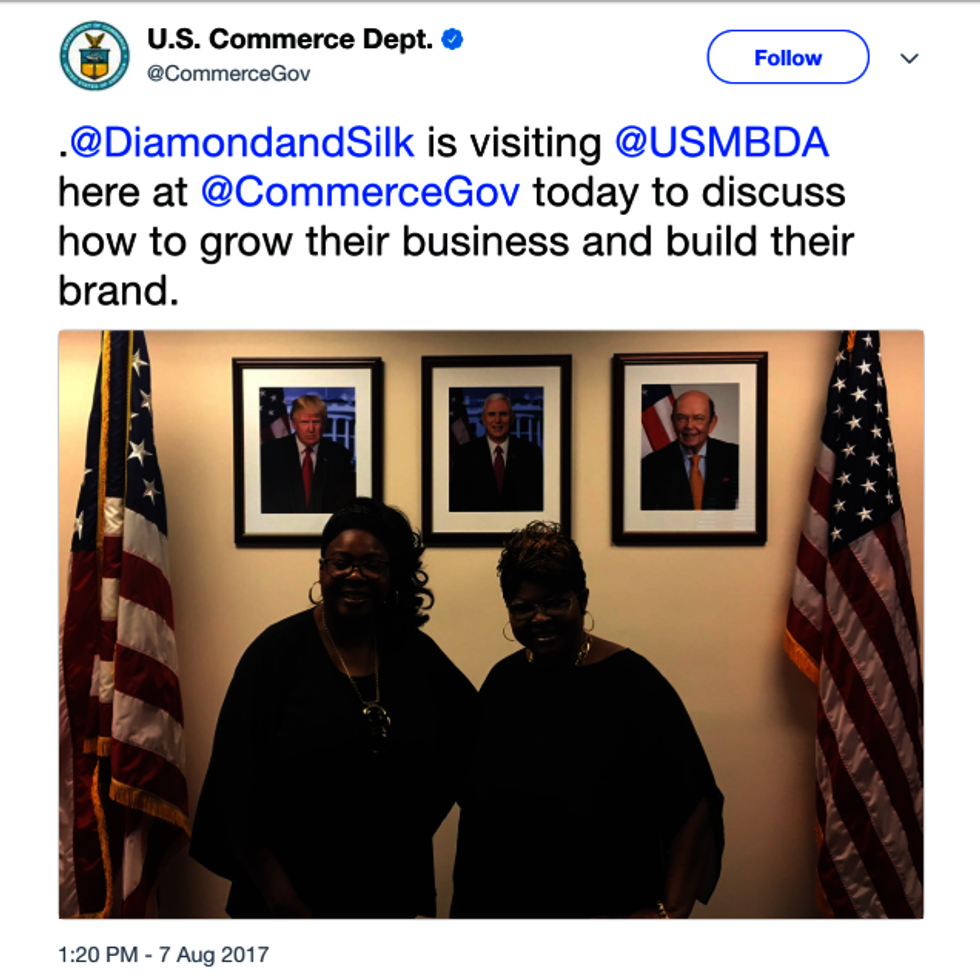 A picture of Diamond and Silk visiting the Department of Commerce was posted to Twitter on Monday. (Wayback Machine)
Hours later, the tweet was deleted.
The tweet was deleted "out of an abundance of caution" because the department was unsure if they had permission to post the photo, a spokesperson for the department told Gizmodo.
According to the spokesperson, Diamond and Silk discussed "minority business development" with Chris Garcia, a former Trump campaign adviser who was appointed as the acting national director of the Minority Business Development Association earlier this year. The pair met Garcia on a previous occasion, although it is unclear where, Gizmodo reported.
"The meeting would seem perfectly innocent, were it not for the fact that Diamond and Silk were paid Trump campaign consultants," Gizmodo reported.
According to Federal Election Commission filings detailing the Trump campaign's spending, Diamond and Silk were paid a "field consulting" fee of $1,274.94  in November.

FEC filings show Diamond and Silk were paid by President Trump's 2016 campaign. (Screenshot from Federal Election Commission filings)
The initial concern over whether or not the campaign was paying Diamond and Silk came up in April 2016 when reporters discovered the Trump campaign paid $2 million to Ace Specialties, a company who makes promotional materials in the United States. The promotional company also supplies merchandise to Diamond and Silk to sell on their website.
At the time, a campaign spokesperson said Diamond and Silk "have never been paid by the campaign, which you can verify in our FEC reports. There is no connection with Ace. We very much appreciate the unwavering support and enthusiasm, from Diamond and Silk," NBC News reported.
The pair went on to campaign for Trump throughout the remainder of his election last year. They completed their "stump for Trump" tour in Mississippi, South Carolina and Iowa, where they drew crowds of more than 10,000.
(H/T Gizmodo)