Liberals far and wide decried Republican President Donald Trump's statement against the "egregious display of hatred, bigotry and violence, on many sides" amid the deadly clash in Charlottesville, Virginia, on Saturday, declaring that there's really only one guilty side (read: Trump supporters, Republicans, conservatives, etc.).
Not that there aren't already plenty of examples of leftist hatred, bigotry and violence to feast upon, but here's a fresh one that should strike close to home for members of the media who perhaps aren't so enthusiastic about reporting leftist misdeeds.
During a demonstration against "white supremacy" Sunday night in Richmond, Virginia — about an hour southeast of Charlottesville — a WTVR-TV photojournalist was using his phone to record video of a large crowd marching down a street and chanting "we're here, we're gay, we fight the KKK!"
At one point a protester ordered him, "Stop filming, bro," WTVR said.
The WTVR staffer, who wasn't working for the station at the time, replied, "I can film whatever I want. Get out of my face."
Video then showed the photographer's phone knocked out of his hands, WTVR reported, adding that it then captured a protester hitting the station staffer with what he described as a large stick. He was hit in the head, the station said.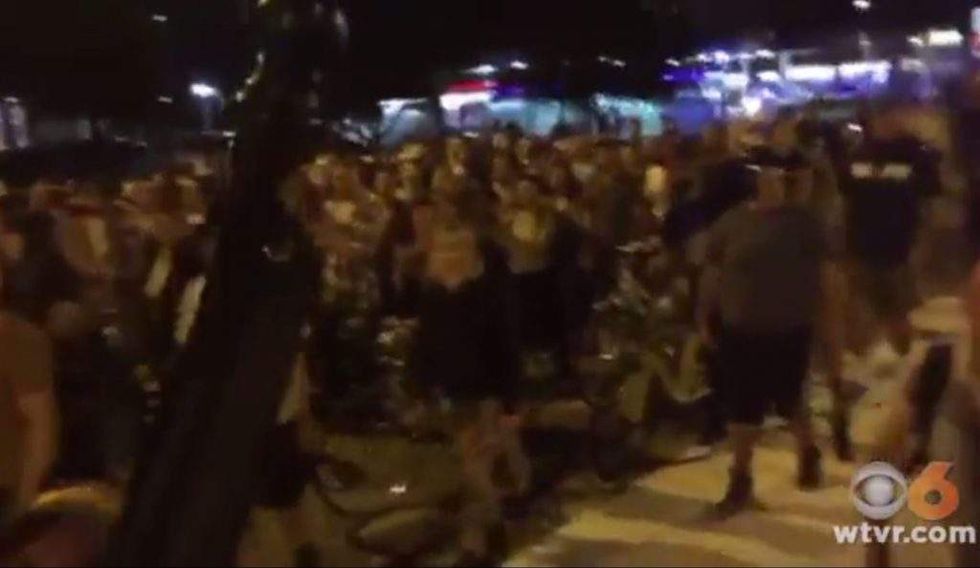 What appears to be a large stick is raised up. (Image source: WTVR-TV video screenshot)
Police responded and the photojournalist was taken by ambulance to a hospital where he received four staples, the station reported, and he was later discharged.
One of our photographers was hit with a stick in the back of the head by a protestor for shooting video of protest… https://t.co/5kFHUzrMeq

— Melissa J. Hipolit (@Melissa J. Hipolit) 1502680409.0
"This is not a peaceful protest," the photographer wrote, WTVR said.
Our photojournalist reported back that he got 4 staples after a protester hit him in the head. https://t.co/bG5JRYfksJ

— WTVR CBS 6 Richmond (@WTVR CBS 6 Richmond) 1502683992.0
The station's news crew at the scene also captured video of a protester concealing a baseball bat, WTVR noted, adding that it asked for help in identifying the culprit.
The protesters were demanding that Confederate monuments get torn down in Richmond, the station said.
This story has been updated.
(H/T: Young Conservatives)