Amid demonstrations in St. Louis after a white former police officer was acquitted of murder Friday in the 2011 fatal shooting of a black motorist, the owner of a popular eatery in town was photographed passing out water to protesters.
"This [is] the largest group of people I've seen assembled in a really short order," Chris Sommers, owner of Pi Pizzeria, told the Riverfront Times. "It's cool that people are getting up from the tables and joining the protests. Our guests are asking, 'Hey, can I help hand out water?'"
Chris Sommer responded after the union representing the STL County police put him — and Pi Pizzeria — on blast.… https://t.co/NVDzGcTHLF

— Riverfront Times (@Riverfront Times) 1505918460.0
But the Times said that when police came on the scene, officers fired pepper balls at protest "stragglers." And Sommers told the Times one officer — "a little dude" — was "just randomly firing at people, and when they would call him out on it, he would fire again."
He also told the Times that cops launched a tear gas canister at his restaurant and shot a man nearby with a pepper ball as he watched.
"It made no sense," Sommers, who also owns 'ZAA Pizza + Salad, told the Times. "There was no rhyme or reason to it. It was not based on any escalation or perceived escalation of events."
That wasn't all, however.
It seems Sommers hopped on Twitter and vented his frustration at police, allegedly calling them "dimwits" and saying they're "terrorizing" St. Louis while "hiding under tactical gear." He then apparently deleted or protected his account: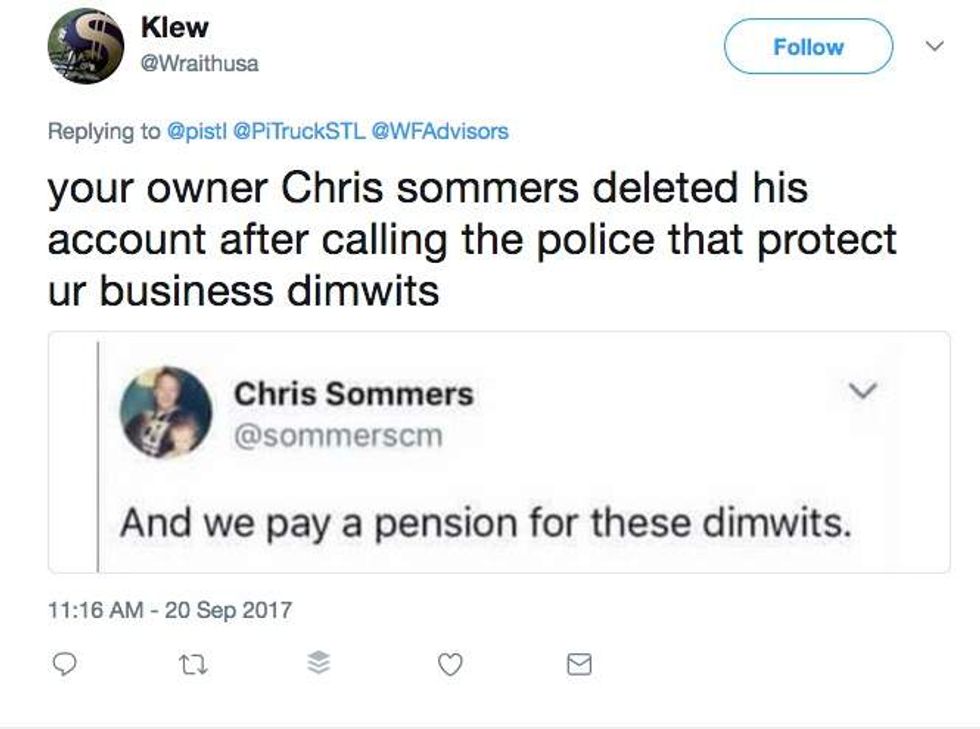 Image source: Twitter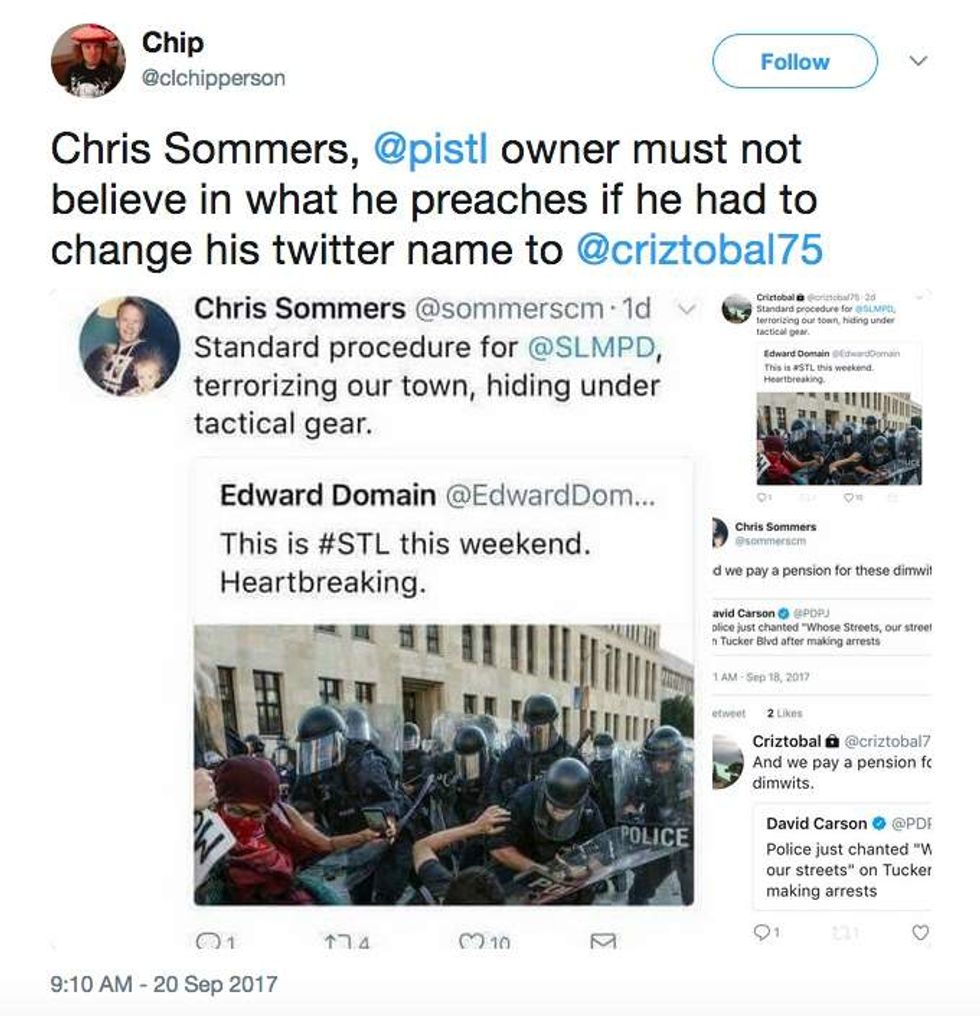 Image source: Twitter
With that Blue Lives Matter posted a piece ripping Sommers: "That 'tactical gear' they were hiding under was to protect them from the assaults that they endured all day. Eleven officers were injured the first day alone, with one suffering a broken jaw and another with a dislocated shoulder after they were pelted with bricks."
The post ended by promising that "if you bash the police, you won't be getting our business."
Then the St. Louis County Police Association reposted the Blue Lives Matter piece on its Facebook page and added something extra directed at Sommers' establishments:
"There are reports of people calling the restaurants tying up their phone lines expressing their feelings about the owners anti-police comments.

"We have been busy protecting everyone's free speech during the demonstrations. Here are the numbers if you feel like your freedom of speech needs a little exercise:"
The post then included three phone numbers for Sommers' restaurants.
Well, Sommers fired right back at police and Blue Lives Matter in a lengthy Facebook post the Times reprinted Wednesday — and it told quite a different story.
Pi Pizza restaurant owner Chris Sommers is handing out free water to protesters as they march by https://t.co/HSgrGP5gdt

— Versha Sharma (@Versha Sharma) 1505527977.0
In addition to saying his staff also passed out water to police Friday night, Sommers said when all seemed calm he saw police in riot gear marching toward an "empty block" — and then shooting pepper balls. He added that as "they continued to shoot, I lost my s**t and screamed at them for terrorizing our guests and hiding behind their shields and guns when there were zero agitators on our corner."
Sommers added: "I used lots of expletives at these little men and women hiding behind shields with guns, terrorizing my guests who pay their salaries. The ACLU told me their aggression against my language makes their crime even more egregious."
He also noted that he had to retreat into his restaurant and lock the doors when he saw police charging toward it after a man next to him lobbed a tear gas canister back at officers.
"What pains me the most about this is how much support I have given to the police since I opened my business," Sommers said. "Cops eat either for free or 50 percent off every time they dine with us in uniform. I donate to all of their nonprofits and events, any time they ask. But that doesn't matter. No good deed goes unpunished." He also said that practice will no longer continue at his restaurants.
Sommers continued:
"The Blue Lives Matter (Only) people who are threatening me and my business use phrases like 'Black Lives Don't Matter' in their messages. They all have Trump and 'Make America Great Again' tags in their profiles. Oh, and they generally seem to love Jesus. It just doesn't compute. But then again, it all makes sense for these authoritarian types. Despite the SLMPD catching none of the criminals who have assaulted and robbed me, my businesses and employees, or home, I have continued to support them. They have NOT protected me and often never showed up when I've called them, but I've continue to serve them, with free meals and cash. No longer. And I'll lose less money on every meal I don't give away to them.

"The systematic racism and corruption in our SLMPD and beyond is well-known and documented. (What I've experienced the past few days, however, is trivial when compared to what African Americans do on a daily basis. I don't at all mean to create a false equivalency with this. I know the gun they used on me could have been different if I were black.) I've had many cops and relatives of cops and former cops approach me since this incident to tell me of their own experiences with it, and why they had to leave the force because they could not ethically continue. A co-worker of mine was dining in St. Louis on Friday, when six cops came in bragging about killing [Anthony Lamar] Smith [who was fatally shot by white former officer Jason Stockley], saying 'so what, we killed him, St. Louis needs to move on.' No one at that table questioned that officer.

"But it's so much larger than that. Cops can do no wrong in their minds, and they will defend each other to no end. The authoritarian code in the police departments transcends their work, influences their politics and informs their 'faith.' It's disgusting, and it was critical to the election of Donald Trump."
Sommers also called on St. Louis Mayor Lyda Krewson to fire interim Police Chief Lawrence O'Toole.
"He is known as a leader of the corruption and incompetence in the SLMPD," Sommers added. "What part of his performance warrants him keeping his job?"
Here's St. Louis talk radio host Marc Cox discussing the situation on air Wednesday. He doesn't treat Sommers too kindly:
This story has been updated.