What school does the team play for and when did the players take a knee?
Nine members of the R.W. Traip Academy girls soccer team took a knee during the national anthem at a game Monday, NECN-TV reported. Traip Academy is in Kittery, Maine.
Why did they do it?
The girls took a knee to make a statement for racial justice, SeacoastOnline reported, and were inspired by NFL players' actions Sunday.
"What we're trying to get at here is we know there is ignorance and we know there is talk now," junior Beti Stevens, one of the players who took a knee, told the outlet. "But this [demonstration] was to bring some level of awareness to the issue and now we're calling for education."
Freshman Zadie Lauer told SeacoastOnline that "it's disrespectful if we don't address [racial injustices], if we just stand by and let it happen."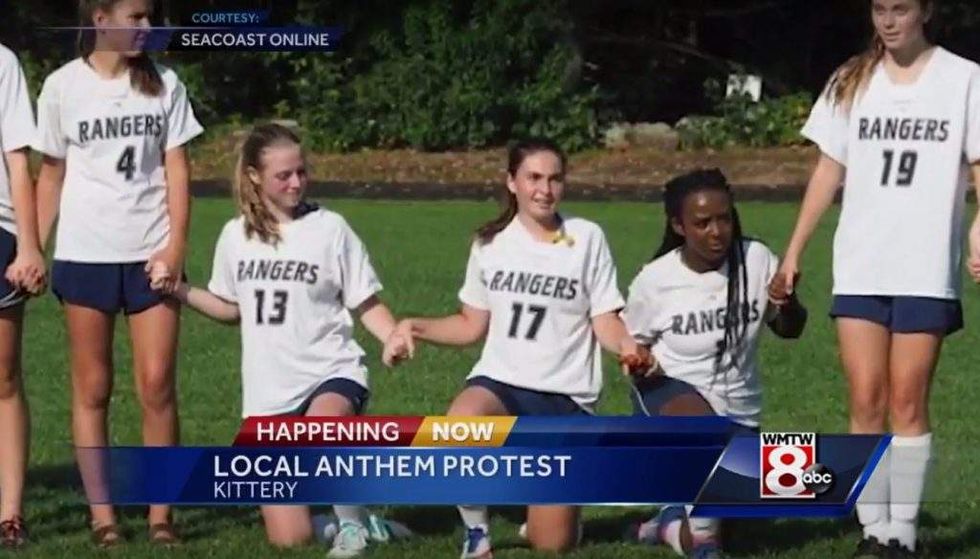 Image source: YouTube screenshot
How did others react to the protest?
Team members said after word got out that some of them took a knee, they received racist social media messages and were confronted in school Tuesday.
Several Snapchat screenshots included the N-word and other racist and profane language, the outlet reported, adding that team members and a parent said the messages were from fellow Traip students.
"The thing that really hit me today wasn't necessarily all the nasty things students had to say, it was the fact they were not willing to take the time to listen," Stevens told SeacoastOnline.
Junior Mia Dickinson told the outlet that students who confronted the players "mainly thought [the protest] was disrespectful and it was the wrong thing to do. They thought we were disrespecting the troops or disrespecting America or it was about Donald Trump; when it was really about bringing attention to how people of color and other minorities are treated differently in this country and discriminated against."
Kittery is a military community, NECN reported, noting that the Portsmouth Naval Shipyard is nearby.
Ed Alberts told the outlet it's "very upsetting" that the soccer team members took a knee and that everyone should stand for the anthem "out of respect."
"That's our First Amendment right," Tom Scontras countered to NECN. "Freedom of speech is what this country was founded upon."
Is the school district taking any action?
School officials told SeacoastOnline in a follow-up piece that they're looking into the Snapchat images to determine if any of them rise to the level of a hate crime.
Traip Principal John Drisko told the outlet that students across the opinion spectrum need protection: "We need to be careful to support our students. Whether or not they stand for the anthem or if they take a knee, we need to support them. But we also need to support our kids who stand for the flag and promote their support civilly."
(H/T: EAGNews)