Former Democratic presidential nominee Hillary Clinton said Americans should "put politics aside" and "stand up to the NRA" following the deadly mass shooting in Las Vegas late Sunday night where at least 50 people were killed and hundreds were injured.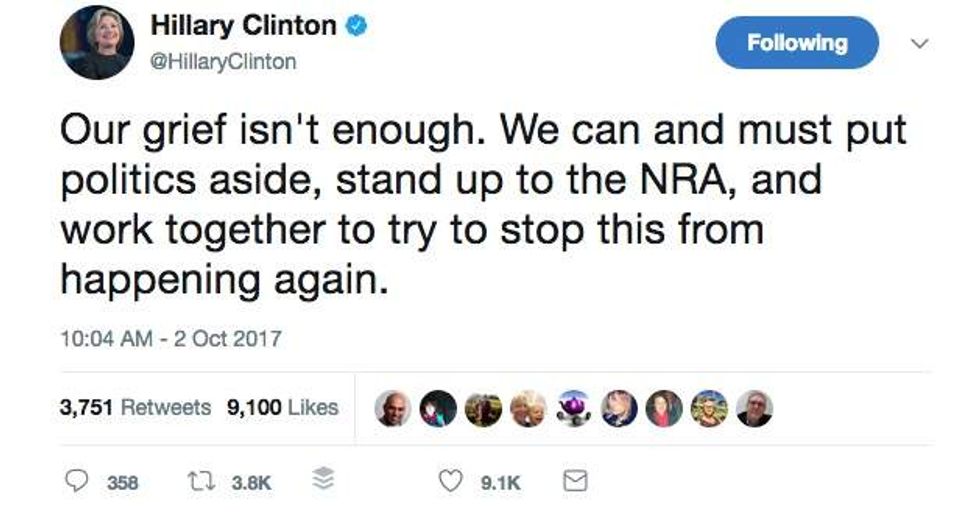 Image source: Twitter screenshot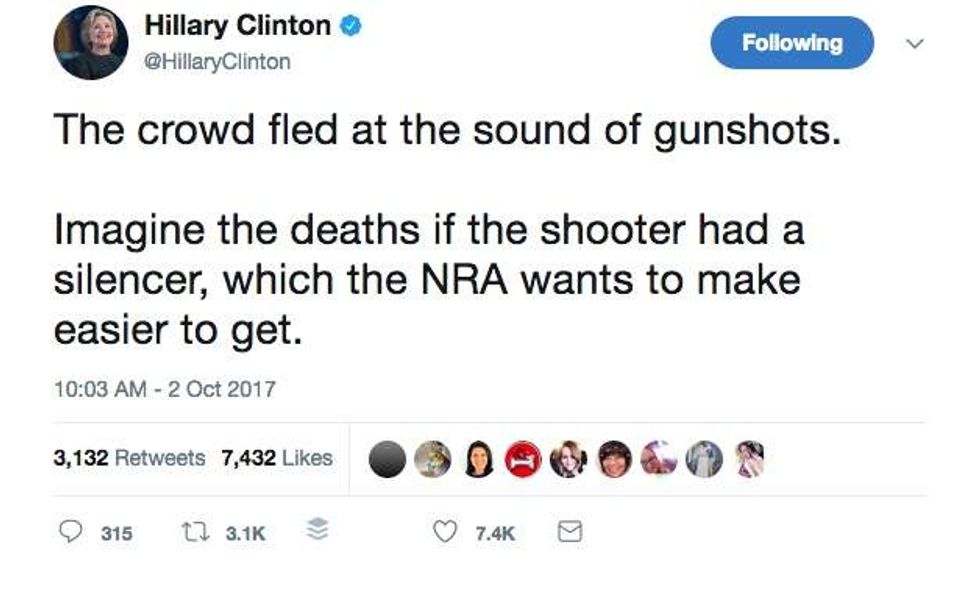 Image source: Twitter screenshot
Her daughter Chelsea Clinton noted the sentiments from the mother of a Sandy Hook mass shooting victim: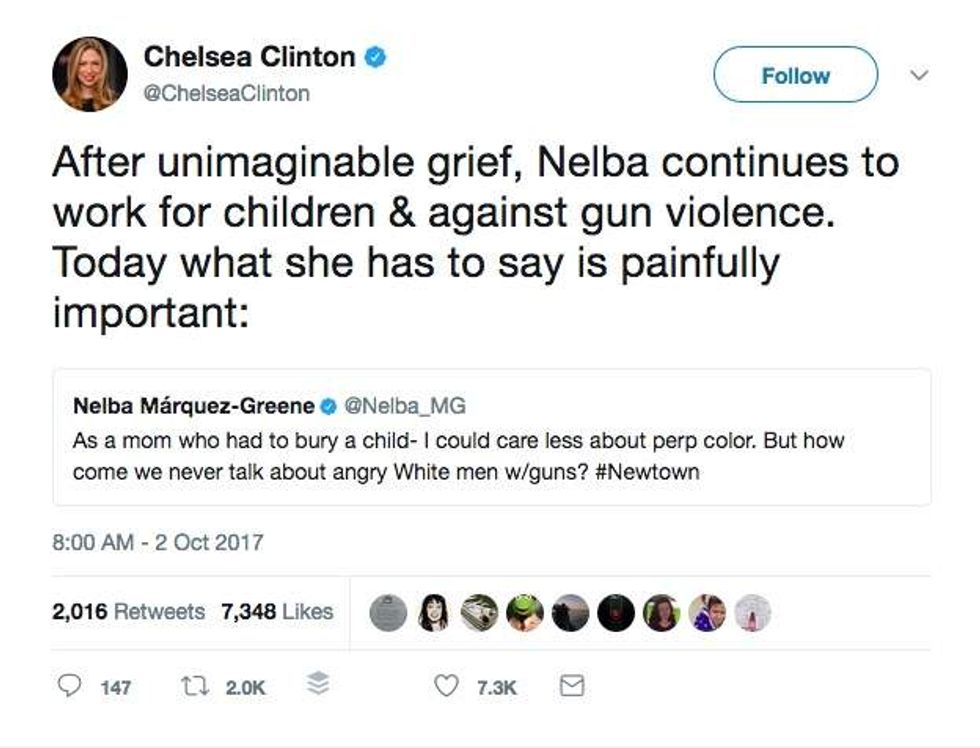 Image source: Twitter screenshot
Other Democrats were angry at Congress over gun control.
Sen. Chris Murphy (D-Conn.) said in a statement Monday morning that it's "time for Congress to get off its ass and do something" about gun control.
"It is positively infuriating that my colleagues in Congress are so afraid of the gun industry that they pretend there aren't public policy responses to this epidemic," Murphy added. "There are, and the thoughts and prayers of politicians are cruelly hollow if they are paired with continued legislative indifference."
Sen. Richard Blumenthal, also a Democrat from Connecticut, said he's "furious" at Congress for not acting on gun control.
"It has been barely a year since what was previously the largest mass shooting in American history — the deadly attack at Pulse nightclub [in Orlando]," Blumenthal said in a statement. "In the interim, thousands more have been lost to the daily, ruthless toll of gun violence. Still, Congress refuses to act. I am more than frustrated, I am furious."
Democratic Sen. Elizabeth Warren (Mass.) said "thoughts & prayers are not enough":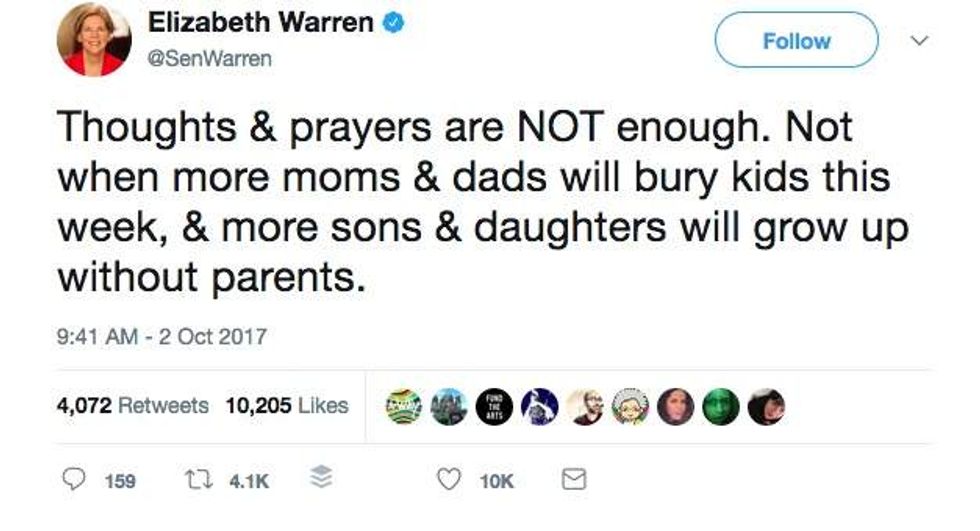 Image source: Twitter screenshot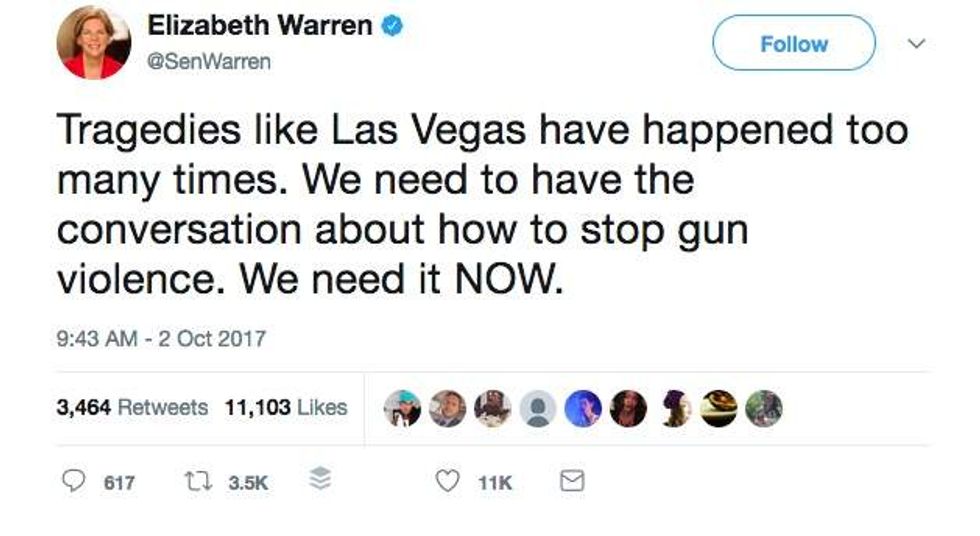 Image source: Twitter screenshot
Gun-control advocate and talk-show host Piers Morgan had this to say:
If the shooter was Muslim, we'd call this a terrorist attack. This was a terrorist attack, committed by a 64-year-old white American. #vegas

— Piers Morgan (@Piers Morgan) 1506939492.0
Big test for President Trump. The @NRA helped elect him, now worst ever US mass shooting has happened on his watch. #vegas

— Piers Morgan (@Piers Morgan) 1506942443.0
Journalist Jorge Ramos joined the call for gun control:
More than 50 people killed in Las Vegas. And yes, this is the right time to talk about gun control. If not now, when?

— JORGE RAMOS (@JORGE RAMOS) 1506941585.0
Celebrities spoke out as well:
Can we discuss the loss of rights of people going to a concert because of the lack of assault rifle regulations?

— Sheryl Crow (@Sheryl Crow) 1506945033.0