Here's a handful of some of the more jaw-dropping reactions from the left following the deadly mass shooting in Las Vegas.
Leading off is former MSNBC star Keith Olbermann, who employed a double F-bomb in his response to a tweet by Fox News' Howard Kurtz about the tragedy: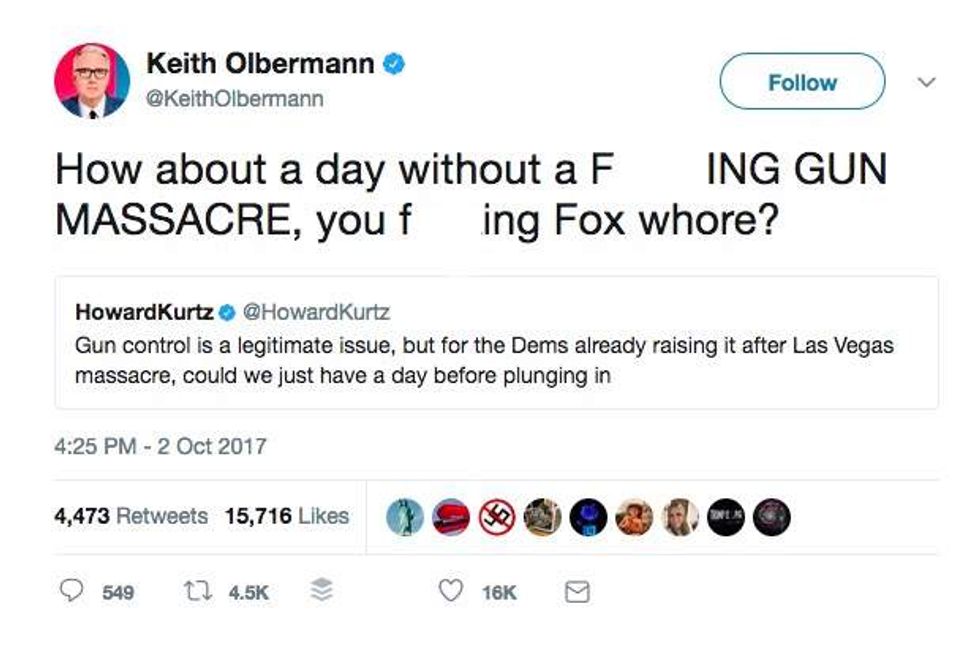 Image source: Twitter, redacted
Famed atheist author and speaker Richard Dawkins weighed in with this take:
Durn tootin', great shootin'. Cool dude sertin' he's 2nd Mendment rahts. Hell yeah! Every country has its psychopaths. In US they have guns

— Richard Dawkins (@Richard Dawkins) 1506947608.0
Former Democratic presidential nominee Hillary Clinton said Americans should "put politics aside" and "stand up to the NRA".
Then in a separate tweet, continuing to blast the NRA, she suggested there would have been more deaths if the shooter had a "silencer."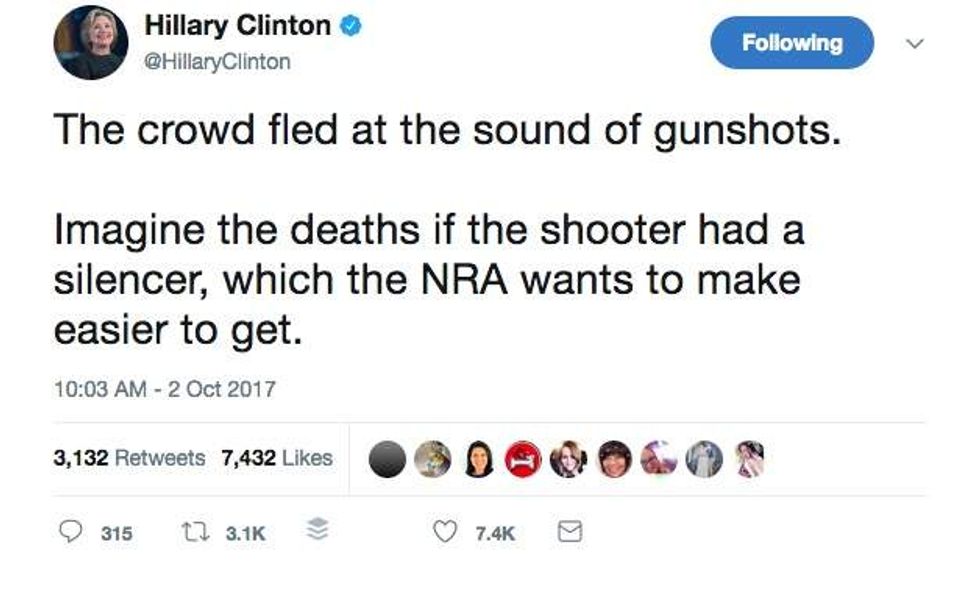 Image source: Twitter
Well, in addition to getting hammered for playing politics while saying we should put politics aside, Clinton also was criticized for her "silencer" pronouncement. Here's what TheBlaze's Dana Loesch said about that:
Suppressors only reduce by a few decibels, still same decibel level as a jackhammer. https://t.co/aj0AvJMZwv

— Dana Loesch (@Dana Loesch) 1506955134.0
As TheBlaze reported, CBS Vice President and senior counsel Hayley Geftman-Gold was fired for saying she's "actually not even sympathetic" about the shooting victims since "country music fans often are Republican gun toters."
@CBS Hayley Geftman-Gold needs to go. Despicable. https://t.co/uAbJzyyHHK

— Ian FitzGerald (@Ian FitzGerald) 1506961596.0
Columnist and activist Shaun King invoked race right away after news of the shooting hit:
Only in America can whiteness prevent the man who conducted the deadliest mass shooting in American history from being called a terrorist.

— Shaun King (@Shaun King) 1506945703.0
As did Black Lives Matter's DeRay Mckisson: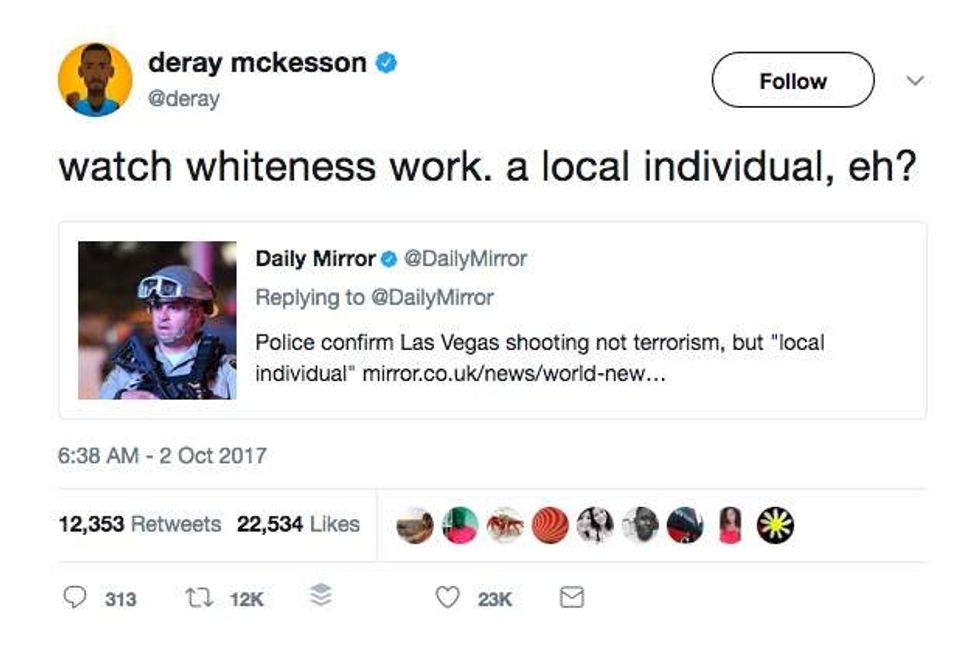 Image source: Twitter
Tariq Nasheed, an "anti-racism strategist," zeroed in on the shooter's town:
its been confirmed that the Vegas shooter is Stephen Paddock of Mesquite, which is the SAME AREA OF THE ARMED BUNDY STANDOFF

— Tariq Nasheed 🇺🇸 (@Tariq Nasheed 🇺🇸) 1506940836.0
MSM keeps referring to Mesquite as a quiet retirement town,when recently the town was complaining about the white s… https://t.co/f02PJpfhuA

— Tariq Nasheed 🇺🇸 (@Tariq Nasheed 🇺🇸) 1506993707.0
Here are some other takes:
It matters to say Stephen Paddock was white and that he was a terrorist. This was a terrorist attack by a white ma… https://t.co/cYTO6nO6Mu

— Charlotte Clymer 🏳️‍🌈 (@Charlotte Clymer 🏳️‍🌈) 1506951513.0
It was okay to talk about Muslims 10 seconds after the then-largest mass shooting, but not okay to talk about guns after the new largest.

— Kurt Eichenwald (@Kurt Eichenwald) 1506969549.0
The NRA is a terrorist organization. There's no other way to say it.

— Michael Ian Black (@Michael Ian Black) 1506953627.0