President Donald Trump has argued since the beginning of his presidential campaign more than two years ago that the mainstream media are against him. A newly published analysis appears to confirm his suspicions.
What does it show?
According to an analysis from the Pew Research Center, only 5 percent of the media's coverage of Trump in his opening 60 days in office was positive. An overwhelming 62 percent was negative, the survey said.
Pew's analysis found that the media's focus wasn't on Trump's policy or political ideology, but rather his character and leadership.
Pew analyzed left-leaning and right-leaning news websites, Fox News, CNN, MSNBC, each network nightly news broadcast, PBS, NPR and talk radio shows to reach its conclusions. The center examined coverage from Jan. 21 to April 30.
How does Trump stack up with his predecessors?
On the other hand, former President Barack Obama had 42 percent positive coverage in 2009, while only 20 percent of coverage was negative.
George W. Bush in 2001 had 22 percent positive coverage and 28 percent negative coverage, while Bill Clinton in 1993 had 27 percent positive coverage and 28 negative coverage.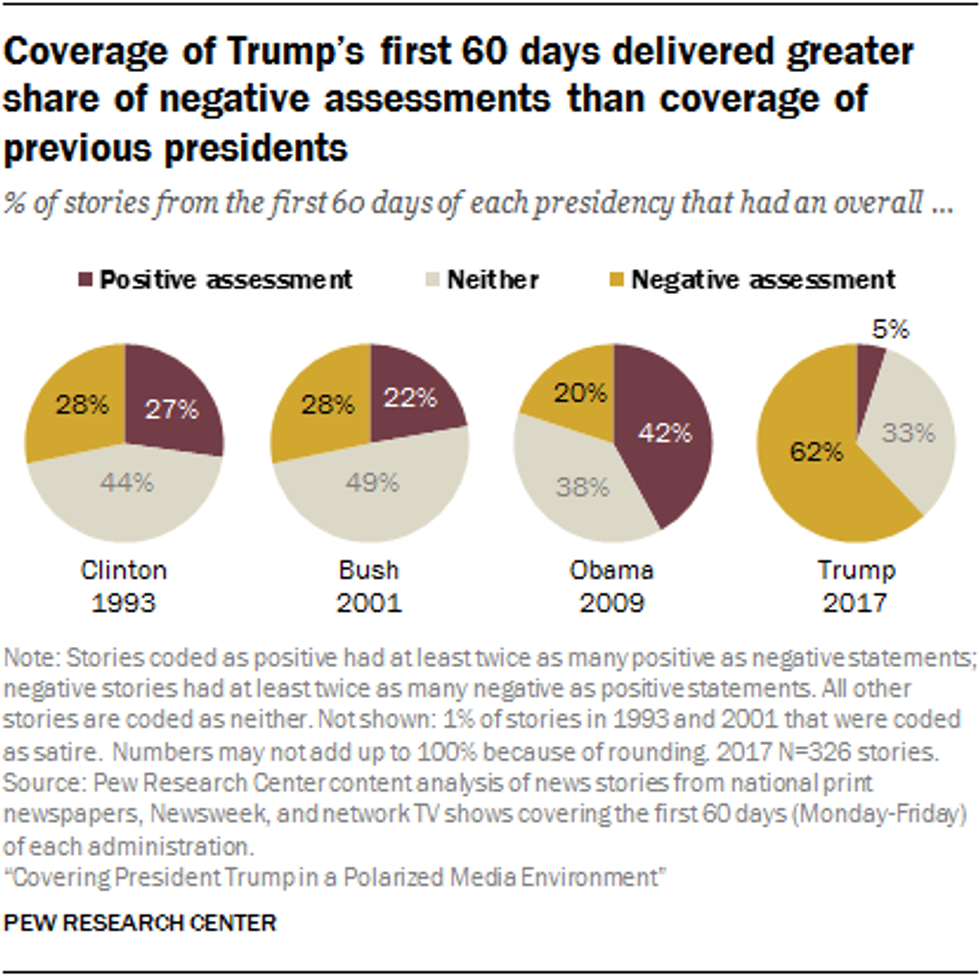 Is there corroboration?
Similar media studies have concluded similar results. A study from Harvard University earlier this year found that more than 90 percent of coverage at CNN, NBC and CBS of Trump's first 100 days was negative.
It also found that more than 80 percent of coverage from leading national newspapers, such as the New York Times and the Washington Post, was negative of Trump during his opening 100 days.