ESPN host Michelle Beadle said on air that "white men" need to "shut up and listen for five minutes" — and after first noting she doesn't want to "stereotype."
What went down?
Beadle said "a lot of people saw zero wrong with" Newton's remarks, as in "Oh, get over it. It's not that big a deal."

She then launched into a rant against white men: "Not to stereotype, but I hear a lot from white men on these topics. You guys have a lot to say how black people should feel, about how women should feel. I gotta be honest with you guys: Shut up and listen for five minutes. Like, you will never know what I've been through, what he's been through ... Just listen. God forbid, you learn something."

Beadle was sitting with LZ Granderson and Marcellus Wiley during her comments: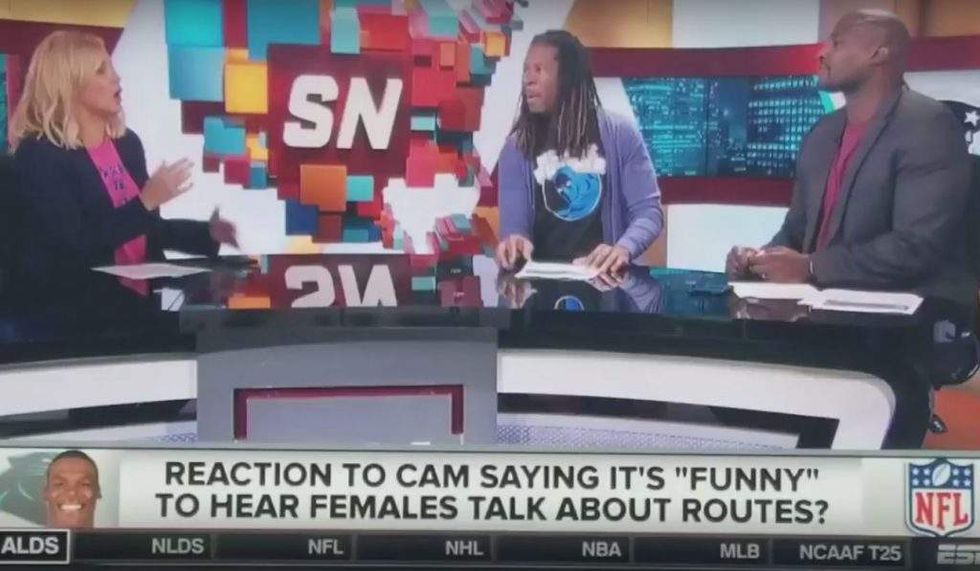 Image source: YouTube screenshot
Here's a clip:
What did Beadle have to say later?
After Beadle received backlash on social media over her comments, she simply doubled down. Here's a sampling of what she posted on Twitter:
I see my words struck a chord. A lot of comments from the very people I wish would listen. But I get it. Better to… https://t.co/zO7l28Q7A9

— Michelle Beadle (@Michelle Beadle) 1507390179.0
But I will say this, boys. Thank you. Thank you for your predictability. And your willingness to take talking points from your overlord. 🙂

— Michelle Beadle (@Michelle Beadle) 1507390576.0
It's silly. The sad place we're in. If you're not a close-minded pig, then guess what? Not talking to you. Methin… https://t.co/c9kJ99vuTj

— Michelle Beadle (@Michelle Beadle) 1507390669.0
Newton lost a sponsorship with Dannon yogurt over his remarks toward the female reporter, Jourdan Rodrigue. Some said Rodrigue should lose her job for "racist" tweets she posted several years ago.
Rodrique later apologized for her tweets, and Newton apologized for his remarks.