Aaron Courtney said he hadn't heard of Richard Spencer until Florida Gov. Rick Scott declared a state of emergency over the white supremacist leader's impending Thursday speech at the University of Florida, the New York Daily News said.
So Courtney — a 31-year-old high school football coach in Gainesville — began researching Spencer, who helped plan the "alt-right" rally in Charlottesville, Virginia, in August that resulted in violence and one woman's death, the paper said.
"I found out about what kind of person he was and that encouraged me, as an African-American, to come out and protest," Courtney told the Daily News. "Because this is what we're trying to avoid. It's people like him who are increasing the distance ... between people."
What happened outside Spencer's speech?
Courtney had been protesting for four hours and was about to leave, the paper said, when he saw a man wearing a T-shirt covered in swastikas getting spat upon and screamed at by surrounding protesters.
The man — identified as Randy Furniss — spoke to WJXT-TV at another point during the day.
"They want what we have," Furniss told the station, identifying himself as a white nationalist. "And we just want them to shut up and get on with life. They're being raised up and it's getting to the point where they want to push us down. That's not right."
Furniss also got punched in the face, the Gainesville Sun reported.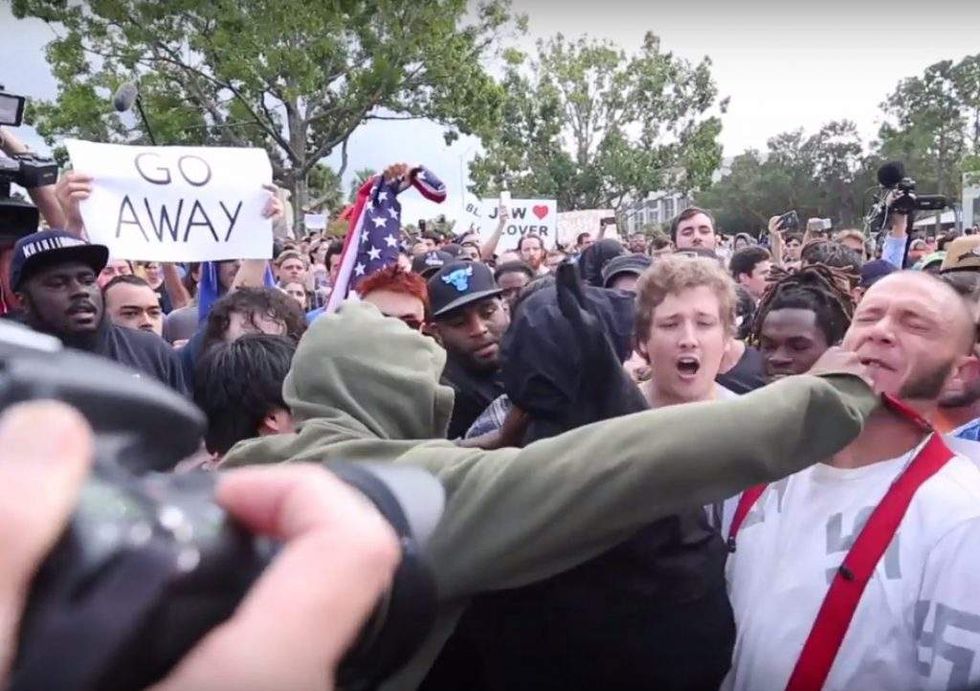 Image source: YouTube screenshot
What compelled Courtney to talk to the white nationalist?
"I had the opportunity to talk to someone who hates my guts, and I wanted to know why," Courtney told the Daily News. "During our conversation, I asked him, 'Why do you hate me? What is it about me? Is it my skin color? My history? My dreadlocks?'"
Furniss initially didn't respond to Courtney, the paper said — but Courtney wasn't giving up.
"After beating around the bush and avoiding my questions, I asked him, I pleaded with him, I almost broke out in tears, growing increasingly angry because I didn't understand," Courtney told the Daily News.
"I could have hit him, I could have hurt him," he added to the paper.
What did Courtney do instead?
Then Courtney remembered the teachings of his father — a bishop — and that's when "something in me said, 'You know what? He just needs love. Maybe he never met an African-American like this,'" the Daily News noted.
So Courtney told Furniss to give him a hug, the paper reported — but he didn't agree right off the bat.
"I reached over and the third time he wrapped his arms around me," Courtney told the Daily News, "and I heard God whisper in my ear, 'You changed his life.'"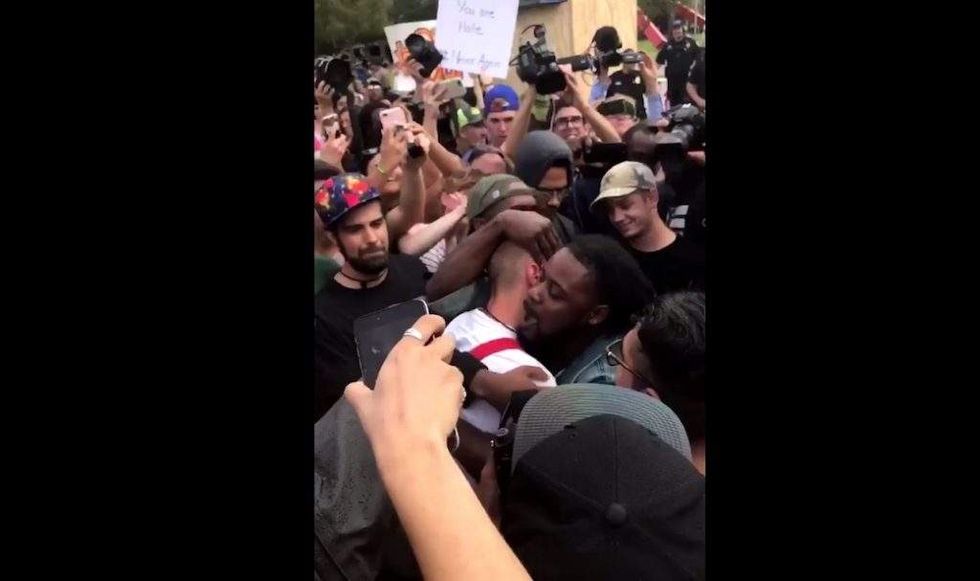 Image source: Twitter video screenshot
And when Courtney asked him again, "Why do you hate me?" he told the paper that the man he hugged finally replied, "I don't know."
"I believe that was his sincere answer," Courtney told the Daily News. "He really doesn't know."
All in all, he told the paper it's a good first step: "One hug can really change the world. It's really that simple."
Here's the clip of the hug. (Content warning: Rough language):
A nazi and a black man.....America 2017 #SpencerAtUF pic.twitter.com/sSaG36EuOr

— Politics 4 Dummies (@Politics4dum) October 19, 2017