A Virginia middle school canceled its football team's season over a Snapchat video showing white players pinning black students to a locker room floor and simulating sex on them while making racist remarks.
Text placed over the clip read, "We gonna [expletive] the black outta these African-American children from Uganda," WTVR-TV reported.
Thomas McAuley — principal of Short Pump Middle School in Glen Allen — wrote a letter last week to parents calling the students' actions in the video "appalling, disturbing, and inexcusable," WTVR added.
Henrico County Police told WWBT-TV they're investigating the video to see if any charges should be filed.
What else is on the video?
It begins with text that asks, "Ever wonder what happens in the football locker room?" WECT-TV reported.

A student is heard saying, "What's up with you and the blacks?" during the Oct. 13 incident that took place before football practice, WECT added.

"What's going on? He's [expletive] a black," a student also said, WECT reported.

One of the victims skipped practice after the incident, WECT said.
What are parents saying?
"I felt sad for my child that he had to experience this," an unidentified mother of one of the victims told WWBT during an on-camera interview in which she doesn't show her face.

She told the reporter her son "had people ... straddling over top of him" and that he wasn't in a position to defend himself.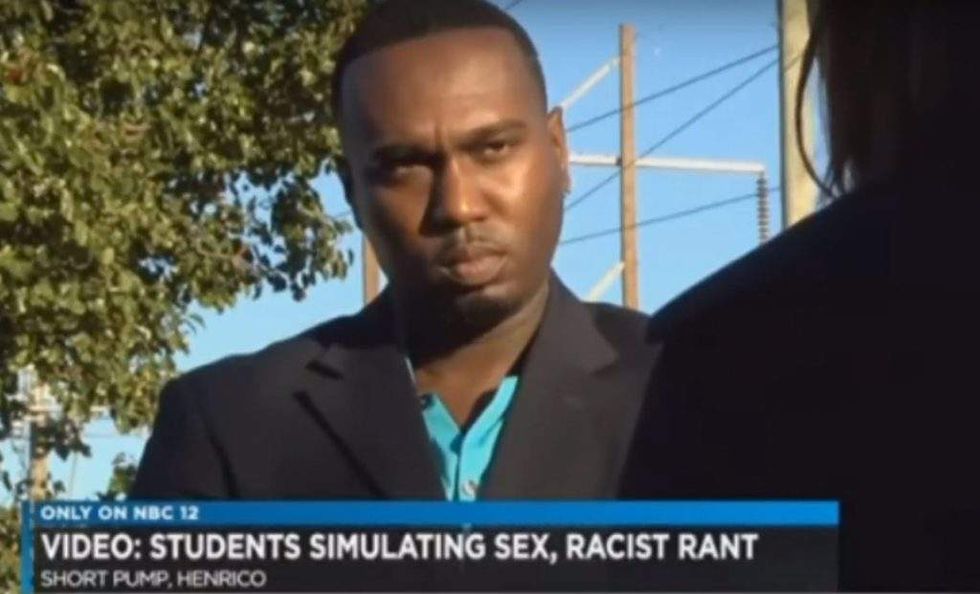 Image source: YouTube screenshot
"You see kids in the locker room forcing kids over the bench," she added to WWBT. "You see kids on the ground thrusting on other kids, making racial slurs as they're thrusting. … You see the kids asking to get up and to stop and screaming."

The mother told WWBT none of the victims consented to what happened.

"Racism should not be tolerated," she told WWBT, adding that "you should be able to send your kids to school and feel that though they are being protected and safe."

Cheri David — the parent of a player not involved in the video — told WTVR it's unfair that the entire team is paying the price for the actions of a few players and called the decision "devastating."

She said her son "would never condone this" and that the players' actions in the video are "not in our family values and morals at all."
What are others saying?
Lorraine Wright with the "I Vote for Me" human rights group told WWBT her organization will file a federal civil rights complaint.

"Clearly, the intent was to dehumanize the boy of color, and that's something we can't sweep under the rug and mischaracterize as 'offensive and wrong' because it was way beyond that," she added to WWBT, later calling it "criminal."

Others said kids will need therapy as a result of the incident.

"Some people are going to be dealing with shame," Bob Nickles of ChildSavers — which provides trauma-related mental health and child development services — told WWBT. "Some people are going to be dealing with guilt. Some folks are going to be dealing with powerlessness, helplessness."

Marla Crawford with Advocates for Equity in Schools called the incident a "hate crime," WWBT reported.

Denisha Potts — vice president and interim education chair for the NAACP's Chesterfield branch — released the following statement, WWBT said:
The school district has an obligation to protect the lives of other innocent students by detaining the criminals displayed in the video. Protecting them will only send a message of permitting them to do it again. This culture of dismissive attitudes regarding abuse toward black and brown children of color must stop.

It is my expectation that the students involved in this hateful act will face criminal charges appropriate to state and federal law. This blatant act of misconduct should not be tolerated in any of our school districts. These students should be suspended immediately until further notice pending a full extensive investigation.
What else will the school district do?
The team will continue to practice despite having no more games this season — and during those practices they'll discuss "reporting responsibilities, accountability, ethics, sexual harassment, and racial tolerance," the letter to parents read, WTVR reported.