Rosie O'Donnell has been anything but quiet about President Donald Trump, doling out barb after barb at the Republican — both during his campaign and after he took office in January.
But the outspoken left-wing celeb made it official with her first media interview since Trump's election — and she confessed to W Magazine, "I seriously worry whether I personally will be able to live through" his presidency.
How did O'Donnell react to Trump's victory?
O'Donnell told the magazine she "was in shock. I was in pure unadulterated [shock], as if I had fallen through the ice on a lake; I was underneath the water, and I couldn't even see the surface. It was a severe shock to my entire essence and my beliefs in the order in the world, and also the PTSD of having been an abused kid in a family."

"I did a lot of therapy," she added to W.
And since then?
O'Donnell told the magazine that "as much as I am devastated, disappointed, disheartened, and depressed by the reality of it, I wasn't in pure panic mode like I was that day and that week."
Do her wounds from her longstanding feud with Trump still feel fresh?
"It happened to me in a personal manner," she told W. "Because unbeknownst to me, for reasons I can't really still figure out, he was allowed with impunity to brutally assault me and my character for a decade. No one — not the National Organization For Women, not Gloria Steinem, no one — stood up and said, 'What the hell are you doing?' It was laughed about."

"When it was only me in that arena, it was a very lonely, isolated and depressing place to be," O'Donnell added to the magazine. "Even though [people say], 'Oh you started it,' well I actually told the truth about him on a show where my job was to talk about pop culture."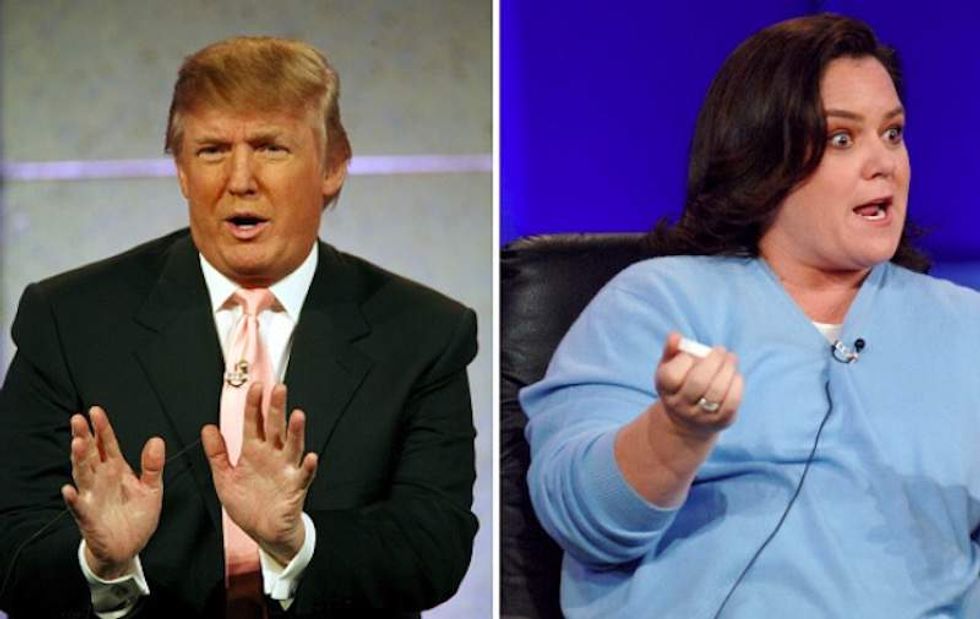 Image sources: Frederick M. Brown/Getty Images (Trump); Jeff Kravitz/FilmMagic, Inc. (O'Donnell)
Does O'Donnell blame the media for Trump's election?
"He was bankrupt four times, he got his money from his father, he never pays his contractors. He has a dubious moral character," she told W. "These are things that were not hard to find, yet the media refused to print them a decade ago."

"And when he started to run, they all went in their turtle shells and acted like they had no idea that this was the essence of this man, when had they only turned on Wikipedia, they could have found out everything that we now know is fact," O'Donnell added to the magazine. "And we wouldn't have him as president if they had done their jobs."
How is O'Donnell managing her emotions with Trump in the White House?
"It has taken me a full year to integrate the reality of him being a president in a way that I don't come across as either so full of rage that no one can hear my words, or so sad that I can't articulate the level of pain," she told W. "It's taken a year for me to get my equilibrium back, to come back up to the surface, to really go, 'Okay, every Monday is the hope that this is the last week' — and every Friday is a devastation."

"There are people who tell me, 'Oh, it's going to be another year, another two years,' and I seriously worry whether I personally will be able to live through [his presidency] and whether the nation will be able to live through it and survive," O'Donnell added to the magazine.

"It's a terrifying concept, on the brink of nuclear war with a madman in charge," she said to W. "And the ineptitude — the impotence of people who should be able to stop him claiming they can't — is absolutely infuriating."
(H/T: Washington Times)