In the wake of three fatal shootings by a possible serial killer, Tampa Mayor Bob Buckhorn told his police department to "bring his head to me."
"We're gonna get this son of a bitch," Buckhorn, a Democrat, said at a news conference in front of officers Wednesday.
He added:
"We're gonna hunt this son of a bitch down until we catch him. And it's gonna be you guys. And it's gonna be great police work. Doing what you guys do every day. Every day. This guy is not gonna win. He's not taking over this neighborhood. He's not taking over these streets. You guys go hunt him down. And bring his head to me, all right? Let's go get it done."
What happened?
Three people were fatally shot within 10 days of each other this month in Tampa's Seminole Heights neighborhood.
Benjamin Mitchell, 22, was killed in front of his home Oct. 9.
Monica Hoffa, 32, was killed Oct. 11. Her body was found two days later in a vacant parking lot half a mile from where Mitchell died, CNN reported.
Anthony Naiboa — a 20-year-old with autism who had just graduated from high school — was killed Oct. 19, CNN added.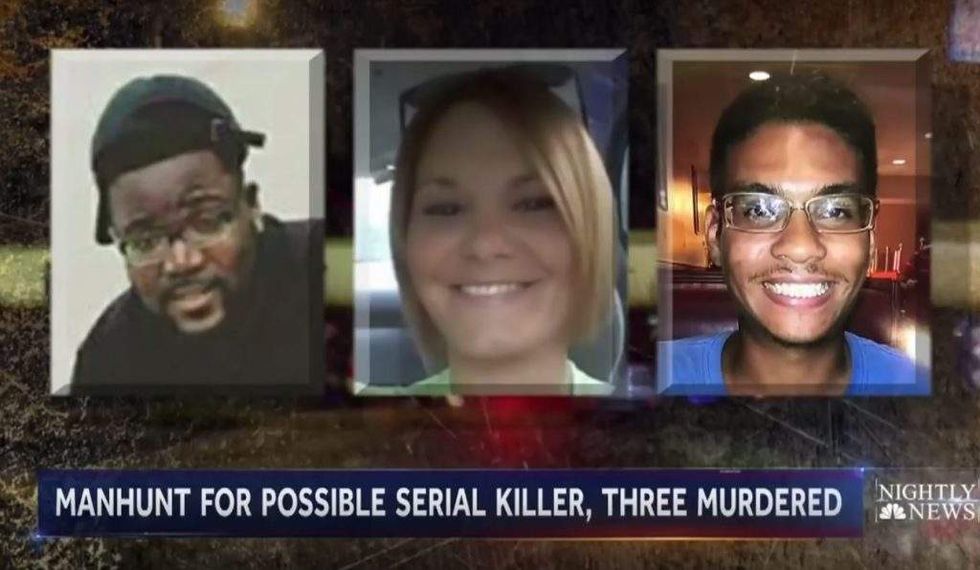 From left: Benjamin Mitchell, Monica Hoffa, Anthony Naiboa (Image source: YouTube screenshot)
Are there any clues?
Surveillance video shows a "person of interest" running from the spot where Mitchell was murdered seconds earlier, CBS News reported.
"We believe that this person has ties to this neighborhood," Tampa Police Chief Brian Dugan added to CBS News.
What are authorities doing?
Police have been all over the area and warning the community to keep vigilant, CBS News said.
"We're stopping and talking to just about anybody who we see," Lt. Kimberly Plourde-Torres told the network. "It's a scary thing."
Buckhorn is urging those withholding information to come forward, CBS News added. "All you're doing is protecting a killer," he said. "And that killer may take out one of your family members. So, you decide which side you're on."
There is a $35,000 reward for any information leading to an arrest, the network reported.
(H/T: Blue Lives Matter)