The two Honolulu women who said they were adrift in the Pacific for five months before the U.S. Navy rescued them last week never activated their emergency beacon, the U.S. Coast Guard told The Associated Press.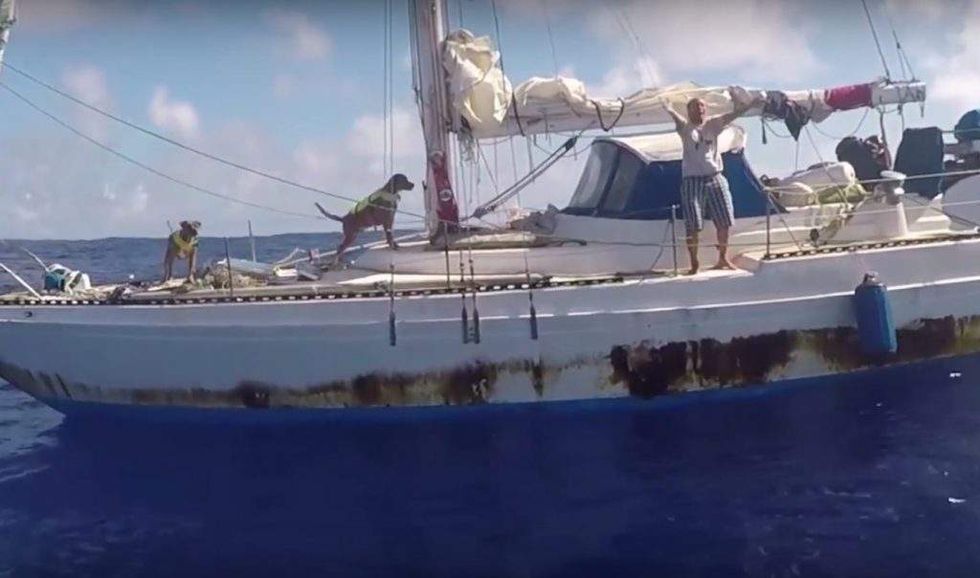 The U.S. Navy rescued two Honolulu women and their two dogs about 900 miles southeast of Japan on Wednesday after they'd been lost at sea for five months aboard a busted sailboat. The women set sail from Hawaii to Tahiti in the spring. (Image source: YouTube screenshot)
The revelation is among several points now casting doubt upon the pair's story of a trip that was supposed to take them from Hawaii to Tahiti in a couple of weeks but ended up thousands of miles off course.
Why didn't they activate their emergency beacon?
Jennifer Appel and Tasha Fuiava had an Emergency Position Indicating Radio Beacon aboard — which communicates to satellites and gives positions to rescuers — but never turned it on because they never feared for their lives, U.S. Coast Guard spokesman Lt. Scott Carr told the AP.

"We asked why during this course of time did they not activate the EPIRB," Coast Guard spokeswoman Petty Officer 2nd Class Tara Molle said to the AP. "She had stated they never felt like they were truly in distress, like in a 24-hour period they were going to die."

The pair didn't immediately respond to an email and call Monday seeking comment, the AP reported.
But what did they say during a Monday press briefing?
"The crew of the U.S.S. Ashland saved our lives," Appel said after the ship got them to Okinawa, ABC News said. "Had they not been able to locate us we would have been dead within 24 hours."

Appel said their sailboat — the Sea Nymph — was damaged when a Taiwanese vessel attempted to tow it just prior to the Navy picking them up, ABC News added.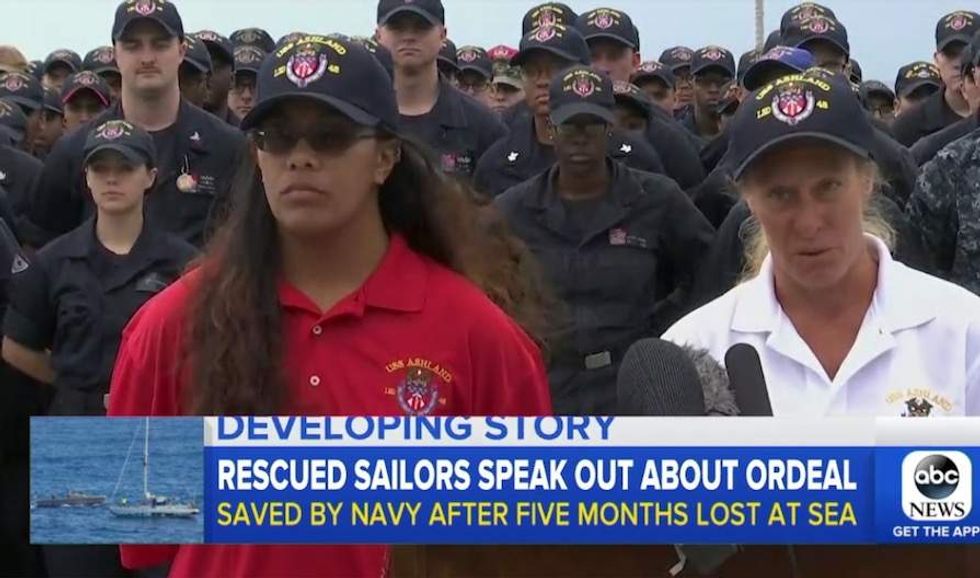 Image source: ABC News video screenshot
What other details seem strange?
The Coast Guard made radio contact with a vessel identifying itself as the Sea Nymph near Tahiti in June, and the captain said they weren't in distress and expected to make land the next morning, Carr told the AP.

But that was after the women reportedly lost their engines and sustained damage to their rigging and mast, the outlet added.

The women also said six forms of communication all went dead, the AP reported — which one expert said sounds fishy.

"There's something wrong there," Phillip R. Johnson — a retired Coast Guard officer who oversaw search and rescue operations — told the AP. "I've never heard of all that stuff going out at the same time."
A 'Force 11 storm'?
On May 3 — their first day at sea — the boaters said a storm hit them for three days with 60 mph winds and 30-foot swells. Appel said the "Force 11 storm" was off Oahu, the AP reported.

But the National Weather Service in Honolulu said no storm systems were in or near Hawaii on May 3 or in the days afterward, the outlet said, adding that archived NASA satellite images confirm there were no tropical storms around Hawaii that day.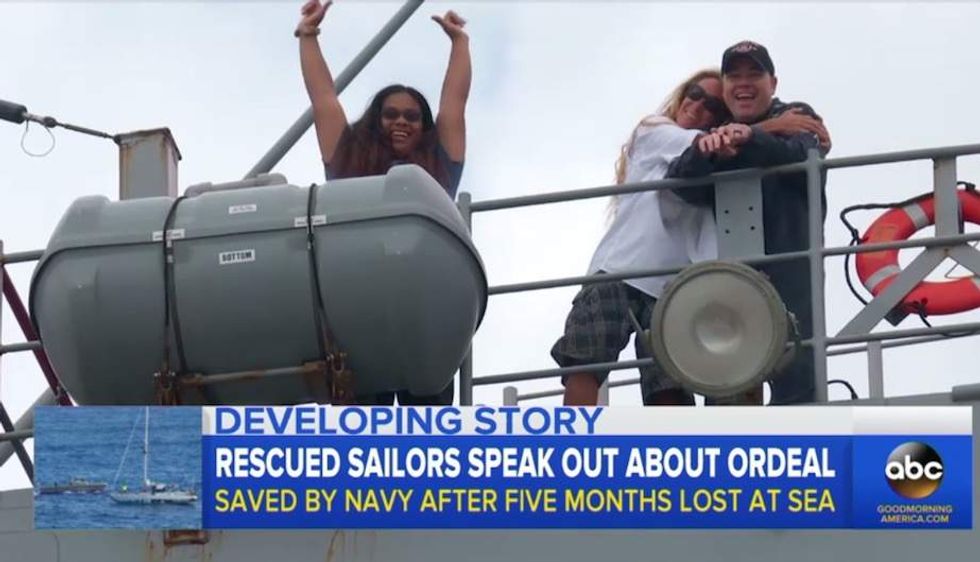 Image source: ABC News video screenshot
Harbors not deep enough?
The women said they considered turning back but the islands of Maui and Lanai didn't have harbors deep enough for their sailboat, the AP said.

But the outlet noted that both islands have harbors that would have accommodated their 50-foot sailboat.
What about Christmas Island?
Days later, after parts of their mast and rigging failed — but still with a working motor — they sailed up to another small island but decided against trying to land, believing it was mostly uninhabited with no protected waters, the AP said.

"It is uninhabited," Appel said, the outlet reported. "They only have habitation on the northwest corner and their reef was too shallow for us to cross in order to get into the lagoon."

But over 2,000 people live on Christmas Island, which has a port that can accommodate large commercial ships, the AP said.
Instead of stopping for help...
Rather than stopping for help, the pair set a new destination about 1,000 miles away and a few hundred miles beyond their original target of Tahiti, the outlet reported — the Cook Islands.

"We really did think we could make it to the next spot," Appel said, the AP reported.

But then they said a storm in late May rendered their engine inoperable.

The Navy picked up Appel and Fuiava last week — along with their two dogs — in the western Pacific, 900 miles southeast of Japan. They were in good health.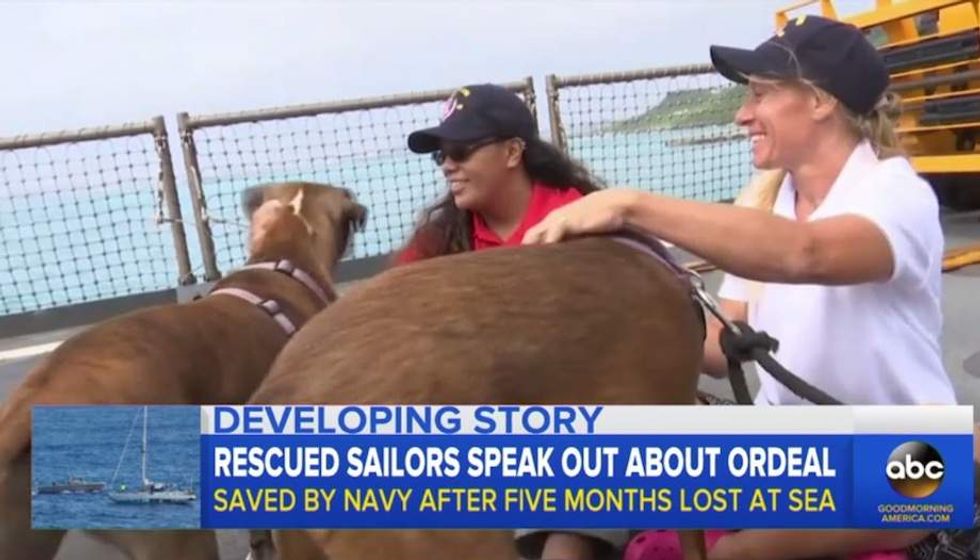 Image source: ABC News video screenshot
The pair had a year's worth of food on board along with a water purifier, but ABC News reported that most of the food was gone by the time they were rescued.