NFL owners — including Jerry Jones of the Dallas Cowboys, Robert Kraft of the New England Patriots and Bob McNair of the Houston Texans — will be deposed and asked to turn over cellphone records and emails related to former quarterback Colin Kaepernick's collusion case against the league, ESPN reported, citing an NFL source.
Kaepernick's high-profile lawyer Mark Geragos last month confirmed that a grievance was filed accusing NFL owners of colluding to keep Kaepernick off team rosters over the trend he began last year of players taking a knee or sitting during the national anthem to protest racial injustice.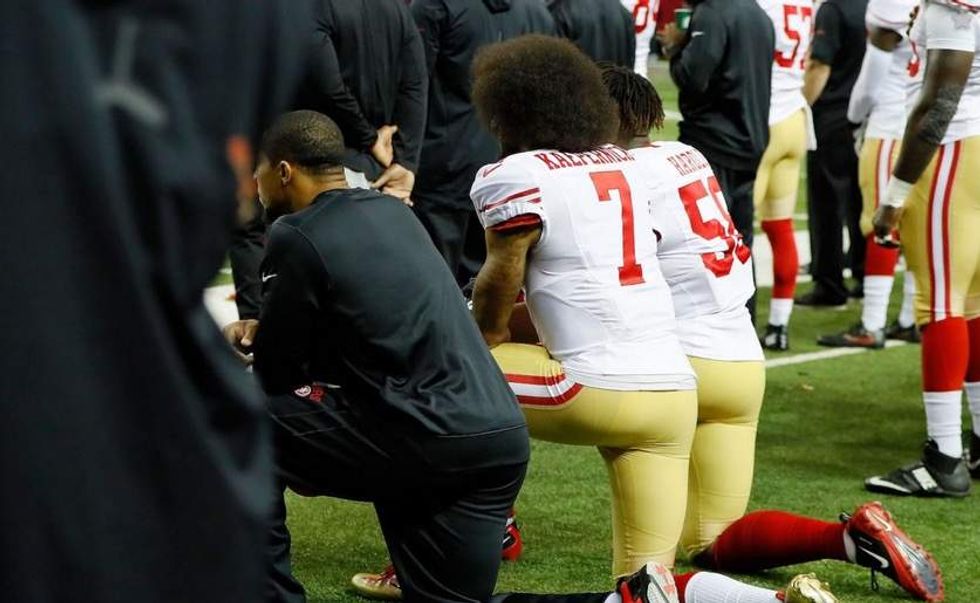 Kevin C. Cox/Getty Images
The grievance says the NFL and its owners "have colluded to deprive Mr. Kaepernick of employment rights in retaliation for Mr. Kaepernick's leadership and advocacy for equality and social justice and his bringing awareness to peculiar institutions still undermining racial equality in the United States."
Kaepernick — who turned 30 years old Friday — hasn't been on an NFL team since leaving the San Francisco 49ers in March. Sources said he'd stand for the anthem in the 2017 season.
The controversy over NFL players taking a knee in protest reached a fever pitch earlier this season after Republican President Donald Trump asked a crowd, "Wouldn't you love to see one of these NFL owners when somebody disrespects our flag, to say 'Get that son of a b***h off the field right now'? Out. He's fired. He's fired!"
Players responded en masse with protests days following Trump's words by both kneeling and linking arms in solidarity.
More from ESPN:
Last month, Kaepernick spoke with CBS Sports' Jason La Canfora for an off-camera interview and reportedly said he would go anywhere to work out for an NFL team and was fine if that workout was kept private. Kaepernick said he was looking for an opportunity to play and wanted to be judged as a football player. His agent has reportedly reached out to all 32 teams to note his availability.