Actress Ellen Page, known for her roles in the X-Men franchise and Juno, posted a long expose on her official Facebook page detailing sexual harassment she suffered in the film industry.
In the post, she accuses film director Brett Ratner of homophobia by "outing" her as a gay woman in front of the movie cast. In a latter portion she describes being sexually harassed by directors and others in Hollywood.
"You should f**k her to make her realize she's gay." He said this about me during a cast and crew "meet and greet" before we began filming, X Men: The Last Stand. I was eighteen years old. He looked at a woman standing next to me, ten years my senior, pointed to me and said: "You should f**k her to make her realize she's gay." He was the film's director, Brett Ratner.

I was a young adult who had not yet come out to myself. I knew I was gay, but did not know, so to speak. I felt violated when this happened. I looked down at my feet, didn't say a word and watched as no one else did either. This man, who had cast me in the film, started our months of filming at a work event with this horrific, unchallenged plea.

He "outed" me with no regard for my well-being, an act we all recognize as homophobic. I proceeded to watch him on set say degrading things to women. I remember a woman walking by the monitor as he made a comment about her "flappy p****".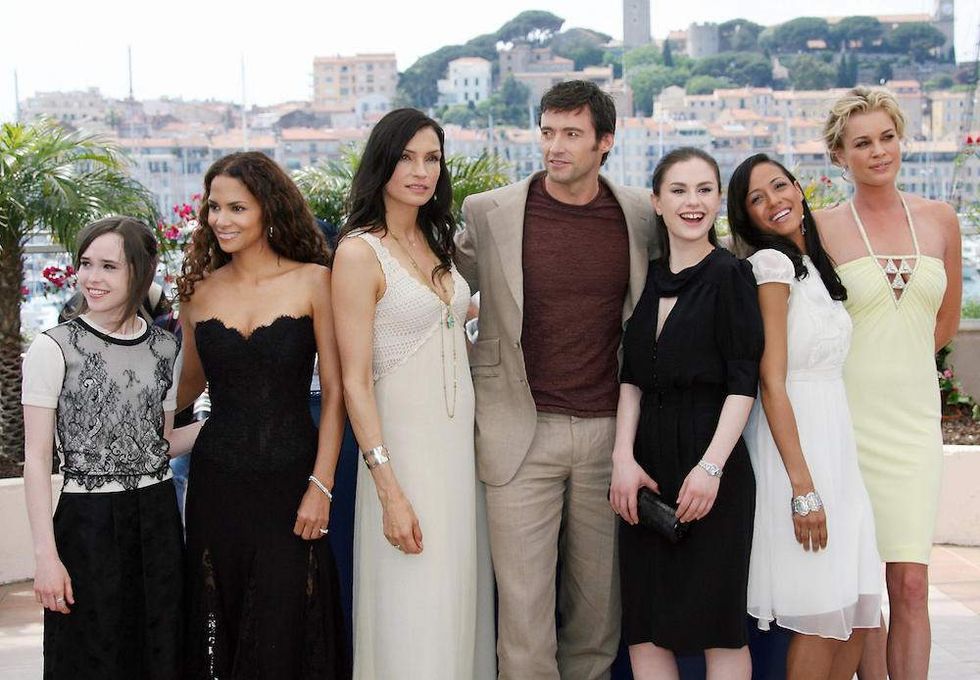 Ellen Page poses with the cast of director Brett Ratner's film 'X-Men : The Last Stand.' ( VALERY HACHE/AFP/Getty Images)
She continued to describe other sexual harassment she suffered as a minor:
When I was sixteen a director took me to dinner (a professional obligation and a very common one). He fondled my leg under the table and said, "You have to make the move, I can't." I did not make the move and I was fortunate to get away from that situation. It was a painful realization: my safety was not guaranteed at work. An adult authority figure for whom I worked intended to exploit me, physically.

I was sexually assaulted by a grip months later. I was asked by a director to sleep with a man in his late twenties and to tell them about it. I did not. This is just what happened during my sixteenth year, a teenager in the entertainment industry.
Page went on to call on people to stop protecting sexual predators, and blamed "white supremacy," for what she had suffered. "The most marginalized have been left behind," she said.
"As a cis, white lesbian, I have benefited and have the privileges I have, because of these extraordinary and courageous individuals who have led the way and risked their lives while doing so," she added. "White supremacy continues to silence people of color..."
This is just the latest in a long list of accusations of sexual harassment in the Hollywood industry that began with movie mogul Harvey Weinstein.