French authorities in a suburb of Paris, France, are attempting to curtail public Muslim worship that has spilled over into the streets because of lack of privately available space.
Why are Muslims worshipping in public?
The rapid growth of the Muslim population in France has forced many Muslims to worship in public because of a lack of space to accommodate them safely. They say that they need to pray in public areas in order to keep to their religious directives.
In the Clichy-la-Garenne suburb of Paris, Muslims are also using public worship as a way of protesting the city's decision to stop renting them space to worship.
Why are the French opposing this?
The mayor of Clichy-la-Garenne says that it's unsafe for Muslims to take over the town square on a weekly basis for their prayers and that they have their own private space for worship.
Muslims are using their right to worship as a means to protest the closure of a prayer room that the city was renting to them. The city decided to convert the space into a library for the citizenry.
In a tense confrontation, demonstrators were separated by police as those opposed to the public Muslim prayer sang the French national anthem.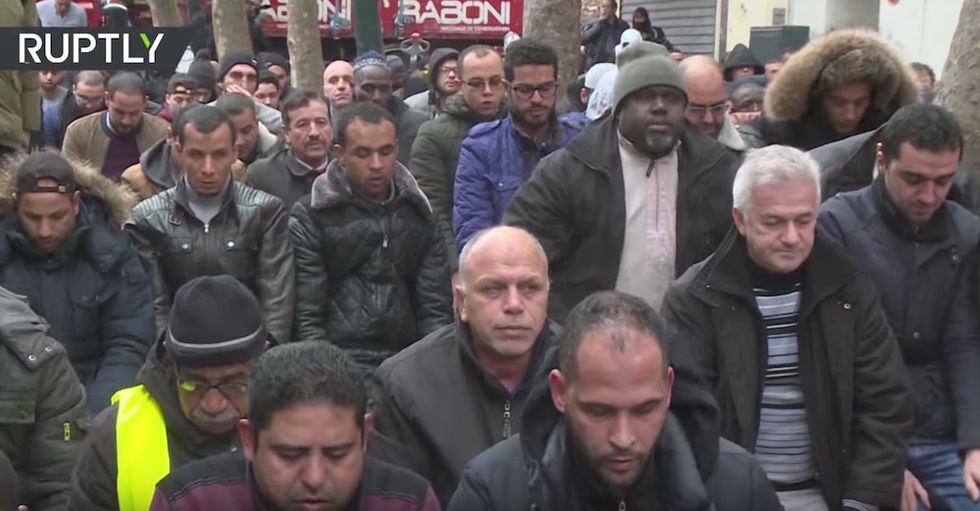 Muslims protest in a Paris, France, suburb by worshipping in public, incurring the wrath of local authorities. (Image Source: YouTube screenshot)
The mayor marched under a banner reading, "Stop Illegal Street Prayers," and led about a hundred counter-protesters against the Muslim prayer.
The Russian state propaganda arm Russia Today published a video showing French citizens clashing with Muslims: