The Philadelphia Eagles remain the NFL's top team after a 31-3 home-field trouncing of the Chicago Bears on Sunday, extending their league-best record to 10-1.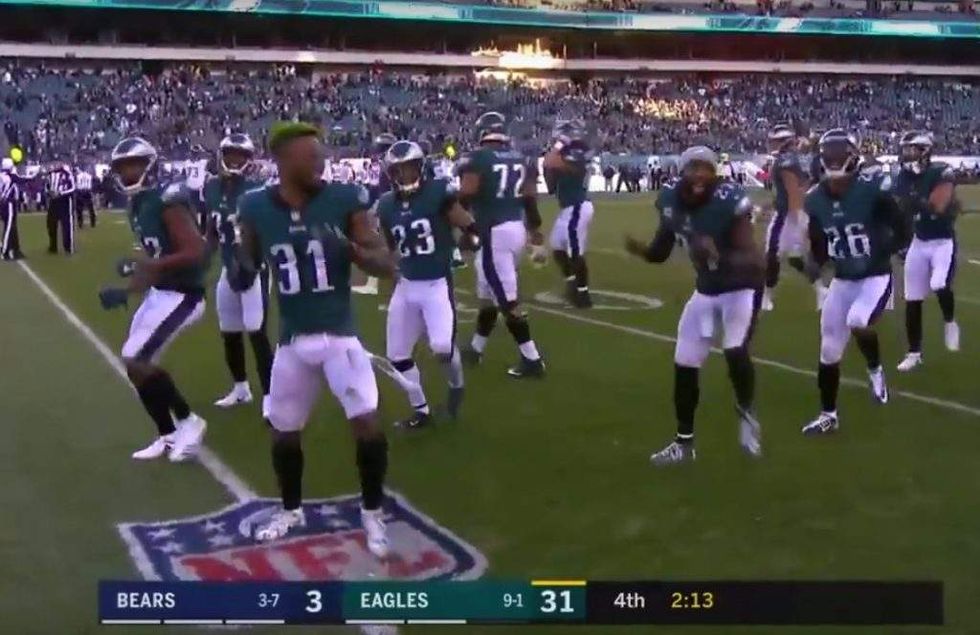 Image source: YouTube screenshot
This season's success has been a surprise. The Eagles were supposed to improve from last year's 7-9 record when they failed to make the playoffs — but no one predicted they'd be where they are today.
But some members of the Birds, as they're affectionately known around the City of Brotherly Love, also have been opening eyes through their genuine expressions of Christian faith — and the franchise highlighted their spiritual lives in a new video.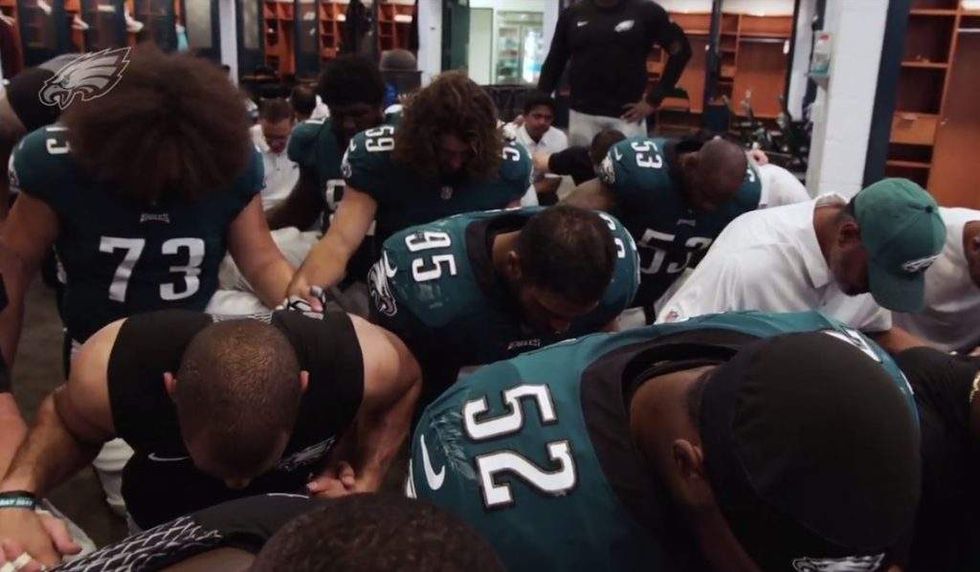 Image source: PhiladelphiaEagles.com video screenshot
Second-year quarterback Carson Wentz is having an MVP-caliber season and seems to be catching everybody's attention these days — even the likes of NBA icon LeBron James, who just said Wentz is his favorite player at the moment. But football is far from the only topic on his mind or in his heart.
Wentz shared on the video that he "grew up going to church" and "got confirmed in the Lutheran church" but "never really knew exactly what I believed or why." But that all changed when he hit college.
"I remember just having some college mentors, some former teammates kind of just help walking me through the Word," he added. "And I ended up reading the whole New Testament of the Bible in the first three months of my freshman semester, and it just became real to me."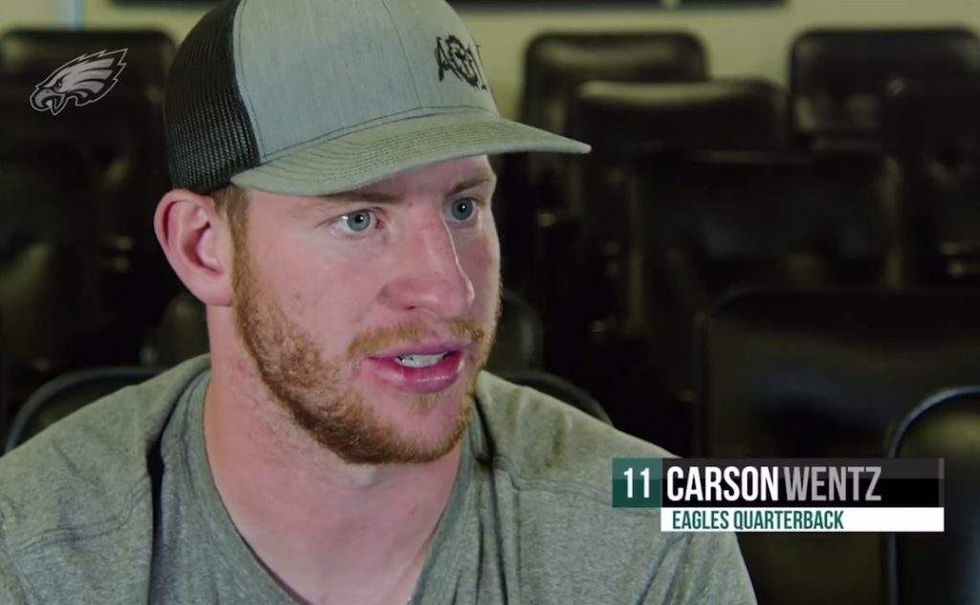 Image source: PhiladelphiaEagles.com video screenshot
Wide receiver Torrey Smith grew up similarly.
"I went to Bible study, I went to church often growing up, but it wasn't until I was in my last year of college where I realized I was kind of living off of everyone else's salvation," he shared on the video. "I wasn't really finding out things for my own. I wasn't diving into the Word or exploring that the way I explored everything else around me. So that's when I kind of realized that I was kind of living the wrong way."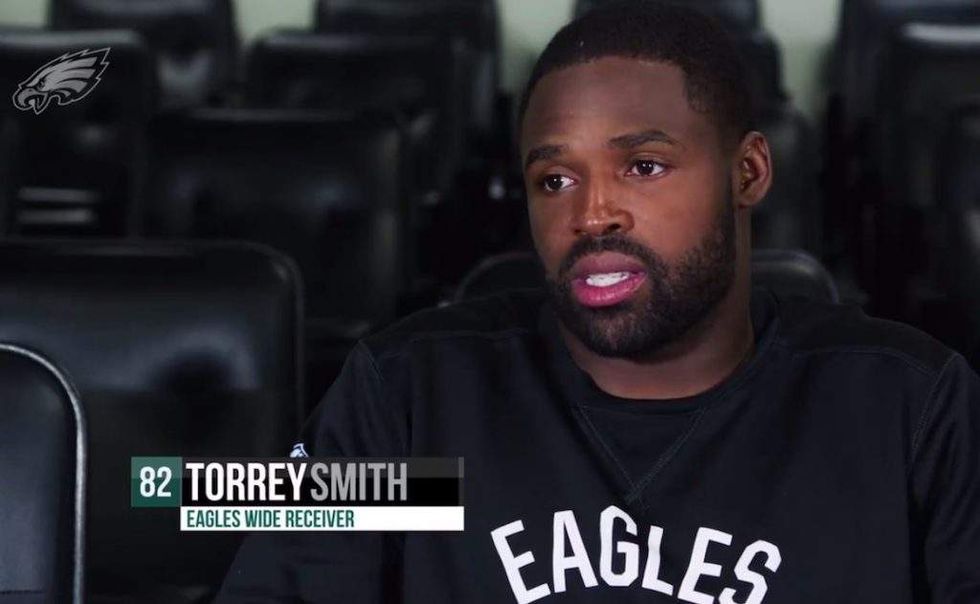 Image source: PhiladelphiaEagles.com video screenshot
Safety and special teams member Chris Maragos shared that his spiritual awakening came during high school when he was on a "downward spiral" and found himself at a "crossroads."
"The things I was trying to place in my life to give me satisfaction would last for a little bit, and then they'd fade away," he explained on the video. "That was my sophomore year in high school. I was really at a crossroads at that point and had to make a decision on where I was going. And that's when I gave my life to Christ, and really he supplied that satisfaction and that joy for me."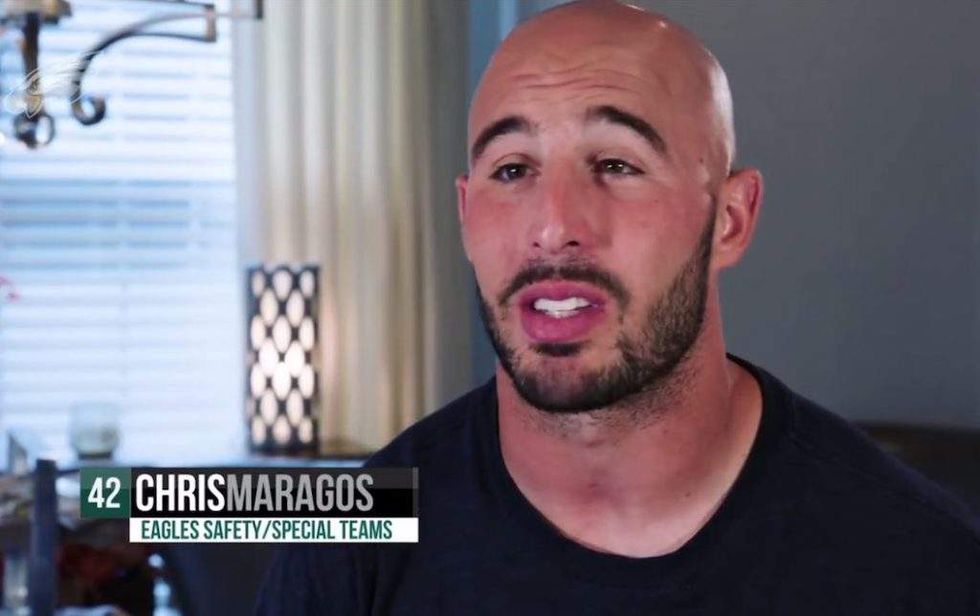 Image source: PhiladelphiaEagles.com videos screenshot
And now as members of the Eagles, the trio and several other players have each others' spiritual backs day by day with chapel services and frequent Bible studies.
"On every Monday night, we have a couple's Bible study," Wentz explained. "We have a Thursday night team Bible study. And Saturday nights, we actually get together the night before the game and just kind of pray, talk through the Word, what guys have been reading, what they're struggling with and just kind of keep it real with each other. To have that here in an NFL facility like this, it's really special."
They don't need to be in Philadelphia, either. Earlier this season, a group of Eagles players made headlines when a photo hit social media showing them gathered around a North Carolina hotel pool as teammate Marcus Johnson got baptized.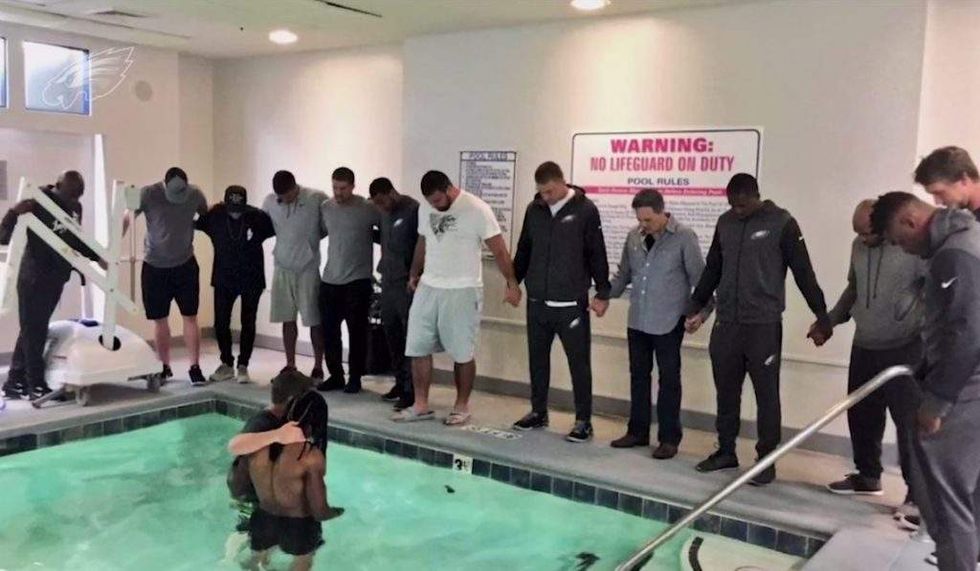 Image source: PhiladelphiaEagles.com video screenshot
Having such spiritual nutrition at the ready is making all the difference in their lives — particularly off the field.
"If I'm going through some things, I may not express that to the next man. Only you can kind of expose your weaknesses and things you want to work on, whether it's in your relationship or your marriage or your family, whatever it may be," Smith shared. "When you're able to talk about it amongst your brothers, amongst your family, it helps you grow. And when you realize that you can apply biblical principles to it, it helps us all grow."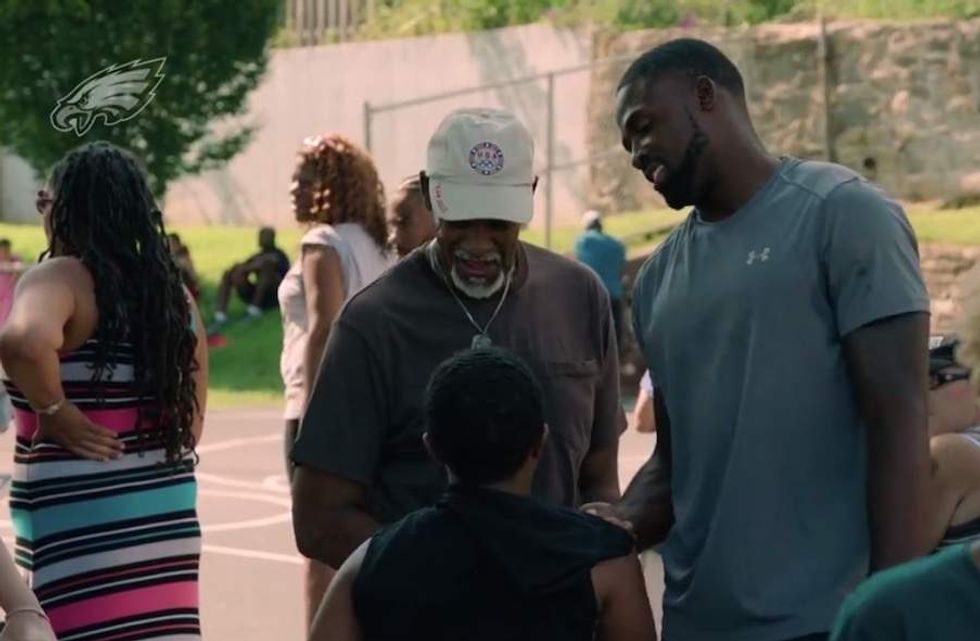 Image source: PhiladelphiaEagles.com video screenshot
Maragos agreed: "We want to be united. We want to support each other, we want to support each other in our lives through the difficulties off the field as well as on the field. So I think it's really kind of something to where ... we're all just kind of binding together to kind of keep each other sharpened and keep pushing forward."
Of course, not every Eagles player believes in Christ — just as it is outside the locker room. But Wentz & Co. are well aware of this and are all about mutual respect when it comes to matters of faith.
And akin to the way he lofts touchdown passes, the quarterback knows evangelism is all about having the "the right touch."
"I'm gong to be genuine, I'm going to be authentic with believers, non-believers — it doesn't matter," Wentz added. "I'm going to love on them. I'm going to treat them all the same. I'm going to respect them. And at the same time, as the leader of the football team, I'm gonna lead everybody the same, too. It kind of makes it open. You know, I think guys are willing to talk when you don't have this self-righteous attitude about you. You're just open to talk about spiritual things, talk about religion, talk about real-life issues with believers, non-believers, everybody in between. When you have that mutual respect, it just makes it a healthier environment."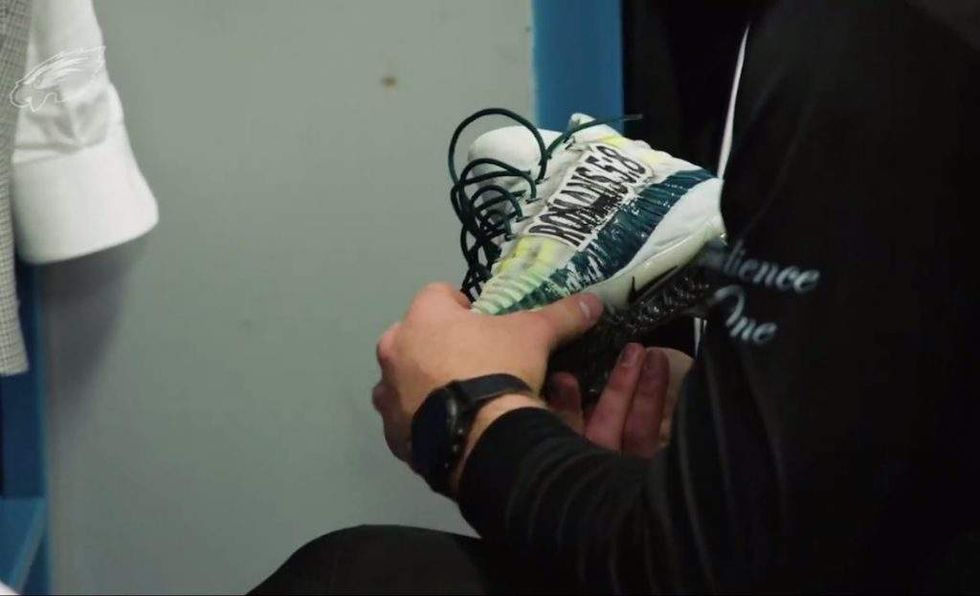 Image source: PhiladelphiaEagles.com video screenshot
Obviously Eagles players — and especially their championship-starved fans — would love to see the wins continue all the way through the Super Bowl next year.
But while they're in hot pursuit of that ultimate NFL prize, Wentz and his fellow believers in Christ are also pursuing a larger goal.
"I think the biggest thing that we're always challenging each other with is just not to lose sight of the bigger picture," Wentz shared. "I think wins, losses, highs, lows — everything that comes with this game — it's so easy to take your mind and your eyes off of the ultimate prize, and that's living for the Lord."