In the dog-eat-dog world of professional football — and in a city that's taken passion for its sports teams to mythical levels (snowballs and Santa Claus, anyone?) — the Philadelphia Eagles' Carson Wentz is no stranger to pressure as he embarks upon his second season as the team's franchise quarterback.
And for sure he's doing everything he can to figure out how to beat the hated Dallas Cowboys, but the 24-year-old signal-caller also has another mission on his mind.
"I always tell people, for example, if you love your job, you love your wife, you love what you do, you're going to talk about it," Wentz told CSNPhilly. "Well, I love Jesus ..."
You can't earn grace. It's free. It's the greatest gift there's ever been & will be. Accept it. Jesus is waiting for you & loves you #AO1

— Carson Wentz (@Carson Wentz) 1496594019.0
While Wentz's Christian faith is well-known, when such a topic mixes with professional athletes, hardened journalists are more than likely to take it all with a grain of salt — and that's often a best-case scenario.
But Reuben Frank — the CSNPhilly writer who recently interviewed the quarterback — was effusive about how Wentz has gone about expressing his faith as he navigated his job, saying he "walked that tightrope the past year just as adroitly as he avoided trouble in the pocket."
"He's made it clear what he believes and what it means to him," Frank continued, "and he's done it in a way that seems natural and organic."
Wentz also is wise enough to know when to speak up and when not to.
"I'm not going to force it down your throat, either," he told CSNPhilly. "So it's definitely a fine line that I'm constantly trying to walk, and at the end of the day, just kind of how I live and what I'm about and hopefully can kind of speak through ..."
And while Frank observed that Wentz "is no religious zealot," at the same time when you "ask him about his faith, ask him about a particular biblical verse, ask him about his relationship with Jesus ... he's happy to chat. For hours."
Never underestimate the power of prayer! God longs for that intimate time with you!

— Carson Wentz (@Carson Wentz) 1504566323.0
Sometimes that means Wentz will note a biblical passage or reference to Christ during one of his news conferences, Frank noted. But as opposed to other pro athletes who've gone the same route only to end up forcing the discussion in unnatural ways, Frank observed that when Wentz talks about his faith "that's who he is. He's just being himself."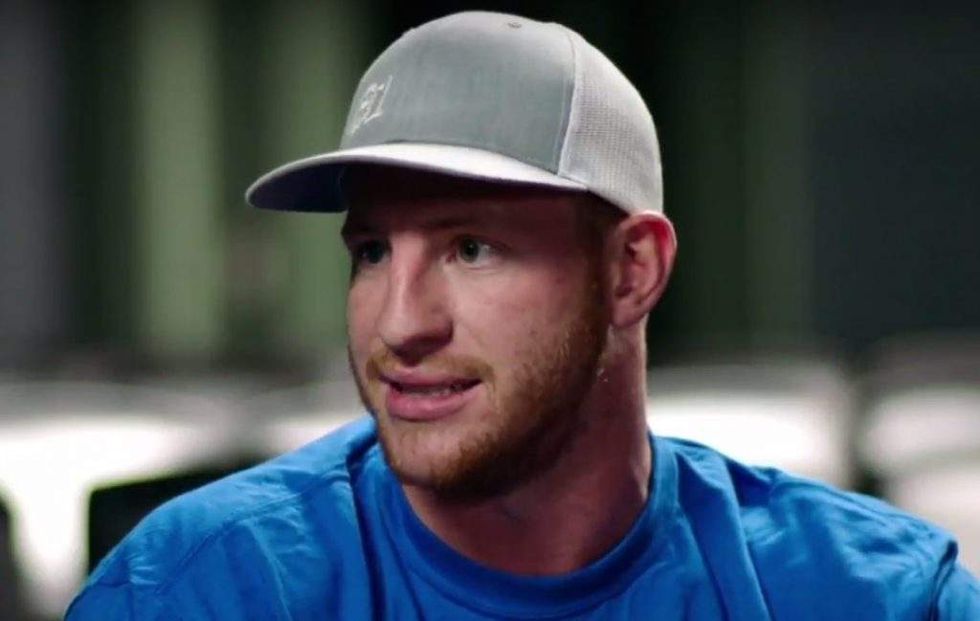 Image source: YouTube screenshot
Yet the North Dakota native is constantly aware of that fine line.
"I never want to be the guy who's beating people over the head with the Bible," Wentz said previously, CSNPhilly reported. "That's not what I'm about. That's not really what Christianity is about. Christianity is all about love and showing that love and that kindness and that grace."
Not that his balanced approached has mattered to everybody. Christianity seems to get skewered and mocked more and more each day — and with Wentz front and center in the public eye, his expressions of faith become a big target. Yet he's undeterred.
"I have seen [negative] things here and there," he told CSNPhilly. "It is what it is ... but they're still reading it, they're still following me. They're still hearing what I believe to be true ... Without a doubt, I want to use my platform to make a difference [in] peoples' lives."
Unity is powerful. Jesus is ultimately the only one who can bring perfect peace and perfect unity.

— Carson Wentz (@Carson Wentz) 1503247232.0
More from the outlet:
Wentz's own AO1 Foundation, launched earlier this year, seems overtly religious, with a mission statement to "demonstrate the love of God by providing opportunities and support for the less fortunate and those in need."

But the three disparate main objectives of the charity — to provide shelter, food and education for underprivileged youth; to provide hunting opportunities for disabled people; to provide service dogs to those who need them — are objectives that anybody can appreciate and admire, regardless of their faith.

It's not common for a 24-year-old who hasn't even started his second season in the NFL to have the wherewithal to start a foundation.

But as we're all learning, Wentz is not your typical 24-year-old.
"Coming into the league, my agents and stuff told me most guys will wait four or five years to do their foundation if they want, and I was like, 'OK,' so I took their advice, thought about it, but I'm like, 'I have no idea in four or five years where I'm going to be," the quarterback told CSNPhilly.
Don't let the World define you. Be defined by who Jesus says you are!

— Carson Wentz (@Carson Wentz) 1501894873.0
"God-willing, I'm still playing this game ... but you just never know, he added. "You're not promised tomorrow, so I just said, 'Why wait to make a difference and help out?' It's something I'm very passionate about. I realize I have a platform for more than just winning football games. I want to make a difference all over the country, all over the world. Even if it's just a little bit here and there and just help give people and kids hope, that's what it's all about."
Here's Wentz with a video message to followers of his Audience of One foundation regarding some recent spiritual insights:
(H/T: FaithWire)